Joined

Dec 6, 2011
Messages

508
Location
So I have been on here for a couple years now and have yet to post many of my car. Basically when my buddy SSGdave went on deployment in 2009-2010 he gave me his 1990 Galant GSX that had been sitting for years. My mechanical skills are a bit lacking so I'm learning a lot from this car.
Motor has been out. So i started getting parts.
This is the day we had the car towed to the dealership my buddy worked at.
After some time he moved to a different dealership so it went with him. Here is a pic right before work started on it.
Whiteline rear sway bar (bobdole) in with agx and not sure what springs.
Old engine from his vr4 with new seals and a new Evo 3 16g from FP with Evo 3 O2 housing.
Using the GSX transmission
Engine and transmission are in! Ecu from DSMchips chipped for Evo 3 16g, Evo 8 injectors, and Evo 8 mas (can't remember the others)
Ended up picking up 5 lug setup with fwd spindles and upgraded to vr4 dual piston calipers with dbs slotted rotors from JSchleim18's part out. Oh and changed my mind on suspension and got some BC coilovers (thanks bobdole!) Bearings and seals replaced.
Driver side fender was trashed, so got a replacement at junk yard
I got a set of BBS Evo wheels for cheap for my IX so the galant got the enkei wheels. And a wingless trunk waiting to go on.
Tax refund time 2013! I bought some JDM bumpers and a set of Curtis brackets!
Well my buddy is deploying again so the car has to leave the dealership and I can't keep it at my apartment so had the car moved to his apartment then to his friend's shop. Galant is not running yet. Oh that's my Evo in the background.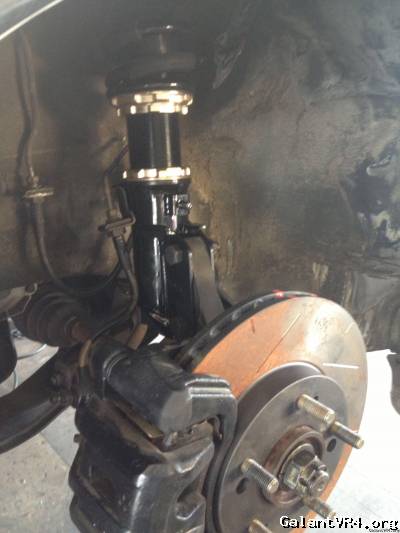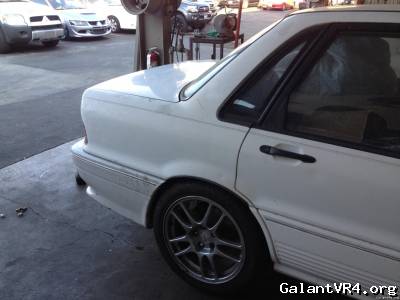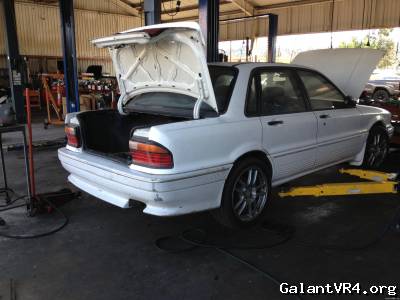 Last edited: