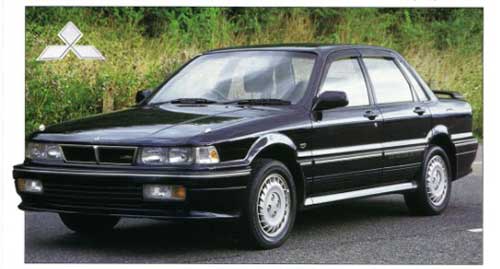 The Mitsubishi Galant VR-4 was built as a limited edition version of the Mitsubishi Galant line up for model years 1991 and 1992. Records show that 3009 were imported from Japan to the United States with the chassis code E39A. The VR-4 hit the streets with numbered badges of 2000 in 1991 and 1000 in 1992. The mystery 9 were probably never sold or numbered. Another surprise is that the limited edition badge number has no correlation to the order of manufacture in a particular year.
The VR-4 ("Viscous Realtime 4") refers to the all wheel steering, an ability it shares with the more recognizeable 3000GT VR-4, along with all-wheel drive and turbocharged and intercooled induction. However, one thing the Galant VR-4 doesn't share is its conservative, 4-door sedan appearance. It's a sleeper. A wolf in sheep's clothing? No... It's a rabid werewolf with a powerplant capable of huge horsepower and single digit quarter mile runs... and it's not just fast on the drag strip, it's quite at home through the twisties and has even won a few World Rally Championship and Asia Pacific Rally Championship races.
The Galant VR-4 represents a successful blend of the finest attributes of a four-door sport sedan along with Mitsubishi's advanced high-performance engineering technology. Mitsubishi designed the Galant VR-4 system with integrated all-wheel-drive, four-wheel steering, four wheel independent suspension and anti-lock braking (ABS) to deliver exceptional road-holding and handling characteristics.
The Galant VR-4 is equipped with the same high-performance powerplant found in Eclipse GSX: a 16-valve, double overhead-cam 2.0-liter four-cylinder engine that features turbocharged and intercooled induction, electronic multipoint fuel injection, distributorless ignition, roller cam followers, hydraulic valve lash adjusters and Mitsubishi's patented Dual Engine Stabilizers™. While the turbocharger and intercooler provide a pressurized and cooled air/fuel mixture, the four valves per cylinder combustion chamber design allows increased flow of engine gasses, resulting in a potent 195 hp at 6,000 rpm and 203 ft. lbs. of torque at 3,000 rpm. The Dual Engine Stabilizers™ spin parallel to the crankshaft and utilize counterweights to help offset vibrations commonly found in large displacement four-cylinder engines.
The Galant VR-4 is equipped with a five-speed manual gearbox and Mitsubishi's full-time all-wheel-drive system. This system uses a compact center differential and viscous coupling to distribute driving force among all four wheels. When the system sense wheel slippage under any type of driving conditions, the viscous coupling automatically directs power to the axle which has the greatest traction.
The front suspension on the Galant VR-4 is a MacPherson strut design with coil springs and concentric shock absorbers. An independent double-wishbone rear suspension is incorporated to deliver maximum road-holding and stability. Front and rear stabilizer bars help prevent body roll during cornering and enhance overall handling.
The Galant VR-4 provides exceptionally responsive driving control with Mitsubishi's four-wheel steering system, which is activated at speeds above 31 mph. Once engaged, the four-wheel steering system directs the rear wheels to turn up to 1.5 degrees in the same direction as the front wheels -- depending on the speed of the car and how quickly the driver turns the steering wheel.
Four wheel disc brakes are standard on the Galant VR-4 and include Mitsubishi's anti-lock braking system (ABS). ABS enhances driver control under panic braking conditions by helping to prevent wheel lock-up. [The GVR-4 got "big brakes" from the factory, basically the same setup as the 3000GT SL].
Inside the Galant VR-4 the driver and passengers are surrounded by luxurious and supportive leather seating surfaces. Interior amenities include a six-way adjustable driver's seat, four-way adjustable passenger seat, tilt steering column and cut pile carpeting. The dashboard houses large, clear analog gauges and logically positioned controls within easy reach of the driver.
A technological highlight of the driver's accessory control system is Mitsubishi's ETACS-IV™, a 10-function electronic module that controls variable-speed intermittent windshield wipers, wiper mist cycle, fade-out dome lamp and power door locks with key lock-out prevention. The system is also programmed to allow the driver an extra 30 seconds to operate the power windows and optional sunroof after turning off the ignition.
For more technical info on the Galant VR-4, browse the "Resources" section of our site, linked in the main navigation.