All my parts have arrived. It's a Mocal 13 row cooler, with a Mocal 180* thermostat. I drive this car in the winter, and I don't want the oil to take forever to come up to operating temp if it was circulating through the cooler while warming up. The thermostat opens up at 180* to let oil circulate through the cooler.
I think I'm going to get two more 90* bends to use for the cooler connections. The plan is to mount this thing on the passenger side in front of the radiator, above the intercooler and behind the grill. Does it matter if the cooler is mounted above or below the filter housing (thinking about gravity and oil flow)?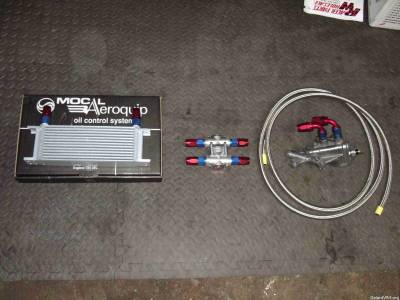 I got everything from Summit for somewhere around $200+. However I got the metric>AN filter housing connections and washers from Machv.