I'm going to try this for a little while and see if I get any oil in the intake pipe. I put a brass barb in a soft part of my intake pipe, and attached that to an inline filter that feeds from the valve cover vent elbow. So essentially it's setup like stock with a filter:
I ran a straight fitting from the PCV valve hole in the valve cover. This goes to a sealed catchcan. I blocked the opposite hole of the catchcan. Then I ran a hose from the top of the catchcan to a fitting on the intake manfold. There's an inline plastic PCV valve in that hose: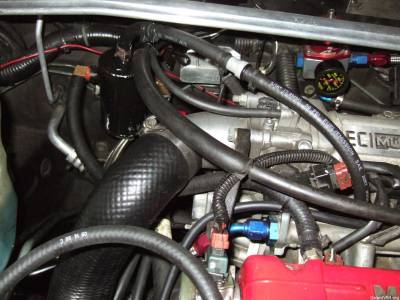 I didn't test for any intake leaks, so I'll be interested to see if that inline PCV valve can hold boost. Any comments? This is by no means permanent, and can be modified pretty easily.