Joined

Oct 19, 2005
Messages

4,642
Location
Well, tomorrow is my last day off before starting the new job. As much as I would love to report it's finished, it's monsoon season here in Arizona, so it's muggy and just too damn hot to do much. I
have
managed to get my Talon ready for it's first emissions test since moving here some seven years ago, though.
Anyways, I just spent some time out in the garage pulling odds and ends off the new core support. I also marked a number of spot welds that will need drilled so that I can separate things. I found a new concern. Check these pictures of the new piece in progress..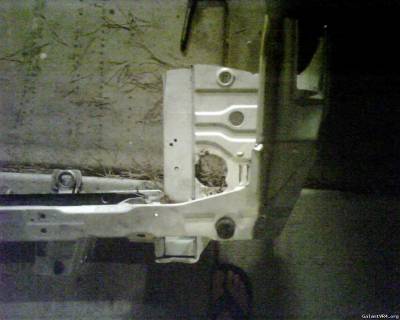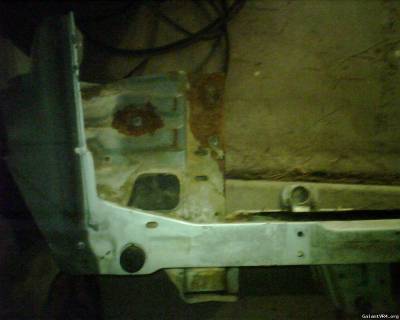 Sorry for the graininess of these pics. Typical camera phone action after dark. Flash is a worthless LED on this thing. Everything here looks pretty promising. It's pretty much straight and true and everything a non-fubared front clip should be. There is a little surface rust, but it's workable. The whole thing will get a fresh coat of black prior to installation anyway.
My concern now is the two sidemembers that extend from the bumper mounting "towers" back along either side of the engine bay. It was too dark to get decent pictures tonight, but here's a drawing of what's going on in 195 just behind the core support on both sides.
The bulk of the support will be simple. I'll just thread a handful of bolts through the holes I drill (or zipties) to hold it in place while it's getting tacked to the car. It's all sort of cosmetic. These two sidemembers however, are fairly structural and make me a bit apprehensive.
What do you guys think about this idea: Straightening the existing sidemembers as best I can, then carefully cutting the ends off (measure twice, maybe three times, cut once) to match the lengths on the new piece. We could insert a length of pipe into the members on the car and tack them in place so as to provide something for the new member extensions to rest on and be tacked to. Finally, a couple simple gussets would be welded across the seam on the top side to provide additional rigidity.
I see this connection as being something like trying to fit two female spade connectors together. Make sense? Any other ideas? Will continue to update this thread as I make progress. It would be schweet to have her back together before the Shootout, but I think that will be a stretch!
Thanks for the read!
Last edited: