AnotherNewb, your offer is greatly appreciated. But I figured I should throw up something better than cell phone pics. So I ran over to a friends house and borrowed his computer.
Ok folks, here's some pics.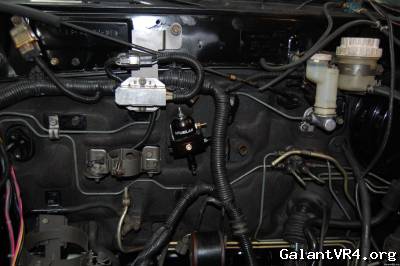 This photo shows my AFPR mounted, the DSM clutch reservoir, Non-ABS proportioning valve, non-cruise throttle cable.
This image shows the general state of disassembly of the car.
An "aerial" view of the engine. You can see the fuel gauge mounted on the fuel rail, FP exh mani, Hyundai V/C.
This shows the FP Green, O2 housing and Tial MV-S wastegate, the WG water feed line that I fab'd.
Another view of the wastegate with the water line.