Well I've gotten some interest from another thread over in the technical section about doing a run of shifter bushings. I just made a set up for 642 and they turned out well, so I'm getting a feeler for how much interest there is and whether its going to be worth doing a run of them. They will be made from delrin and the current planned pricing is $35 shipped in the lower 48 states + paypal fee.
Paypal address is
[email protected]
Make sure that you note shifter bushings in the title and that your user name for here is included.
First let me specify that these are the bushing in the actual shifter assembly. A full set will be all 6 bushing which are labeled 2, 6, & 11 in the service manual.
EDIT: based on feedback from the test sets, The shoulder of 11 was turned thinner , since there are no sideloads on the bushing and its a pain to test fit due to the C-clip. Also found that out of the several sets that I finally got to measure, the bore variations were just tolerancing range. Final sets will all be shipped with identical 2/6 bushings packaged together and the 11 bushings packaged seperate.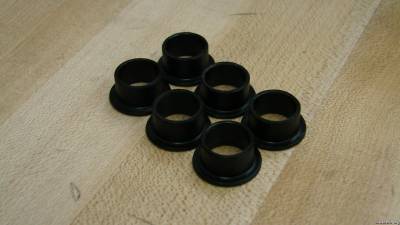 I'll be turning them so that they are slightly thick on the shoulder that way that they can be sanded for a tight yet bind free feel. Based of the rough end of a lot of the factory components in mine I'm not expecting them to fit every car identically so this seems like the best way to do it without introducing slop to cover the factory tolerences. This is how I did mine and after a couple test fits and sanding on the length, it had no slop or bind. Feedback is welcome on this as its no more work for me to build in clearance for those who don't want to do the fitting process and aren't concerned about some potentially minor (~.005") slop.
Since I'm new I figure I should probably give a slight background on myself as well. I'm a technician in the prototype department at a R&D build. I do everything from CNC and manual machining to final inspection there. We primarily make prototype bearings and tooling for pretty much any any market you can think of, so these are well within my comfort level of making.