This took me months to gather all the right parts to do the install. Would I recommend it to anyone? Yes & no.
What you need:
1) Brackets $129 steel & $119 T61 Aluminum -
TunersNation.com
This includes all the mounting hardwares.
2) 1 pair of '91-'93.5 3kgt vr4 front 4 piston calipers (updated 12/29/08 -
Calipers TunersNation.com
.
3) 1 pair of front rotors for a '94-'99 3KGT VR4. I can get plain factory rotors & pads or aftermarket drilled/slotted rotors & aftermarket performance pads. Just drop me a pm or go to
TunersNation.com
4) Evo 8 wheels if you've gone 5 lug or 17x8 +38mm offset or 18x7.5 with a minimum of +18mm offset or be prepared to use wheel spacers. You can buy these at Pep Boys Auto Store. You may need 1/2" up to 3/4" spacers depending on your wheel's spoke design. You may be able to get away with smaller offset depending on your wheel's spoke design. If the spoke is around 1/2" thick you won't need spacers & should be able to get away with 42mm offset or be prepared to make an executive decision to grind down the calipers or the inside of the wheel's spoke to clear the calipers.
5) Brake fluid &
new ss brake lines
. Our OEM lines bolts up to the calipers so no need to replace unless you must. They come is several colors, are D.O.T Certified & made in the USA.
6) If you still have 4 lugs like I do, be prepared to line up the new 94-99 3kgt vr4 rotors with your stockers in order to re-drill them. You will need a 1/2" 'quality' bit & good drill for this. With the right bit, it doesn't take any time.
7) The dust shield will need to be trimmed starting right below the mounting tab for the ABS sensor cutting straight across to the other side. Be careful no to cut lines. Look at the pictures below for reference.
8) Since you're cutting off the mounting for the abs sensor line, you'll need a place to reattach them. The struts have a mounting area just above the strut lower top bracket.
9a) Forgot to mention that I had to shim the abs sensor with one washer.
9) Things to consider if you don't have the proper wheel to clear the calipers.
9a) You will need longer studs by at least 1/2".
9b) This is a good opportunity to determine if you want to stay 4 lug or switch to 5 lug.
9c) Upgrade suspension because your wheels will be sticking out more due to offset or wheel spacer.
9d) Replace worn out hubs, wheel bearings......
9e) Replace any torn boots while you have everything apart.
9f) Make sure when you purchase used calipers you ask for all the shims & brackets.
9g) The new 3kgt vr4 calipers are aluminum & hence lighter than our oems. The rotors however are much heavier. Unfortunately I didn't weigh any of these but pick them up & you'll see what I'm talking about.
Whenever I find the photos of the custom brackets I'll post them.
I haven't driven the car yet to 'test' the new setup. Here's a few pictures with the car finally back on the ground. Will have some better shots once I can clean up the garage & wash the car. Got one picture, car still dirty as I haven't had a chance to wash it yet.
Still haven't driven it hard yet (just enough to seat the pads). Still need to trim some fat off one wheel before I can strat thrashing it.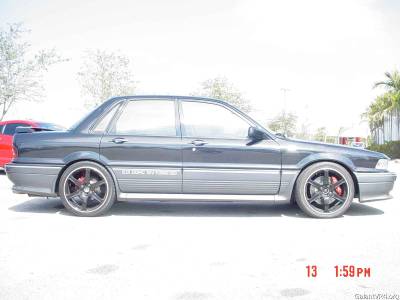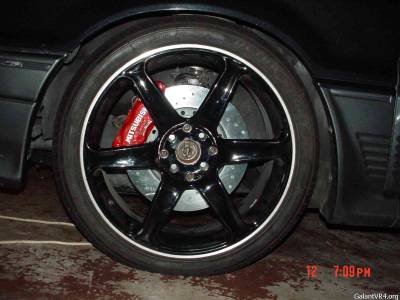 Added these pictures of Jermaine's car when he test fitted the calipers.