Hey all. After my long drive in 282 down to Texas I have started to tear her down and order parts. I am planning on a full build/ restoration. Its gonna be slow going due to the car being in my grandparents driveway 150 miles away from me so I will only get to work on it a little at a time and only on weekends. It will also be interrupted in November when I deploy back to Afghanistan for the 3rd time. Luckily its only going to be for 9 months and I will have deployment money for the build when I get back.
My plans for the car are:
Engine
9.5:1 10 over Venolia pistons on shot peened rods
ACL bearings all around
ARP headstuds
Crower 264/272 cams
Upgraded valvetrain
Lightly ported head
Fully functioning Cyclone intake manifold
All new OEM accessories
1000cc injectors
Transmission
Rebuilt by Jackstransmssions.com
10% taller 5th
4 spider center diff
New clutch(not sure whats good anymore)
COP setup
Electronics
DSMLink v3 on speed density
Upgraded radio
new speakers
10" sub
Battery in the trunk
Cooling
New aluminum radiator with a badass fan(s)
Big FMIC with short route piping
Turbo/intake
My baller old skool HKS turbo kit rebuilt and upgraded to a bigger wheel
Everything heat wrapped and ceramic coated
Lots of heatshields
Build an intake box behind the passenger headlight
Suspension
Whiteline front and rear swaybars
Evo 8 suspension with Espelir springs
17" wheels (not sure which ones yet)
Cusco strut tower braces
Poly bushings everywhere
Manual steering rack
5 lug
Curtisco subframe connectors
Exhaust
new 3" TBE
Exterior
Either JDM bumpers or shortened USDM bumpers
New paint (thinking either all new BG or maybe BG on top and NB on the bottom)
Vented JDM hood
AMG wing or wingless
Brakes
Either 3kgt brakes or a big brake kit
SS lines all around
Misc
Partial wire tuck
Evo seats(the pretty black ones)
Wally 255 rewired
4WS delete
ABS delete
Rebuilt 4 bolt LSD
Working AC
Im sure there is more I just cant think of anything else right now. I am planning on rebuilding and powder coating everything underneath the car. Its gonna be one hell of a project, but it should turn out pretty good as long as I dont eff something up bad

Im hoping to make 400-450ish hp to the wheels and have the car be pretty damn reliable and very streetable. We shall see.
Here is what I have so far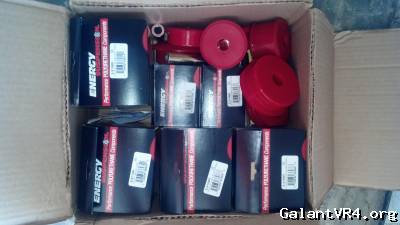 Partial of the manual steering rack. Ewww, needs a rebuild and cleaning
The HKS turbo. Soon to be shipped out rebuilt and upgraded

Ill try to get more pics next time Im working on the car and keep updating this thread as often as possible. Wish me luck.
Tyler
Edit: I know this is kinda morbid and dark, but if I dont make it back from the Ghan this time can someone finish this thing and take care of it for me? And no Im not planning on not coming back, this is just a worst case scenario thing. lulz