Start of summer update. Finally got my Cusco front camber plates in that are the right size for my Koni's(12x1.25mm). The pillow ball collar nut is the perfect size and threads down perfectly. Also, the stand-off is the perfect size to allow for proper articulation without contacting the plate. These should look pretty sick with the Cusco front strut bar.
Bob at Precision Points machine shop did an excellent job milling down the rear plates for me. In the picture above, there is a "cup", which is supposed to hold a 70mm spring. Since I am using 65mm springs and upper spring perches, it really serves no purpose for me. Articulation would be limited using the mount as the perch, but with separate perches, it allows full articulation like in a coilover setup. I would have had to use long spacers just to clear when fully articulated, which would have reduced travel. Bob just milled out to the edge for a clean look. The plates appear to be stout and should hold up just fine. Thanks to Curtis for the advice.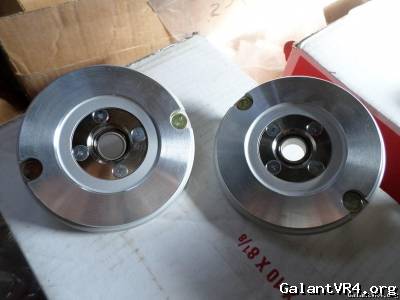 Rears complete. I flipped the pillow collar to get the proper spacing and used the shorter washer for the top of the plate. Bob at the shop machined the pillow collars and washers for me just a tad over 12mm to fit since they were designed for a smaller strut shaft. The shafts are perfectly centered and do not move around. Finished off with Koni nuts.
Fronts complete. Bob machined the upper spring perches to a tad over 14mm to fit over the square shoulder. Shafts are also perfectly centered within the bearing.
I really hope that these are going to work for me since they were built piece-by-piece. Thanks to OptionZero at zilvia.com for the awesome
custom Koni thread
. I used the link as a reference when building my own setup, albeit using different parts. Also, thanks to Bob at Precision Points, Curtis, and KC for hooking me up on the struts. Still waiting on the turbo and a few parts from JNZ.