Ya, I know I'll see full boost before 4000rpm, hopefully a bit closer to 3600 (when my green got full spool).. I think it being dual ball bearing It should be right around there.
I was just talking to Robert at RRE for a while about my turbo, and my center section has a built in oil restrictor and I buy this oil fitting for the oil feed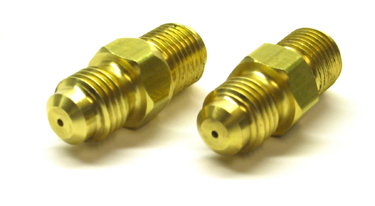 .. So as you can tell thats pretty restrictive and allows me to run oil from the filter housing regardless of how much pressure it puts out, that fitting, I guess you could say regulates how much is fed.
I wouldnt want to get any foreign shit(particles, etc) into that small of a hole from my head and risk starving my new precious.
I'll just run a 90* -4AN fitting from the above fitting to my normal oil feed line from the filter housing.
-Oh ya, its an anti-surge TO4E style compressor housing.. There are many diff. comp housings that are labled 'to4e',some are 3/4"in, 2/2.5"out this one happens to have a 4" inlet, 2" outlet.