I give up, I am done with dsm's(mmc)All together,life is treating me like real shit right now so the hell with it.
I am selling every little part starting with the big stuff moving on to the little
I will do it in 2 sessions, First will be all mechanical parts then body and int.
If you are looking for a crackhead price on this stuff then stop reading now.
If you are looking for almost new top of the line parts then I may have the part you are looking for.
I will be offering this stuff up on other forums as well.
PLEASE post part requests on this thread in order to not clog up my pm box.
Flakes need not bother, I am sick of tire kickers and punk ricer flakes.
I spared no expence at all on this build ad prolly even over did it, This would be like buying a new car as everything that can be replaced has been replaced even if it was in good working order as I wanted this to be the most reliable gvr4 ever, Literally everything under the hood is new including every nut and bolt, I spent hundreds at mitsu just on bolts and whatnot.
car has new paint including engine bay, Doorlocks and antenna have been shaved.
Car is 100% rust free as it was a texas car all of its life.
Interior is showroom mint with new dash and like new carpet not one single stain
leather is real good yet with no holes or blemish.
everything is built and has less than 1k miles on it
here is a quick run down of what it has, I will post a mod list later but it is a mile long but it was built to reliably make 550-600 hp so of course everything to support that is in place
I am willing to sell rolling chassis for 4k
ground control coilovers with agx and tein camber plates
aws and abs have been deleted and a 4 bolt installed
120k miles on chassis
Instead of parting it out I am willing to take parts off to lower the price or am open to trades just no more galants but please keep it at the same value of 10.5k
I really would rather sell it but if I can sell what you may have for trade I may be willing to try that.
I can't stress how really rust free this car is, It is like a time capsule in that respect
No rust on lower doors or lower fenders. I have never broke a bolt working on this car.
If you really are looking for a mint one this is it, Anyone who has senn it in person can attest to how pickey I am when it comes to my cars.
Mod list is as follows,
Eagle/wiseco balanced
Arp main and head studs
Clevite 77 bearings
new oil pan
new oem oil pump
balance shaft elimination kit
crower springs titanium retainers
si one mm oversized valves
o ringed head
mtsu mls head gasket
hks 272/280 cams
3g lifters
all ome mtsu gasket and seals
hyundai shaved valve cover
new oem coil pack,igniter,knock sensor and o2 sensor
ngk wires
buscher afpr
-6an from filter to rail
ams small battery kit
scm6152e turbo
evo3 ported manifold
punishment racing o2 housing
new harmonic balancer
new belts
new a/c compressor and seals
new oil filter housing
2g mass with dijoun 3inch intake pipe
speedsource intercooler pipes with tile 50mm bov
new oem iac
prothane poly mounts
act 3200
fidanza aluminium flywheel
new tob
new clutch fork
new slave cylinder
braided clutch line
bronze shifter bushing
built trans with double syncros
4 bolt with tel sub frame
rebuilt t-case
new subaru sti black with green and gold pearl paint
shaved door and trunk lock
shaved antenna hole
93 headlights with hid's
93 grill
tinded windows
evo2 wing
3kgt vr4 big brake kit with new oem calipers
evo8 wheels with 255-40-17 but needs new tires
ground control coilovers with agx adjustables
tein camber plates
ss braided brake lines
motul dot4 brake fluid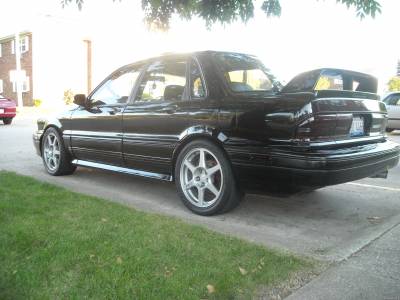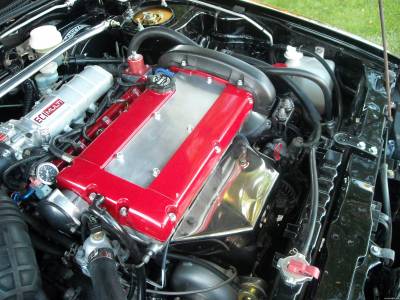 Last edited: