Joined

Sep 8, 2006
Messages

1,699
Location
Ok, I am doing this for everyone that plans on putting a set of Teardrops on thier fenders.
The first thing to do to prep your fender, is to cover the top with masking tape. Blue painters tape is good, but any will work for this procedure.
I am starting by taking the measurments off from a JDM fender for the right side of the car. The left side will be all the same.
The first step: lightly put a piece of masking tape on your measuring tape so that you can transfer the measurements.
Make sure that you leave around 1/2" of tape sticking over the end so that you can draw a line for a "zero" mark with the end of the tape.
Here You can see I just took a pencil and transferd the lines by 1/16ths" from "0" to 1-1/2" and then from 7" to 10"
The second step: Take your tape off from the Measuring tape and put it ontop of the fender. You will put a mark at the coresponding measurments that are listed in the end of this post.
This Is going to be your second set of Measurments to mark out on your piece of tape.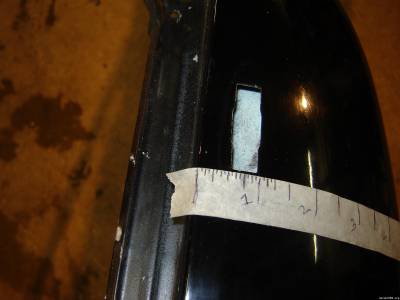 This is what it should look like when you are all done marking and cutting the hole.
Here are the measurments that I took off from the JDM fender that is in the pictures above.
I know that my pictures are backwards to the drawings, but if you just flip one of them over, you will understand.
Enjoy! /ubbthreads/images/graemlins/smile.gif
Last edited: