Joined

May 24, 2005
Messages

2,746
Location
Sold
First off, no trades. I am located in Longwood, FL. Mileage is 137,787. I don't drive the car anymore so its not changing. I am in no hurry to sell this car so don't low ball me., please call or text if you are only seriously interested. Here is a link to the for sale ad when I bought it a year and a half ago. I listed every single little thing wrong with the car so there are no surprises. I will list more if I think of them. Price is $3700, no holding the car. The first one with cash in my hand gets it. Any questions just ask.
1991 Galant VR4 Summit white with black interior. Here's the mod list now, taken from previous owner.
sunroof, all gauges, heat, ac, all works
engine rebuilt (less than 10k miles)
2g maf with intake pipe
ets front mount with custom hard pipes, 1g bov crushed
aeromotive afpr
walbro 255hp rewired
aws is disconnected but not removed
act 2600
boost and aem uego gauge
new windshield
stock cams
650cc injectors
keydiver chip
slowboy g50 with polished housing, ported, internal gate
new knock sensor
new o2 sensor
forward facing oil filter housing with all new -8an aeroquip pushlock hose
remote oil filter for large chevy filters
new b&m oil cooler
89 under dash
ECU has new zif socket and caps installed
keydiver internal data logger
stainless soft brake lines
black 92 galant wheels
What I have done to car since I've owned it. I have receipts for most of the stuff listed. Suspension- all new front and rear KYB GR2 shocks and struts, bump stops, oem springs, and strut mounts. All new front/rear brake rotors and front/rear brake pads. All new oem master cylinder installed less than 1k miles ago. New battery as of March of this year. Put new front tie rods on as of May 2011, new oem radiator cap as of March 2012, alignment as of May 2012. Going to be installing a new clutch slave cylinder. Has a radio/iPod player. No cd player or aux input. You put your iPod in and go, pretty sweet actually. Title is clear and in my name. Keyless entry. Sunroof works great with no leaks. A/C blows cold, heat blows hot.
The bad-
Rear defroster barely works
Rear ebrake doesn't work
Antenna does not go up
Oil leak just started a few months ago (from the timing cover area, not sure whats going on)
Transmission can grind at high rpm's, it should be the slave cylinder which I will be changing out
Most of the time the key will not open the trunk, you can use the handle inside the interior
No floor mats
There is some clunking noise coming from the front driver wheel area. I've checked and I can't figure out what it is. Just started once I changed out the suspension. I've dealt with it but if the car doesn't sell soon I'll inspect it.
The paint and exterior is OK but not great. No major dents or fading, just nicks in places. I will take lots of pictures.
The car will idle surge sometimes, never when the a/c is on. On some days at a stop light it will and some times it will idle just fine.
More pictures will come tomorrow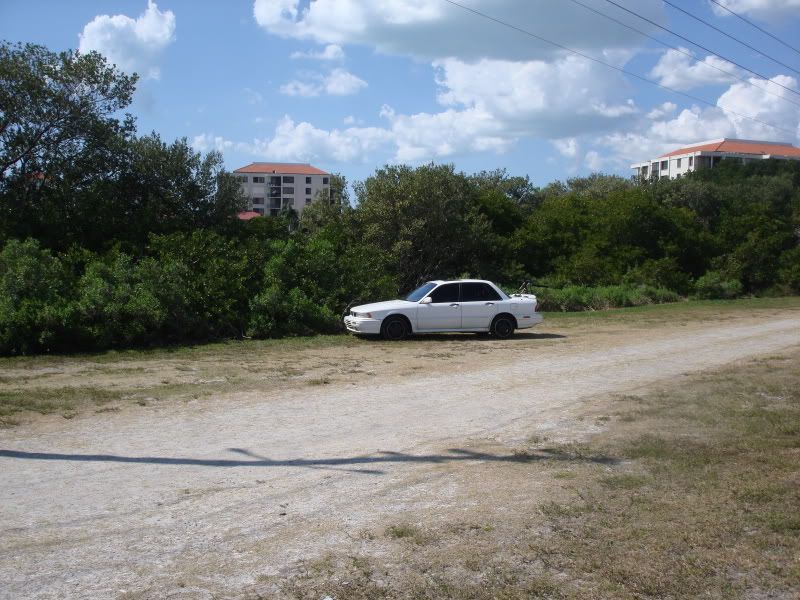 Last edited: