Joined

Nov 22, 2008
Messages

2,054
Location
EDIT May 12th 2011 - Deposit on the shell...pending delivery
I'v got a 1990 Galant GSX (originally non-turbo AWD) rolling chassis for sale.
$1050 is my NEW asking price on the roller.
I have a trailer and delivery can be negotiated. I'd hate to part this one out, as it's actually pretty nice. (original price was $1575)
[email protected]
or 862 251 2571 Cell/txt to get ahold of me.
The car is located at 1028 Rt 94, Blairstown, NJ 07825 if anyone wants to googlemap or GPS the distance or come take a look at the car.
Details on the car:
[*]This car was previously "gvr4 converted" and had a turbo wiring harness installed when it last ran. Plugs right in with no mods.
[*]Nordic blue paint in very good condition. Misc dings and typical paint chips for age. Pass front fender has some "ripple" on the top.
[*]129k miles on the body, very good condition on the bottom...as rust free as 22 years old can be. The car was originally from Missouri and then went to Michigan
[*]Alpha Male is the last member to own the car and drive it. I bought it from ACT250R along with his GVR4 #1552 which was parted out (he was going to swap to this GGSX shell but lost time/interest)
[*]Blue cloth interior in good condition, power sunroof, electric seatbelts.
[*]The front radiator support has a dent on the bottom as if the car hit a big rock (shown in pics) and there is a small "wave" in the very bottom of the radiator support frame rail. This is forward of the shock tower and doesn't affect the alignment or drivetrain at all.
[*]Clean NY title, no issues with transferring ownership.
[/list]
"Goodies" that are on the car worth noting:
(I could part out just this list below and get far more than the asking price)
[*]
JDM bumper
w/ brackets painted in the correct nordic blue color
[*]93 Headlights and Clear corner lights
[*]KYB AGX shocks in nearly new condition
[*]4 Bolt DSM rear (diff/axles/cups)
[*]5lug DSM hubs F&R
[*]new brembo front brake rotors
[*]new front ball joints
[*]new clutch master cyl
[*]ES suspension arm, swaybar, and subframe bushings installed
[*]POR 15 painted engine bay, front suspension, subframe, engine mounts, crossmembers, and misc underhood brackets. (lots of time effort & time on this)
[*]walbro 255hp pump on a good sending unit. fuel tank has all studs intact.
[*]-6 fuel feed line
[*]Includes driveshaft and front axles
[*]Includes correct GVR4 engine mount brackets (por15'd)
[*]includes stock 6bolt awd flywheel
[*]The car comes with a radiator support section cut from another GVR4 if new owner wishes to cut/weld in a new lower radiator support to make it perfect.
[*]The trunk and back seats are full of misc parts as well as boxes and bags of bolts & hardware
[*]power steering parts are in the truck as well.
[/list]
What the car needs to be put together and driven:
[*]ECU & engine electronics (cas, injectors, maf, ignition, throttle body, o2 sensor, Tstat sensors, ect)
[*]Engine wiring harness from a GVR4 (you could make a 91-94 DSM turbo harness work as well)
[*]Engine, turbo, and exhaust system
[*]Engine bay accessories: intercooler, pipes, intake & airfilter, radiator, hosing, vac lines ect
[*]Trans & Xcase (clutch too)
[*]Misc nuts/bolts/hardware for drivetrain re-assembly
[*]Front brake calipers, pads, and hoses
[*]
Time, Effort, and Patience to build a car from a shell and go over all the details

[/list]
Basically, you could use any working/crashed/rotted 1G AWD DSM/GVR4 to swap the drivetrain into this rare and good condition shell to make a "one of a kind" GVR4. I'm tempted to build the car myself over the summer just like I did #139/1000 but I'll sell it off if the price is right.
Pics: Unfortunately, it snowed today. I'll clean the car out and get more detailed photos of the interior and underhood.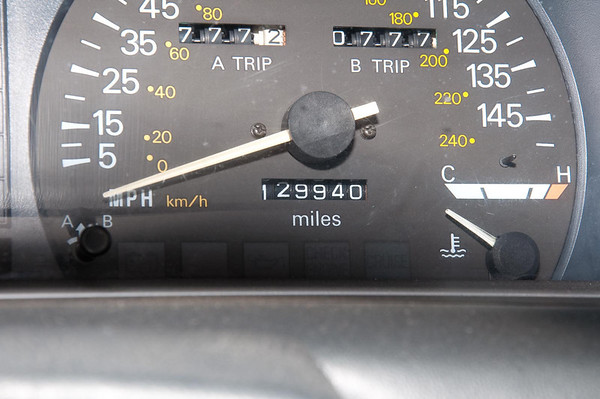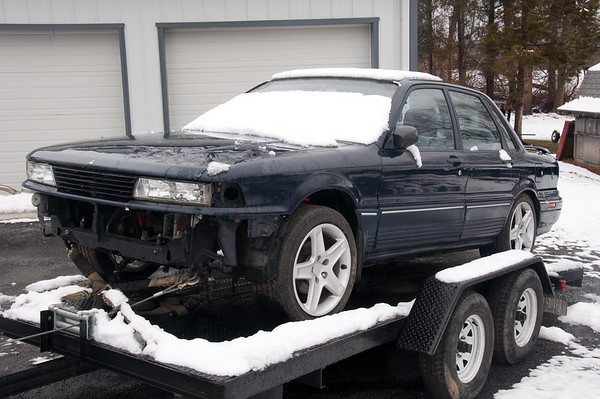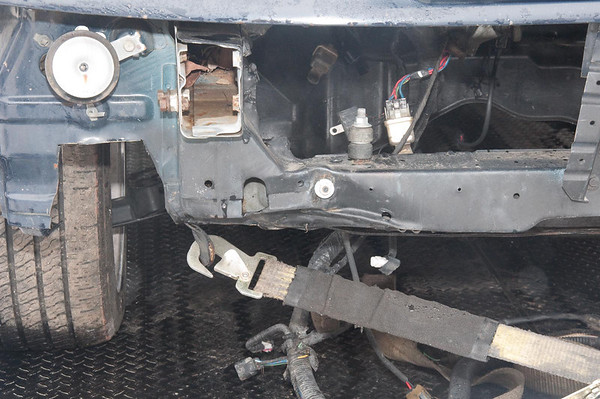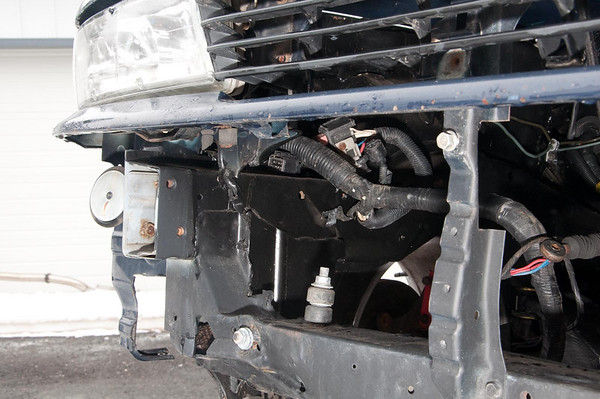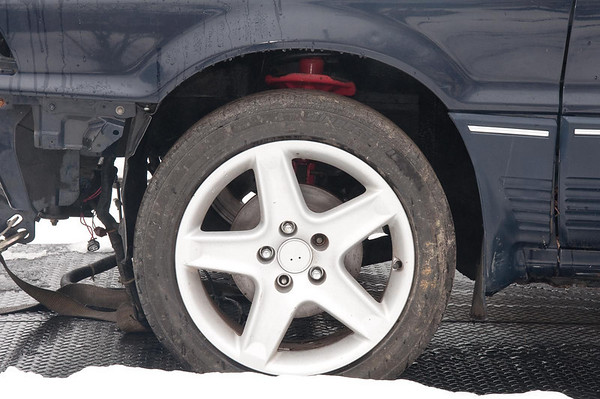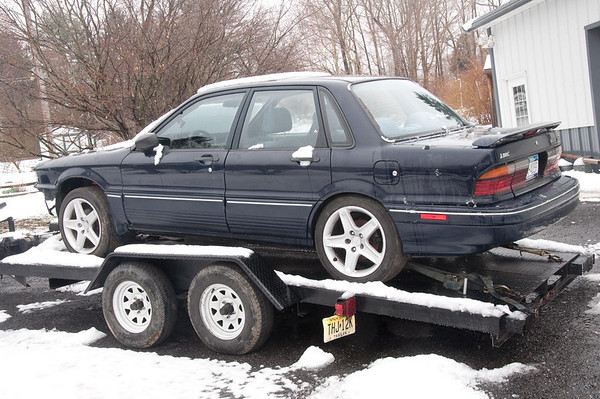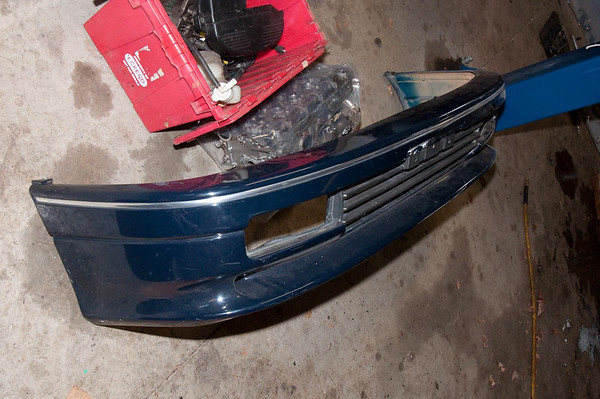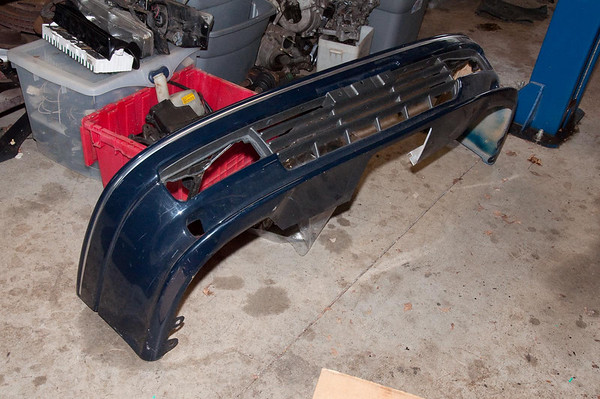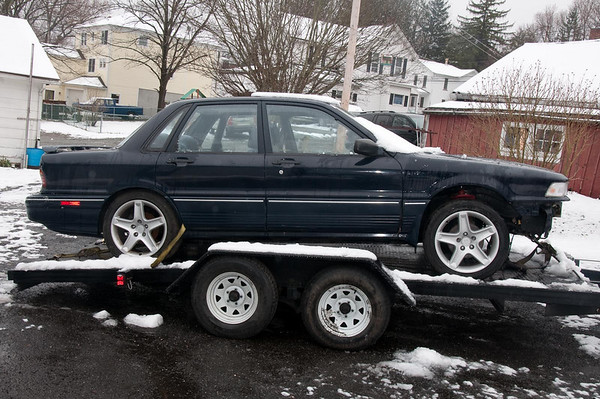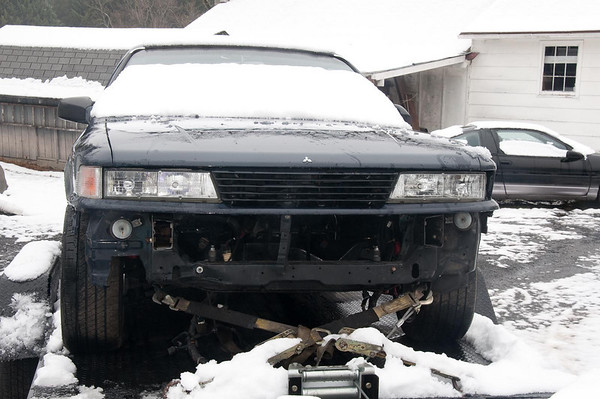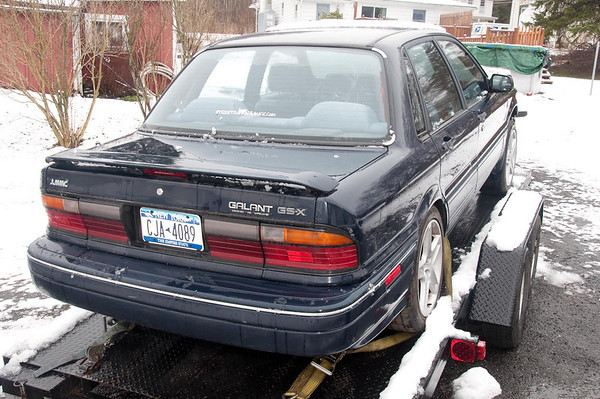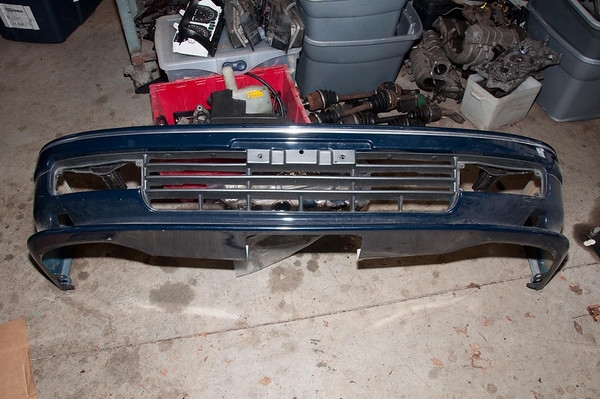 EDIT May 5th 2011:
Iv since removed/sold the engine wiring harness and the 3" turboback exhaust....price on the car had dropped to $1200.

Edit May 8th 2011:
Acura TL wheels that are shown in the pics have been removed/sold. The car is now rolling on 16" OEM grey 1G Talon wheels w/ good tires. Price dropped to $1050

Edit May 12th 2011:
I'v taken a deposit on the car pending delivery on May 18th. Car is basically sold.


Last edited: