Joined

Mar 5, 2001
Messages

2,570
Location
Due to popular demand the Galant VR4 floormat group buy has been resurrected!
I will give some details with pics, then let you know how to go about getting yourself a set of your very own.
Details:
-You will get 4 mats. Two front, two rear. The fronts fit and look great. The rears have been "modified" to cover more of the area up under the front seats for additional protection and better looks over the plain rectangle ones you often see in the rear of cars.
-The carpet colors I suggest are either Grey 186 (just what they call it), or black. Personally I got the grey because it matches perfectly the original carpet color. Lots of guys have gotten the black and seem to be happy with their choice too. I have heard 0 (zero) complaints.
These are the 4 embroidery styles you can choose from without a HUGE set-up fee. 1 and 2 are centered on the mat facing the driver sitting in the seat. 3 and 4 are along the door sill edge of the mat and facing you with the door open.
You can get either your car number embroidered on the rear mats, or get them blank. Or pay the HUGE set-up fee for the VR-4 badge.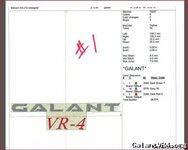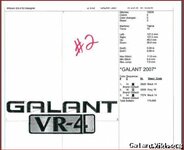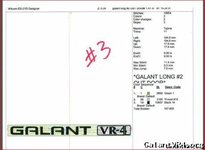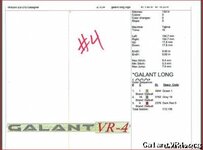 -The standard embroidery is in the pics below. It is Galant VR4 on two lines on both of the front mats.
-
Click for available embroidery font designs.
-For the rear mats, we can now get our car number embroidered as xxx/xxxx, or for you unfortunate masses xxxx/xxxx. /ubbthreads/images/graemlins/wink.gif
-The colors for this embroidery is pretty open. I like the black Galant, the red looks really good too. I have not seen many of these to give my personal opinion, but who wants it anyway.
Just ask if there is a particular color you want and I'll check on it. Green is popular, as is the red. I am partial to the blue, but it may not go as well with your car. /ubbthreads/images/graemlins/dunno.gif
I don't have any pics of the rear mats with the numbers. If any of you guys have pics or can take some, please post them up for reference.
-You can get your mats with a hole in the driver side mat for the tab that is on some of the car's carpet to help hold the mats in place. I don't have the tab and mine stay put just fine. Of course my cars best time down the track is only 12.8 and they won't be in the car for its Little Talladega outing.
-It takes about two weeks from the time the order is placed to delivery. We have had issues that caused a delay, but they were handled and hopefully everybody is happy with the end results.
Cost
The cost is going to be $165 shipped in the contiguous US (as of 4/20/2022). If you don't have or want a number on the rear mats it will be $140.
Payment can be made to me at
[email protected]
When making payment please include the options you want (carpet color, embroidery color, car number, hole/no hole, and your screen name too along with real name, and shipping address. I charge $5 for each thing you leave off. /ubbthreads/images/graemlins/wink.gif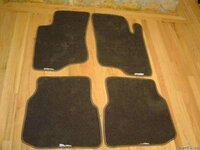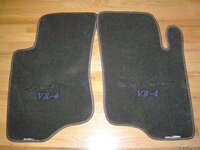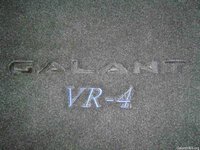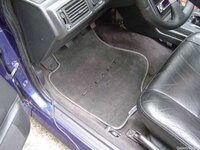 If you have any questions please let me know. I will be keeping tabs on this thread, but am really busy right now and won't be checking it every 15 minutes, so be patient. I think everyone has had good communication experiences with me and I certainly hope to continue that.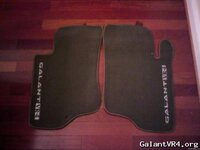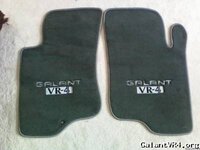 Last edited: