Joined

Jun 1, 2011
Messages

620
Location
Well, I have purchased a new Cadillac and it's time to sell the VR4. I have a bunch invested like most of us do and I'm looking to recoup half of what I have put into this build over the last two years. I have offered the car back to the previous owner and he is going to let me know in the next few days if he will be buying it back.
The good:
-Rebuilt engine with stock internals 10,000 ago
-Evo 3 16g w/ evo 3 manifold and O2 housing
-3" stainless mandrel bent exhaust from O2 to tail pipe
-ECMLink full V3
-LC-1 wideband
-Fuel Lab 750 cc injectors
-3" Intake to turbo w/K&N filter
-Evo 9 intercooler
-Aeromotive 340 fuel pump
-Battery relocated to trunk w/ fuel pump rewire
-New Action clutch, Mitsu master and slave, stainless line, resurfaced flywheel, etc.
-Shep stage 2 transmission. Purchased locally from a local GVR4 owner who was parting out his car. Mileage unknown.
The really awesome:
-Ohlin Evo 9 Road and Track shocks
-Complete disassemble and repaint to W69 paint code. This is the newer Mitsubishi white used on Galants and a few other models
-Interior near flawless. One small spot on dash in the tray under clock the size of a dime or smaller.
The not so awesome:
-Clutch does not completely disengage. I have been easy on it and usually double clutch although I don't have to. It's not bad, but still isn't a 100% I drive a 46 2-ton chevy on occasion so double clutching kinda comes natural!
-I made a hood opening that came out really nice, but the area's that I welded are starting to pop up a little. I will fix this or repaint another hood if you can find me one!
-Leaks some oil from the turbo oil return. It's a new tube, but still leaks. I have the -10 hose and fittings and plan to fix this soon, just hasn't happen yet.
Link to the last for sale thread
click
link to a 100 or so pictures
click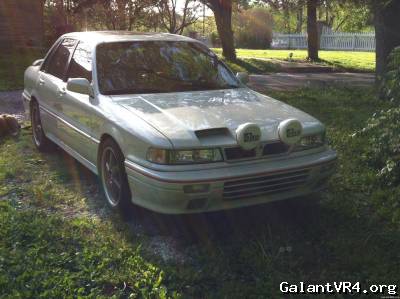 Rally light no longer installed. It was a complete bolt on affair. No VR4's were harmed in the installation of said Rally lights!
I'm sure there is more. I would be glad to drive the car to you if you are somewhat close...Within 200-300 miles. I would require some sort of deposit.
You can visit my web page to see some photo's or the photobucket link. Don't want to take up to much of the .org's bandwidth with extra pictures!
Thanks, Randy
Last edited: