#1185/2000 On Ebay
Former member of the board here, spend all my time riding bicycles rather than driving cars these days. This well-modded girl would be better off with a new home than sitting outside at my place any longer.
New in the past 5,000 miles:
Rebuilt Engine
- Reconditioned 1g rods
- New 2g pistons
- New 3rd gen lash adjusters
- Balance shafts eliminated
- New front cover/oil pump
- HKS 264 cams
- All new OEM timing parts
- ARP head studs
- OEM 4-layer steel head gasket
Prothane polyurethane engine mount inserts
2g (plastic) dipstick
All new rubber underhood
NGK plug wires
NGK BPR7ES plugs
Tires, Winterforce M+S 185/65-15 (no studs)
Stage 3 Keydiver (dsmships.com) E85 chip
Carquest battery
Windshield
New in the past 10,000 miles:
Lightweight chromoly flywheel
6-puck sprung Clutchnet clutch disc
OEM pressure plate
OEM inner tie rods
OEM outer tie rods
OEM Montero tie rod ends (heavier duty than stock)
OEM front ball joints
OEM front sway bar endlinks
OEM front wheel bearings
Megan 3" stainless steel downpipe
3" mild steel downpipe-back exhaust
Full size muffler
2g DSM cast aluminum intake pipe (Injen copy)
2g DSM mass air
850cc Delphi injectors
1993 Galant clear headlights
OEM thermostat
OEM knock sensor
New in past 15,000 miles:
OEM clutch master cylinder
OEM clutch slave cylinder
OEM clutch fork and pivot ball
Stainless steel clutch line
Goodridge stainless steel brake lines
OEM rear brake calipers
Front and rear brake pads
Front axles
OEM harmonic balancer
OEM ISC motor
New in past 25,000 miles:
Walbro 255lph HP fuel pump
AMS Galant VR-4 specific front mount intercooler and piping
-2.25" piping from turbo to intercooler
-2.5" piping from intercooler to throttle body
-1g DSM blowoff valve flange
-Spearco intercooler core
Evo3 16g turbo
Ported 2g DSM oxygen sensor housing
Ported 2g DSM exhaust manifold
Blitz dual solenoid electronic boost controller
Autometer auto-lite gauges
-Boost/Vacuum
-Air/Fuel
-Water temp
-Oil temp
-Oil pressure
Other mods:
Socketed EPROM ECU
Battery mounted in trunk with alloy battery box
1g DSM "short" shifter
Crushed blowoff valve
'90 DSM oil filter adapter
B&M bar and plate oil cooler (w/ braided lines)
Cruise control eliminated
Air conditioning eliminated
Switched new engine to Mobil-1 10-30 synthetic at 3,500 miles
Also included with car at buyers option:
VR-4 core support front cut
Extra turbo DSM full wiring harness
I also have Yakima SST towers and clips (they take round crossbars) that I will include for an extra $150, they do not make these clips any longer and they are hard to find.
Thanks for the space.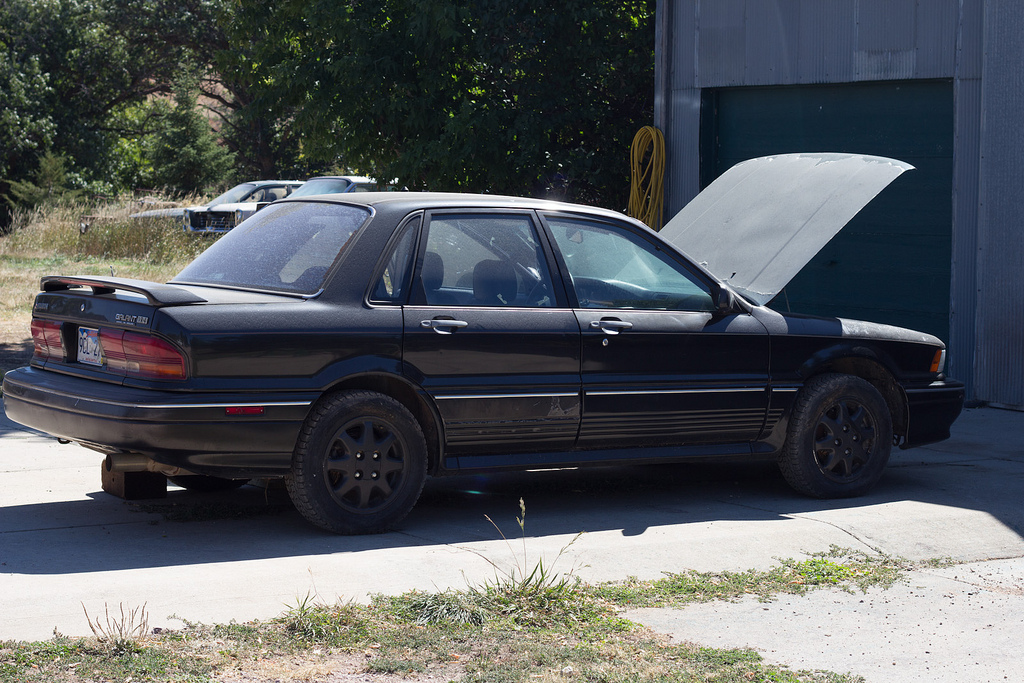 Last edited by a moderator: