Joined

Dec 19, 2012
Messages

1,497
Location
Hello,
I have been on this site here and there as I have had about 9 dsm cars over the years. Now I finally have a reason to join. After parting out a 93 6bolt 4bolt eclipse I was looking for a suitable rust free shell to swap into. I was originally looking for a starion, or a mirage but when I saw this car I knew it was the one.
I found a 91 galant Gsx auto (FYI Rear Gear ratio stock is 3.307 J1a diff) with 87k miles, with Zero rust that was driven by an old lady in the bronx, who used it to teach drivers ed until a tps malfunction stopped the transmission from shifting properly. Body is a little rough but I'm going to overlook that for now.
(Anyone want parts for a full automatic conversion?)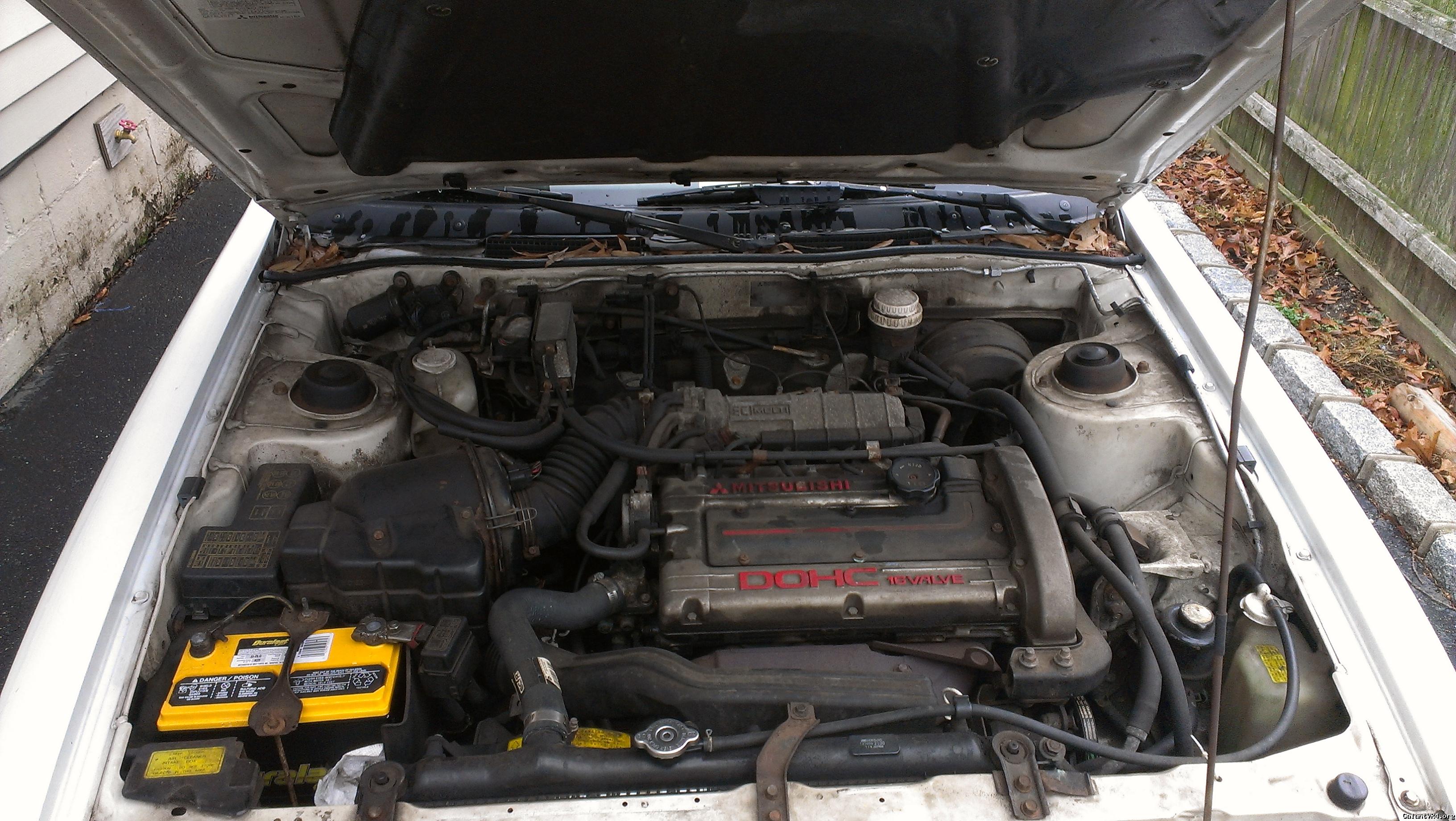 I have a good bit of plans for it by the end of January
in no particular order:
•Power wash & wax
•Remove engine & trans
•Clean rust proof and or paint everything
Install The following:
•master clutch cylinder
•Shifter cables
•shifter w/aluminum bushings
•welded pedals w/brass bushings
•4 bolt rear diff axles + cups
•New rear upper control arm
•Rear active toe Elimination from jay racing(GGSX doesn't have 4ws)
•Wire the harness for knock and the extra maf wire
•Install wide band o2 sensor
•Relocate Battery to trunk
•Disable auto dash lights and neutral test switch
•5 lug conversion
•Swap rear sway bar (The dsm is 20mm & ggsx is 19mm )
•Touch up the bottom with por 15 paint & rubber coating
•Swap Rack from DSM (Mine Is leaking bad)
•Spray some rubberized under coating
It's going to be a busy month. I have to spray the doors of my jeep first to get it out of my garage.
The Engine from this car:
Spun bearing in 0 mile motor
Engine is at a shop getting machined
It's going to be 2.1L
•86mm cylinder bore
•Eagle 94mm crank (on order)
•Eagle rods w/22mm wrist pins only part in lower end that was salvageable
•Manley 9.0:1 pistons (on order)
•Balance shaft elimination
•think I'm going with bi-metal bearings. maybe king ??
Head has to be cleaned but its in decent shape
(besides some imprints from debris in cylinder 4)
•1mm oversize valves
•SUPERTECH Dual Valve Springs
•new seals and titanium retainers
•bronze valve guides
•gsc power 268 cams
•Gates blue timing belt
I have a custom sheet metal intake I have never seen anywhere else that I will be connecting with either the stock throttle body or a 93 turbo DSM unit. I haven't decided yet. It doesn't have a throttle cable bracket ill have to have one welded on. I also need to figure out a more elegant solution for manifold pressure lines.
I have an eprom ecu socketed and ready to go but will probably keep the stock computer without a turbo for the first couple thousand miles. I can program chips and have a couple dozen blanks if anyone needs mods.
I have a three puck clutch and lightened flywheel from other car clutch looks new, but fly wheel and pressure plate look scuffed up on purpose. Kinda dumb but it should be fine.
Let The Build Begin
Last edited: