I neglected to update this thread when she first started running, but I will do so now that she's been running well for a few weeks.
Here's what she looks like sitting all clean and happy out front.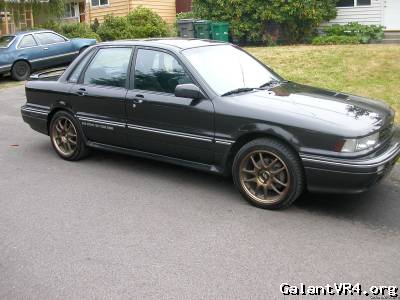 Things weren't exactly as they should be when I got it first started. It took a couple tries to get the knock sensor in there, but it turns out the code I was getting was for that and not the CAS (duh!). I was taking her for a bit of a long trip a couple days ago and while cruising down the highway something made a HUGE clunk and hit the bottom of the car (i felt it in my butt) and so I pull over thinking the driveshaft has exploded. I couldn't see anything so I very cautiously drove home and got her up in the air to find out what went wrong. The only thing I could see was a missing exhaust hanger bolt. I guess I missed screwing one of them in and it must have bounced off the road and a U joint.
So, I just got a job so I'll have spending money and time on the weekends to throw a little more money into the car. So I expect this thread to be a little more consistent than in the past. Maybe it will get moved into the general discussion section too (wink moderators wink).

Edit: I forgot to give you guys the price break down. I cut as many corners as I felt was allowable to save money, but it still was about a grand for the whole thing.
gaskets
230.85
t-belt idler pulley
34.67
t-belt tensioner pulley
28.83
water pump
27.79
CV boots
44.7
axle seals
12.92
turbo rebuild
60
head
255.31
fluids
50
hardware
15
exhaust manifold
35
t-belt tools
62.34
shipping
38.58
total
896.59
I had to get some other things like thread repair and a few tools, so my actual cost was over 1k.