I have had some feedback that there are some other people having the same rattle.
My problem was a very loud and annoying rattle at every bump in the passenger side dash. At least that is where it sounded like it was coming from.
I found that the hood hinge on both sides (mostly passenger side) has a little play in it ONLY when the hood is closed.
Here is a pic.
To test to see if it is loose, grab the back of the hood (must be closed) right where my hand is and lift up and down several times. Mine was just loose enough to rattle.
Here is the fix I came up with.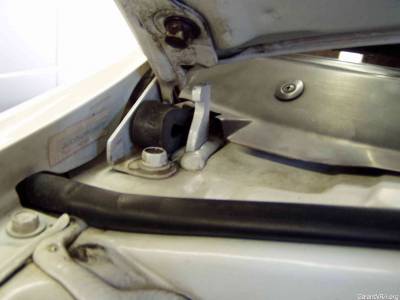 The rubber piece is from a 3" to 4" plumbing adapter I had laying on the shelf. The rubber strip is about 1/2" wide and about 6" long. The rubber is about 3/8" thick.
Here is a pic
Here is a pic of how it is folded and stuck into the hinge.
I hope it stays put. It should, but if not, I will use some RTV to make it stay.
This worked perfectly for me. No more rattles.
Good luck.
I put this in this forum to get more attention. It can and should be moved to the "how to" forum after it runs a few days here.
Thank you.