I have a 97 Legnum Super VR-4 with some issues that I need some assistance with.
Issues started when a new head unit was installed and my auto oil temp (Defi) failed, but would work when the lights were on.
She also had a Billion VFC-MAX Water temp & fan controller.
While I was working out the issue with the Defi the Billion gauge spat out all of its magic smoke.
There is a Yellow wire on the Billion which is an Earth, not a 12v supply.
Now things went from bad to worse, extremely difficult to start 1st thing and the electric fans kick in on high instantly.
Once she has warmed up a little then things are fine (ish). Turbo timer doesn't work anymore either.
When it went on the scan tool, the coolant temp sender is showing up as -59°C which to me means it's open circuit.
Help #1: Where on earth did Mitsubishi hide the ECU - I thought it was on the passenger side footwell (Mine is a RHD JDM version) but couldn't find it. I did search the forums.
I need to find Connector 4, pin 13.
Help #2: Where is the coolant sensor located? I did find this lonely sensor but cannot find a connector to go on it....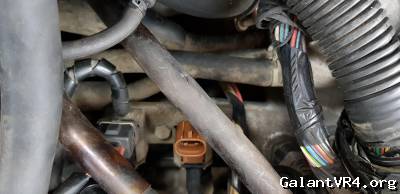 Help #3: I'll also need to know how the fans are wired up - am used to Sender -> ECU -> Fans.
Basically I just want to rip all the Billion wiring out and get the fans back to normal.
Finally, once the car has started, in 50 seconds the CEL and TCL idiot lights come up simultaneously.
Pulled the codes with a safety pin gave me :
I jumpered pins 1 and 4 and this is what I got:
TCL:...
12 FL wheel speed sensors (or a short break)
13 RR wheel speed sensors (or a short break)
21 FR wheel speed sensor system
CEL:...
12 Air Flow Sensor System
13 Inlet temperature Sensor System
21 Temperature Sensor System