I spoke with John and a few other members on here about my ideas for an engine build and it was suggested I open it up to the board to get your comments.
Don't lynch me straight out of the box (yes I'm talking to you Josh!)
I am aware that standard 2.0 litre engine builds are easier, well proven and far less complicated, but please, read the evidence, consider it and tell me if this idea has any merit whatsoever.
The background to this is a thread over on "Tooners" which actually I don't find to be as bad a place as some people make out. Just like here there are some very knowledgeable people on there and some good information can be found if you look around. Anyhow this is the thread that started it:-
Advantages of a 2.1 stroker
Cliff notes for those of you that aren't a member over there or don't want to read through 4 pages of a newbie thread. Newbie asks if there is any advantage to destroking his 2.4 to build a 2.1 litre engine with an 88mm stroke/crank, 162 mm rod length and an 87 mm bore. Somewhere along the line Slowboy jump in and state that a 2.0 litre long rod engine yields all of the benefits of the 2.1 litre engine (11,000 rpm redline) but is easier and cheaper to build using a 4G63 block, 4G63 cam belt, smaller diameter pistons. They then post up a dynograph of an engine they built: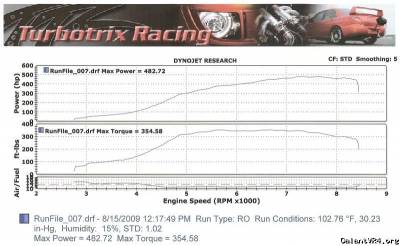 Now that's pretty good on 23 psi. It's a damn good power/torque line all the way to redline with more rpms left over if you want to go there. Now I have heard all the arguments about high rpm motors being 'pointless' because the head can't flow properly at such high rpms. But as I stated in the above thread I am looking at this from the point of view of speed. There seems to be a great deal of concern about power falling off at higher rpms but once you are moving and have momentum, far less power is required to maintain speed than is required to overcome inertia and accelerate. Since your crankshaft spins at a rate proportionate to that of your axles, as long as you are not slipping at the clutch or spinning tyres, the faster your engine revs in any given gear the faster you go. As long as you maintain 11,000 rpms you will maintain that speed, how much horsepower you are producing is irrelevant.
I also see this type of engine as a failsafe. Irrespective of whether the engine is making more power at higher rpms it stands to reason that if an engine is built for 11,000 rpms and only sees 8000 rpms regularly, it should live a long time and quite possibly survive a missed shift at 8000 rpms that would cause an engine with an 8,500 rpm redline catastrophic failure.
Right. Onto my final point for those of you still with me. These are the configurations for various different engines pulled shamelessly from Magnus' site.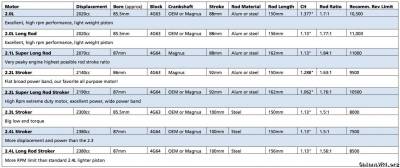 The 2.1 litre has the best stroke/rod ratio at 1.84:1 but the 2.0 litre long rod comes close at 1.77:1 but uses only an 85 mm bore instead of the 4G64 87 mm bore (lighter pistons)
So THIS is what I am thinking. Take a 4G64/G4CS block and SLEEVE IT. Yes, I know, I know ... stay with me here. Once sleeved I bore the 6mm taller deck to 85mm standard 2.0 litre specs. I then have two options. I can stay with 2.3 litre stroker pistons and go for a super long rod 2.0 litre engine with a 162 mm rod giving me that 1.84:1 stroke/rod ratio
OR (and this is the exciting bit!)
Could I not use the 156 mm custom rods retaining the still very good 1.77:1 stroke/rod ratio but keep standard 2G pistons? (extra deck height)
Pretty much entire OEM setup with a better than stock stroke/rod ratio. No forged pistons, just forged rods. 23 psi or under on something like a Evo III 16G or the HTA 16G equivalent to take advantage of the extra rpms flow and obviously you would need a built 4G63 head.
My questions/concerns:
1) How thick could you make the sleeves? Would .020 and .040 rebores at a later stage still be feasible?
2) Crank. Magnus doesn't mention the option of using an oem 4G63 88mm crank in the 4G64 block. Do I need a custom one?
3) Would a 2G or 1G head be better for this application?
To recap here. We are talking about a lot of work just to avoid using a forged piston. What it means however is that with just a set of rods you could essentially build from stock OEM parts an 11,000 rpm capable engine. As an essentially stock engine it would drive like stock and be as durable as stock (possibly more so given the better stroke/rod ratio) but with a built head it would be capable of ridiculously high rpms at the track.