Ok so I had a leak at the oil cooler lines right by the filter housing. I bought a new B&M cooler with AN fittings per
this thread.
Parts arrived and I began to disasemble the old stock oil cooler. I figured while I was under there I would take care of any other leaks so I removed a AN fitting with an elbow that wasn't in use, port 3 seen in
this photo
. After removing it I noticed pieces of some material breaking off of the filter housing threads.
Is this material teflon paste? Its breaking up and in small pieces which I'd rather not have mixed in with my oil.
Is there any way I can get the rest of this crap out cause I'm close to just buying a new filter housing and redoing all the lines.
I've never worked with this "teflon paste" before. Edit: Actually I have but it was long ago. I figured this stuff was jb weld but wasn't absolutely psotive.
What is the consensus on regular old teflon tape for sealing up oil ports? Are there different thickness tapes? What would you guys recommend to seal up all the ports on the oil filter housing? I don't want a drop of oil on my garage floor.
Heres a photo of what I'm dealing with.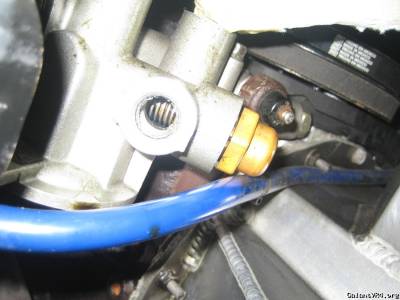 Thanks