FOR SALE - EX WORKS,RALLIART JAPAN.
MITSUBISHI GALANT VR4 Group A (RHD)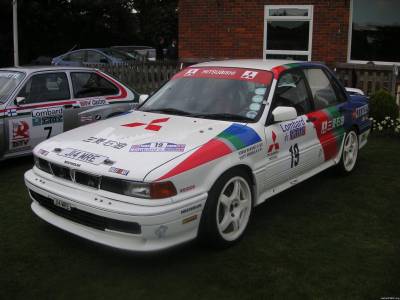 After months of trying to justify owning 2 rallycars,i have regretably decided to sell the Galant,this is a one off opportunity to own an original ex works Galant VR4,this car is currently being used in competition and is ready to compete next weekend,just bring helmet and license and away you go,it wants for nothing.
A breif history - Ex works Ralliart japan built car,built in 1988 and used in asia pacific rally championship,shipped to the uk in 1992 + upgraded to evo spec and reprepaired by Ralliart Europe,for use as a high speed recce car for the 1992 safari rally,the car was then sold privately and effectively disappeared(Ralliart had a policy not to sell ex works cars

some slipped through the net)and i basically found it by meeting an old friend in a pub(long story)and aquired the car in 2004, it had not turned a wheel in 12 years,the car was then fully restored with no expense spaired by ex works ralliart mechanics,and used with a lot of success in uk and european rallys,including 1 outright win, embarassing a lot more modern cars.
Car Spec - Works spec shell,double floor skin,stich welded and plated,full 14pt rollcage(homlogated),floor trays,co drivers footrest,plumbed in fire extinqusher,2 handhelds,helmet net,spare wheel carrier,hydraulic jack,sparco evo seats,sabelt 6pt 3" harnesses,brantz trip,maplight,auxilar light switches,electric cut out,fuel pump switches,flocked dash,omp steering wheel,hydraulic handbrake,bias pedal box + dash adjuster,80 litre foam filled alloy tank,twin bosch pumps,swirl pot,aeroquip fuel lines,aeroquip brake lines,gems engine management system,mapped for 98 ron,2 stage antilag,fully forged Grp A(phil marks)engine,FP modified turbo 34mm restrictor,magnecour leads,samco hoses,evo intercooler,sumpgaurd,diff gaurd,5 speed Albins dogbox,twin plate quartermaster clutch,quaife centre diff,Kaaz front diff,Titanium propshaft,Kazz plated rear diff,rose jointed suspension arms,uprated subframe front/rear,proflex 2way tarmac suspension,rose jointed top mounts,strut brace,AP 6 pot calipers+330mm discs,rear AP 4 pot,18" magnesium enkei wheels,pirelli wrc tarmac tyres,this car has everything you would expect from the factory and too many extras too list,it is not a converted roadcar,it is a car built for a purpose.
Spares package - full set of gravel KYB suspension and Ap 4 pot brakes,12 x enkei 15" magnesium wheels,6 x 16" dymag magnesium wheels,18 x 18"enkei magnesium wheels all with tyres,fiberglass bonnet,doors,bootlid,driveshafts,engine(n/a)turbos,bottom arms,endless amounts of panels bumpers,headlights etc,subframes,glass,radiator,and boxes and boxes of usefull parts.
This car is the real deal,please apply by sending me a pm,serious enquiries only,no dreamers,no part x,no tyrekickers,no scammers,no test pilots,the car is based in London England,shipping worldwide can be arranged and i am prepared to fly out with the car to assist with set up and passing on information,i have advertised it here first as i would like to see it go to an enthusiast rather than be locked in a museum.
Price - 30k sterling Negotiable + shipping
I am happy to answer any questions and send photographs please PM me.
Cheers Guy