Well, seeing as how I have put <1,000 miles on #1886 in the past 2 years, its time for someone else to enjoy the car.

I have tons of mods on it, and have rebuilt just about everything on the car, so I'll be adding to the mods list as I remember them:
Engine:
Fairly recent rebuild with 2G pistons, ~5K miles
No balance shafts
Fresh head with HKS 264/264 cams, 3G lifters
EVO3 ported exhaust manifold
EVO3 ported O2 housing
EVO3 16G turbo with ported turbine, ceramic coated - holds solid boost at any psi
ARP rod bolts/nuts and main bolts
Turbotrix silicone coolant hoses
Koyo Aluminum racing radiator
Progressive 100psi water/meth injection
RRE Griffin/Spearco FMIC system
1990-style oil cooler (external cooler included, never installed though)
Carbon Fiber spark plug cover and Greddy oil cap
Relocated Odyssey Red Top battery
1994 hall-effect CAS
Supra fuelpump with rewire
All #6-AN fuel lines under the hood with Earl's fuel filter
Essex/Aeromotive FPR @ 43 psi
Siemens Deka 750cc injectors
Venom Intake Manifold
EVO8 MAS with Dejon intake and K&N filter
Gabor Stainless Steel exhaust shield
Chassis:
1993 headlights with HID low beams
FONDMetal 16" wheels with Toyo Proxes 225/55R-16 tires (>70% tread)
All 4 sets of wheel bearings replaced
polyurethane sway bar bushings all around, as well as fresh Mitsu endlinks
RRE stainless brake lines
slotted rotors with EBC green lining in front, Metalmaster in rear
KYB GR-2 struts all around
H&R springs with one turn removed in rear
Whiteline Front Strut Bar
2 1/2" exhaust, no cat, electric cutout, stainless resonator, extra O2 bung
Original paint (except hood was repainted when I bought it)
Sunroof! (although I never use it)
Never in an accident, southern car most of its life
Drives very straight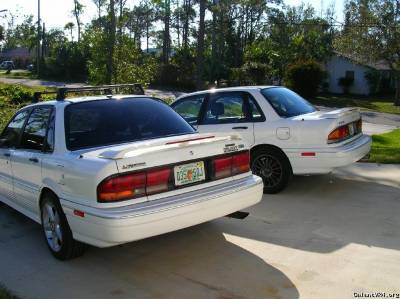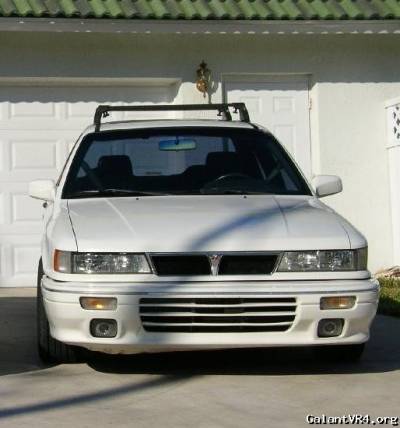 Drivetrain:
Centerforce Dual Friction 2500 clutch
RRE lightened flywheel
ThreeSpeed Scattershield
TRE rebuilt transmission (~15,000 miles) with all the goodies: dual synchros, improved rails, 15% overdrive 5th gear, 4-spider center diff, too much to remember)
Mofugas short shifter
Symborski shifter bushings
4-bolt LSD rear diff WITH 4WS! (very rare)
RRE stainless clutch line
brass shift linkage bushings on transmission
Extra stuff:
MOMO steering wheel! Very nice! With MMC horn button!
Professionally converted R134 A/C system blows nice and cold
In dash Aerometer Cobalt electric fuel pressure gauge
Cyberdyne "Blinky Light" O2 gauge
DEFI 2 BAR boost gauge
MINT ECU with a DSMChip, of course
leather interior is in excellent condition
Original factory mats
Sony AM/FM/Cassette w/ Sony CD changer in the trunk
upgraded speaker system
Rack shown in pictures NOT included (sold)
Greddy Profec B electronic boost controller
Comes with the original window sticker, leatherette owners manual case, and owners manual
#1886/2000 original dash plaque intact
The bad stuff:
The usual dents and scratches after 160K+ miles of hauling bicycles and a kayak around
The front bumper cover has seen better days, as you can see in the pix
I recently removed the cruise stuff under the hood, as it was worthless anyway
Possible motor mount issue, as the exhaust slip joint wants to pull apart once in a while when making 22psi pulls

All the emissions stuff has been removed, so you'd better not live in a state with emissions visual inspections.

The car does have a compressor surge issue, if you give it partial throttle and then lift off. I feel that the problem may be that the EVO3 turbo is too small for all the rest of the mods that I have. This can also cause the car to want to stall upon sudden deceleration. This seems to be a common complaint from guys with a large Dejon intake pipe and an upgraded turbo, and may be due to some of the air being blown off by the BOV being pushed backwards through the MAS, causing the car to go rich. I'm still experimenting with a fix for this.
Well, that's it, and I'll add to it as I think of more of the mods I've done in the 8 years/100,000 miles that I've owned #1886/2000. The car is a rush to drive, always garage-kept, and a VERY reliable daily driver. It runs 20+ psi of boost all day long with no issues. I will even consider delivery anywhere in the CONUS, as the car has been built to be very dependable, as it was my primary transportation all these years.
Any SERIOUS offers considered.