This used to be pisces' car, then Mika's.
It was already modded pretty well before I got it.
Things I've done:
o Installed the intercooler, piping, added a nice Forge BOV
o Installed the 720cc injectors
o Bought / Installed Keydiver Chip
o Destroyed, then replaced the hood.
o New paint
o 16x7 rota wheels with 225/40ZR16 Falkens
o Lots of minor cleaning and maintenance ( battery,
leather conditioner on the seats, plugs/wires, etc )
Things on the to-do list:
o Replace tranny. Argh. TRE is grinding in 3rd.
o Figure out how to get a VPC to idle well with 272 cams. May try fixed 40hz
idle from keydiver, or pitch VPC for 3G MAS.
o Install the 4 bolt innards into my 3 bolt pumpkin ( want to keep 4ws )
o Install the Evo8 struts/shocks
Some pix: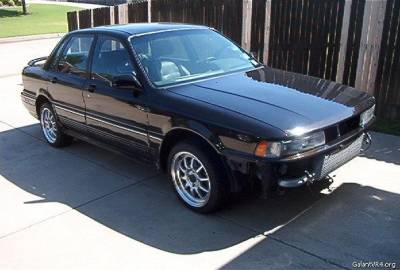 My freshly painted bumper cover
The hacked up bumper support
My 4 bolt. Plan is to buy a new 4ws gear, pin, and bearings, and install the guts
and axles into my 3 bolt pumpkin so I can keep the 4ws.
The ghetto-rific valve cover. Did this myself. Some minor imperfections, but I like
the way it matches the car.
Engine Bay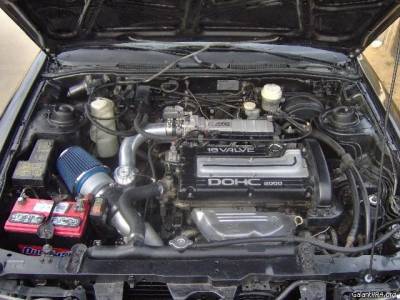 Bumper Cover Back On
I love new paint
Interior 1
Interior 2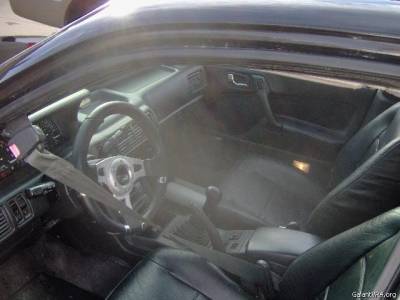 Current mod list ( stolen from Mika's page ) :
Specs
Engine:
-Forced Performance Green 8cm turbo; Jet-Hot coated hot side & ported @ FP
-EVO III exhaust manifold; ported @ FP
-HKS standard external wastegate
-Hahn 3" tubular O2 housing; Jet-Hot coated & theramally wrapped
-Hahn 3" downpipe
-Hallman manual boost controller
-Extrude Honed intake manifold
-HKS 272 I/E cams
-HKS VPC/Apex'i SAFC; 450 & 550 chips
-Water/alcohol injection
-Walbro 255 lph fuel pump; rewired
-Buschur bolt-on adjustable fuel pressure regulator w/gauge in engine bay
-RRE oil catch can w/PCV valve deleted
-720 injectors
-RRE stainless oil feed line
-Keydiver stage III
-Spearco FMIC
-Forge Motorsports BOV
Transmission:
-TRE-rebuilt 2G trans; GVR-4 1st, double synchro 2nd/3rd/4th, 1st/2nd & 3rd/4th EVO steel shift forks w/bronze pads, 4 spider center diff, TRE heavy duty intermediate shaft
( now grinding in 3rd. Argh. )
-Symborski shift-plate bushings
-Solid brass bushings in shifter cables
-Competition Clutch 2500lb ( lunched the ACT street disk with the 2600 )
Interior:
-Apex'i EL Glow boost & EGT gauges in A-pillar; peak/hold, 30 second playback & warning light
-HKS turbo timer
-Factory CD player from a 2002 Montero
Wheels & Tires:
- Rota 16's
- Falken ZE-512's; 225/40/16
Other:
Front and rear cross-drilled/slotted rotors, SS lines and pads.