Im still around, its kinda hard to find the time now a days.
I finally got around to installing the new engine into the G-GSX.
And I did a test fit for the evo IC pipe (coldside) to be used with a EVO 8 IC. Looks pretty factory.
You can see how I want to do the BOV return, this is not finalized... still lots of work to do.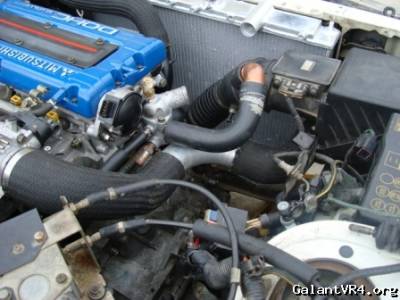 its got...
Fresh Rebuilt Longblock
ARP headstuds
EVO 8 cams (done correctly) /ubbthreads/images/graemlins/hsugh.gif
EVO 8 valve springs & retainers
EVO 8 fuel pump
EVO 3 injectors
Big-16G
Rebuilt NA Throttle Body
EVO 8 Oil Cooler
EVO 8 intercooler
EVO 8 MR suspension, Espelir ASD Springs (not installed yet)
RM rear sway bar (not installed yet)
EVO 9 Wheels (not installed yet)
Aluminum Flywheel
South-Land Stage3 Clutch
and a bunch of other odds and ends.
Can't wait to start it for the 1st time, and get it painted.