Joined

Feb 20, 2003
Messages

1,523
Location
SOLD.!!!
Thanks to everyone that showed interest in the car.
Nile Black - no sunroof - 153,6xx miles
I purchased the car in 1999 with 70,xxx miles.
No wrecks, clean history, title in hand.
No body rust – nice factory paint for a 19 year old car
Everything works – A/C, door locks, power windows, power antenna, cruise control, 4ws
Located in Kearneysville, WV – zip 25430.
Engine/Driveline
Stock long block (last compression test at about 150,000 miles was 151-152 across the board)
Mobile 1 5w30 every 3K miles
Balance shafts eliminated
Eliminated emissions equipment
Timing belt/water pump/acc. belts replaced at 130K miles
New style "big hole" lifters
Modine all metal radiator
Ported 95 manifold
Ported small 16G
Ported 95 o2 housing
2.5" downpipe
3" Dynomax bullet muffler/resonator - in place of cat
3" cat back w/ 3 chamber Flowmaster muffler
565cc Seimans Deka injectors
DSM Link with old Dell Latitude CPi laptop
Unhacked 2G MAS
3" Dejon tool intake
Odyssey battery - relocated to original air can location
Ball/spring manual boost controller
1G K&N filter with 2G MAS adapter
RRE Grey powder coated I/C piping - 2" turbo to I/C, 2.25" I/C to throttle body
Modified Starquest I/C
Buschur/SX fuel rail mounted fuel pressure regulator
B&M fuel filter mounted pressure gauge
Denso/TT Supra fuel pump - not rewired.
BPR7ES NGK plugs
Kingsborne wires
ACT 2600 pressure plate / street disk / stock flywheel - at 130K miles
Braided stainless clutch line
92 Talon trans
17" FLIK Lex anthracite wheels with 215/45/17 Sumitomo tires - about 50% tread
Stock 8 spoke black GVR4 wheels with 75% tread 195/60/15 Michelin Pilots (these tires are getting a little dry from sitting for years)
PowerStop slotted front rotors
PowerStop stock rear rotors
Metal Master pads front, Ceramic pads rear
KYB AGX struts front and rear
Whiteline lowering springs
Interior
Excellent condition leather
Stock steering wheel – worn leather
Stock shifter/boot – worn leather
Excellent condition stock carpet
Replacement front/rear floor mats w/ Galant VR-4 embroidered
Clean dash board – no cracks
Pioneer CD player w/ stock speakers
Autometer Phantom -30/+30 boost gauage
Autometer Phantom air/fuel gauge
Blitz FATT turbo timer
15% tinted windows with 5% windshield strip
Factory window sticker
Factory leather manual cover
Factory owners manuals
Factory spare, jack, and tools
2 – replica numbered GVR4 key fobs
Extras
Fitted Galant specific car cover
Batteryminder – battery tender
Timing belt kit – belts, tensioners, pulleys, water pump
Large folder with tons of receipts for parts/maintenance items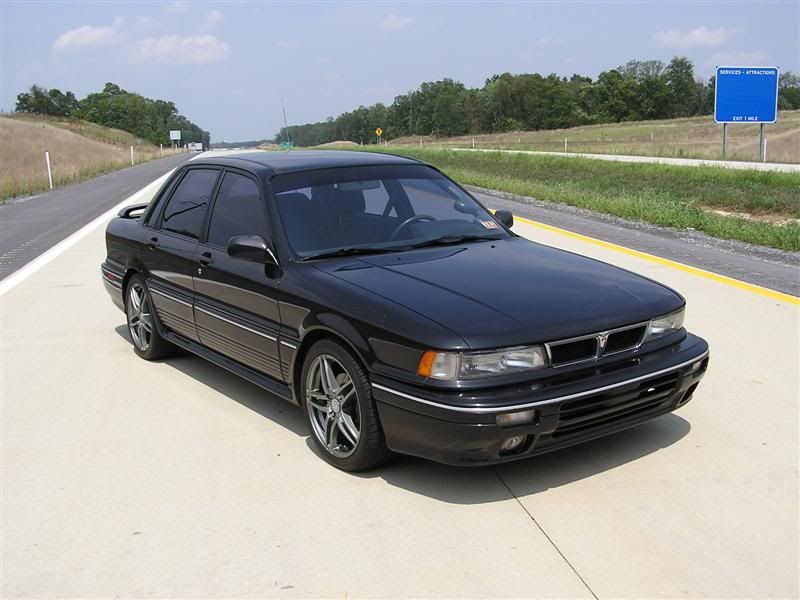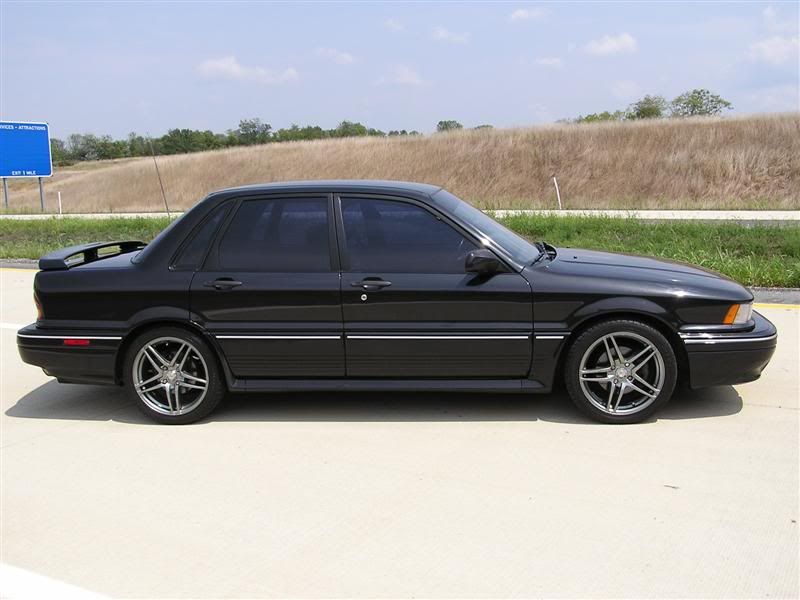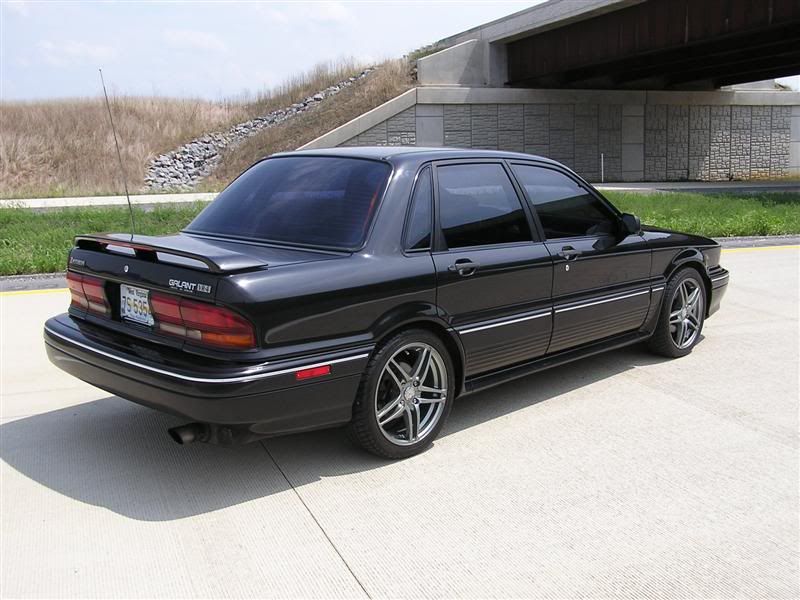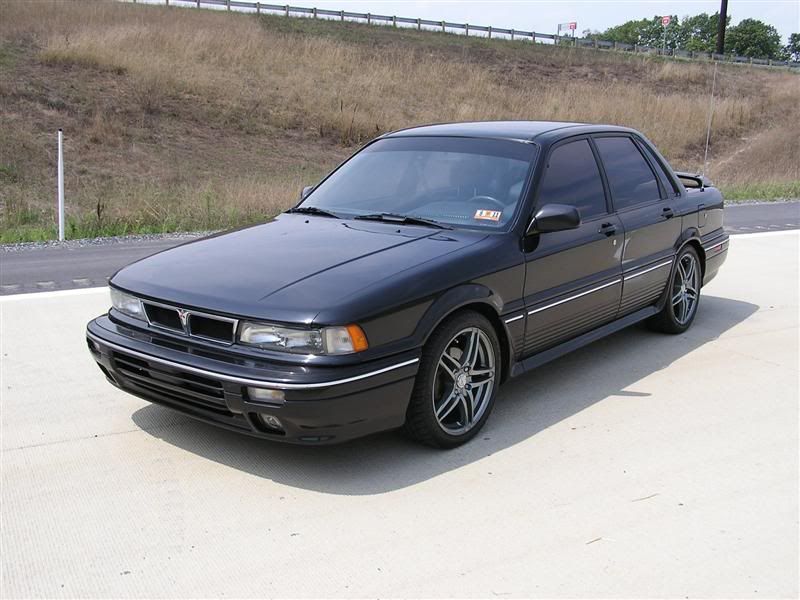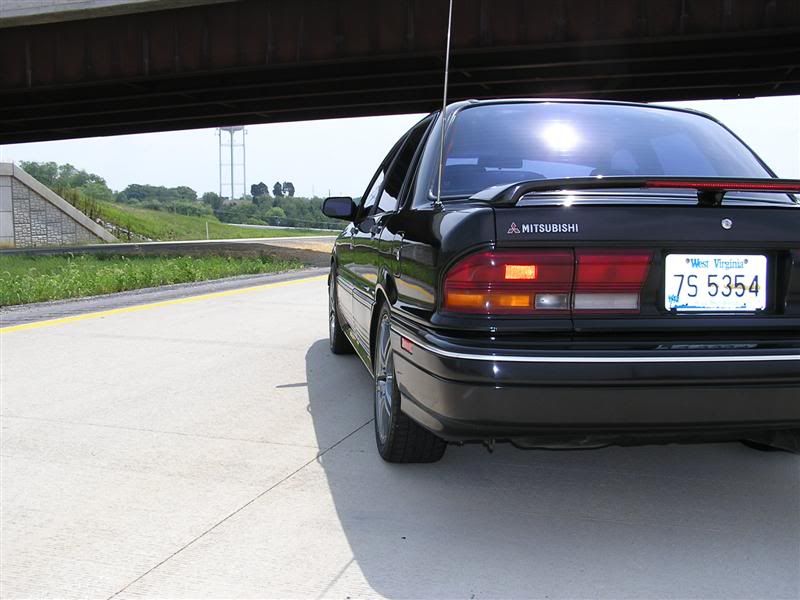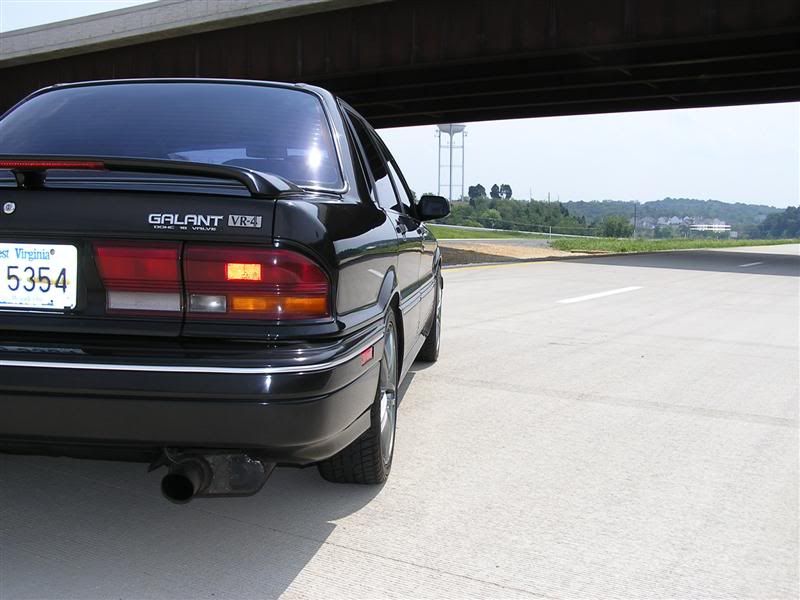 Older picture showing the stock wheels on the car: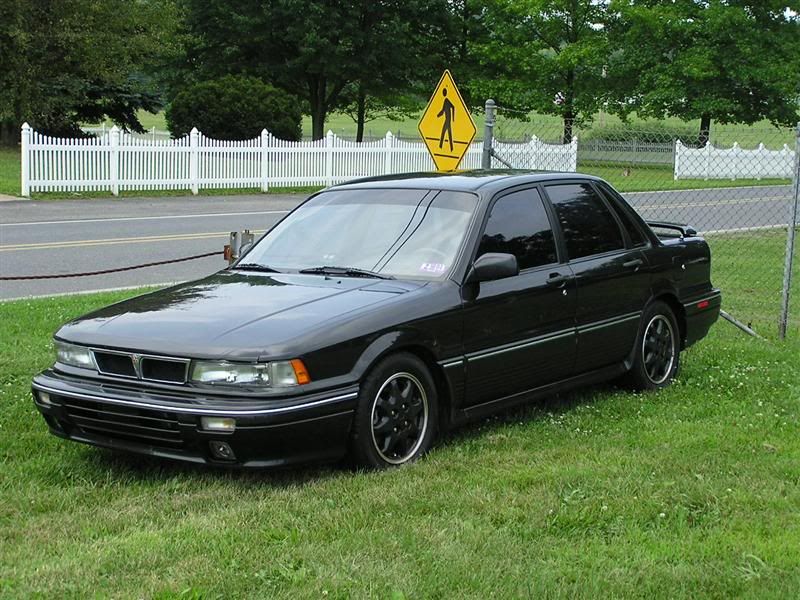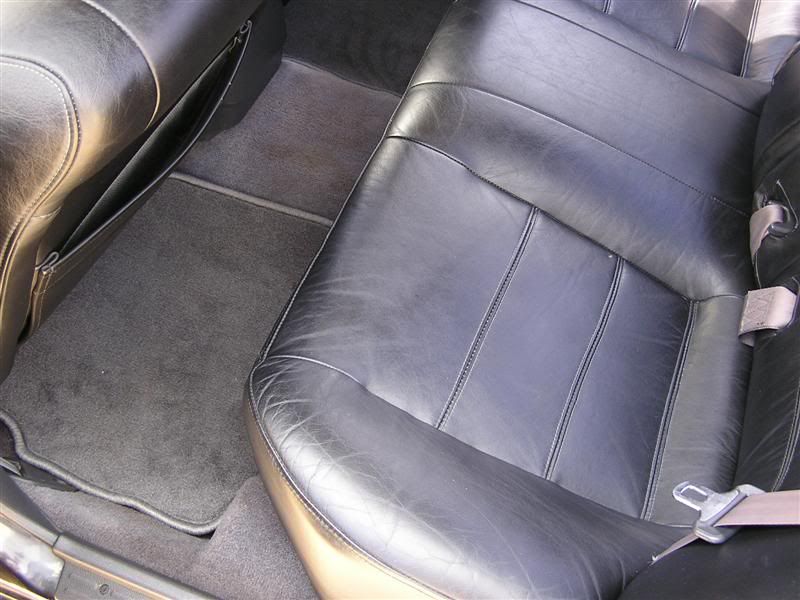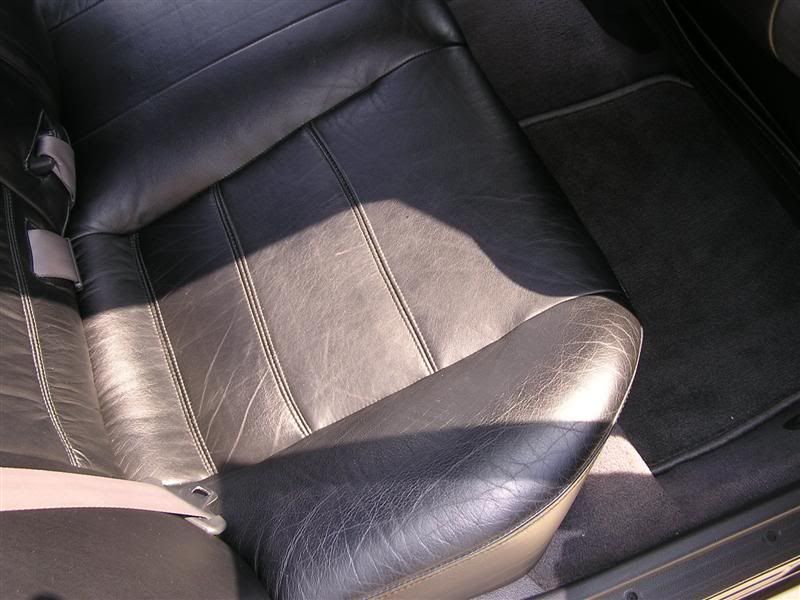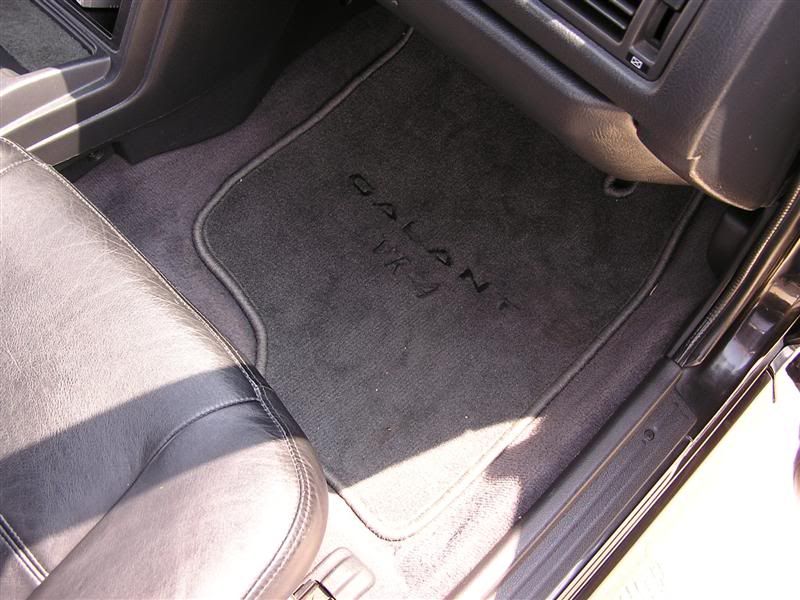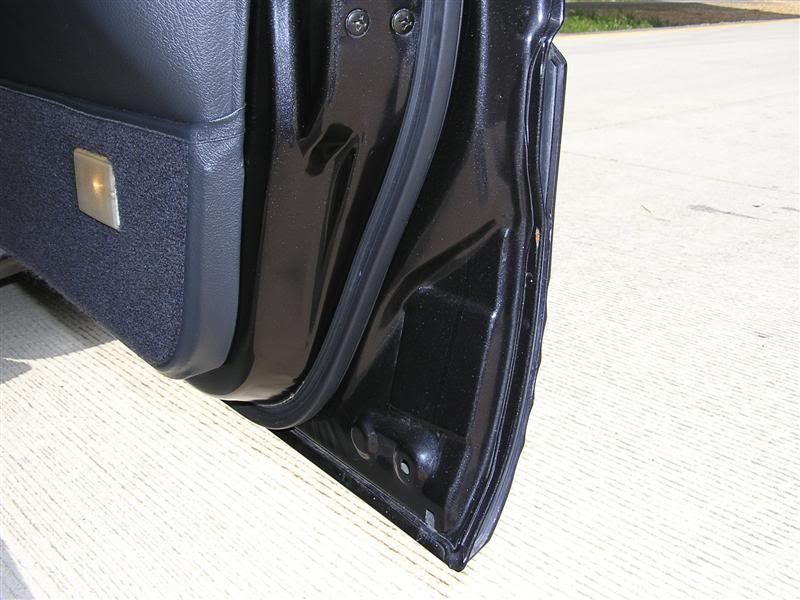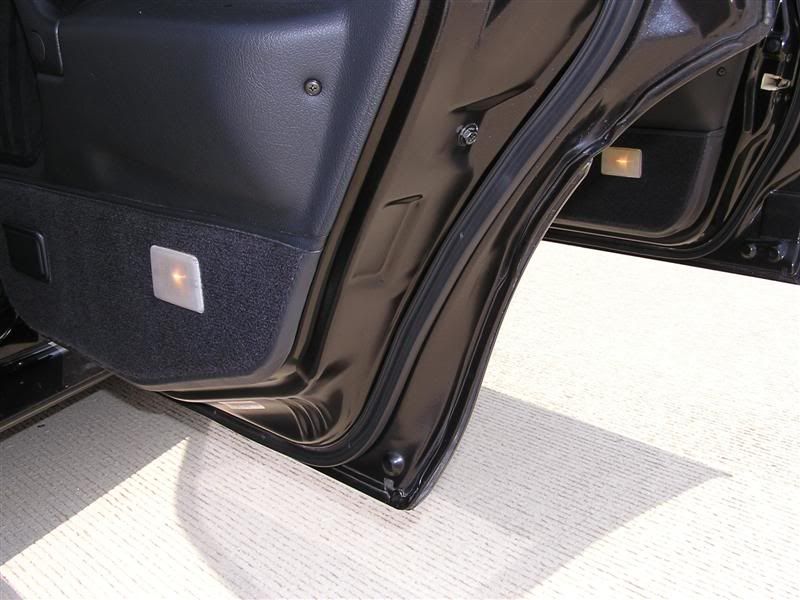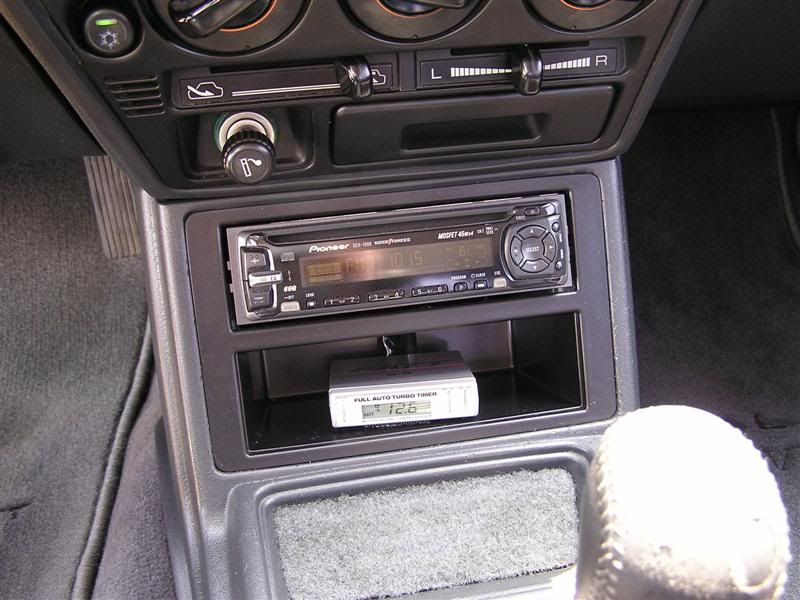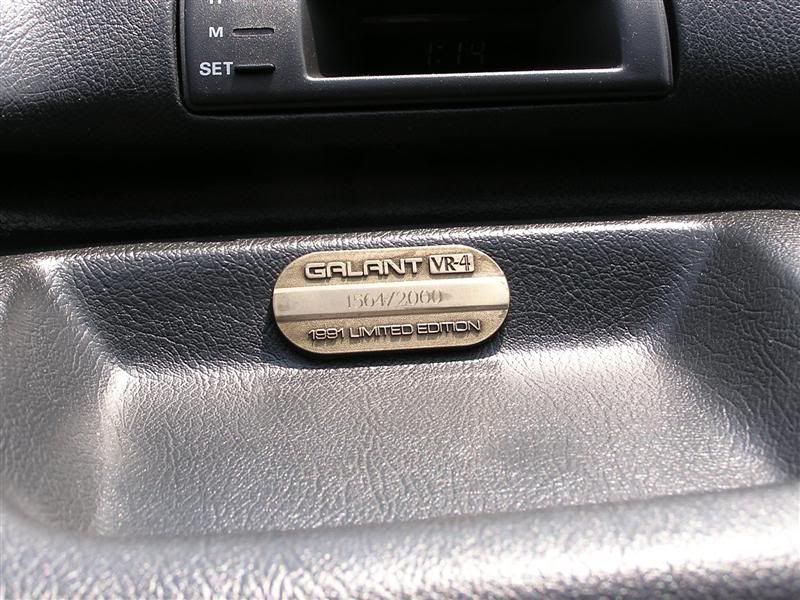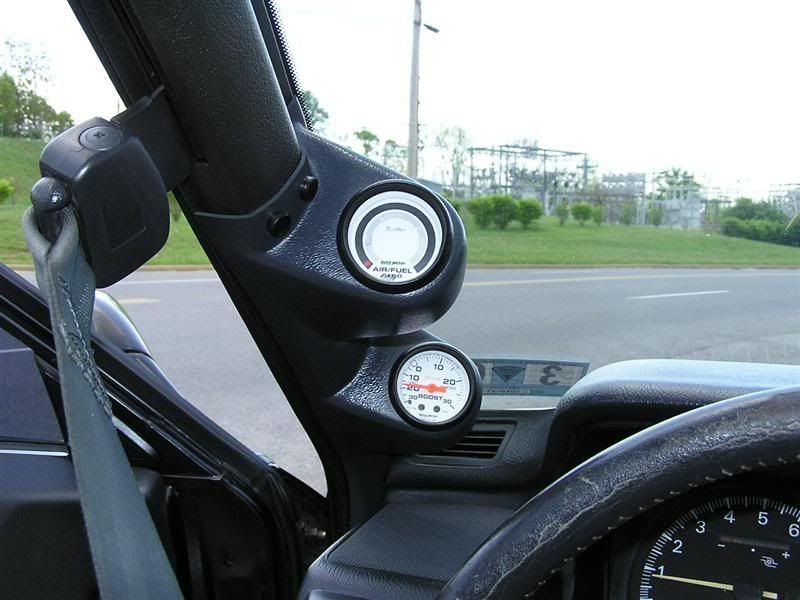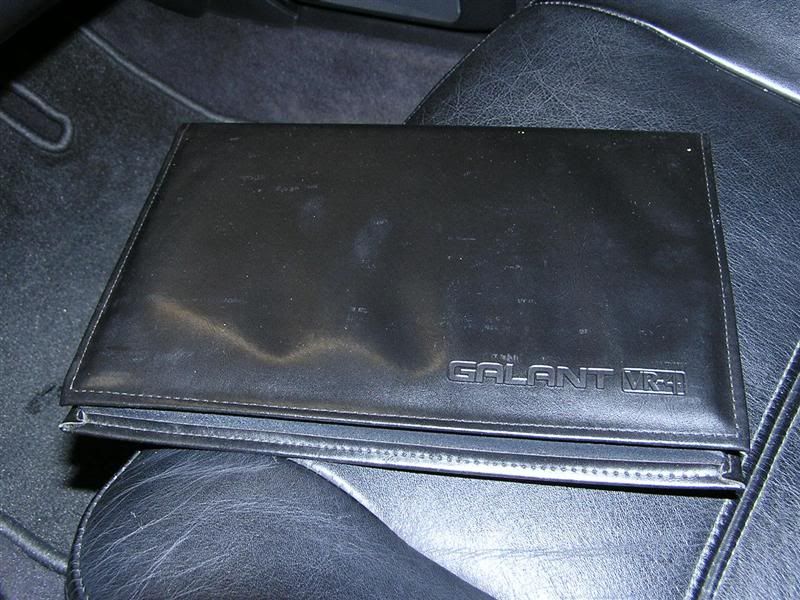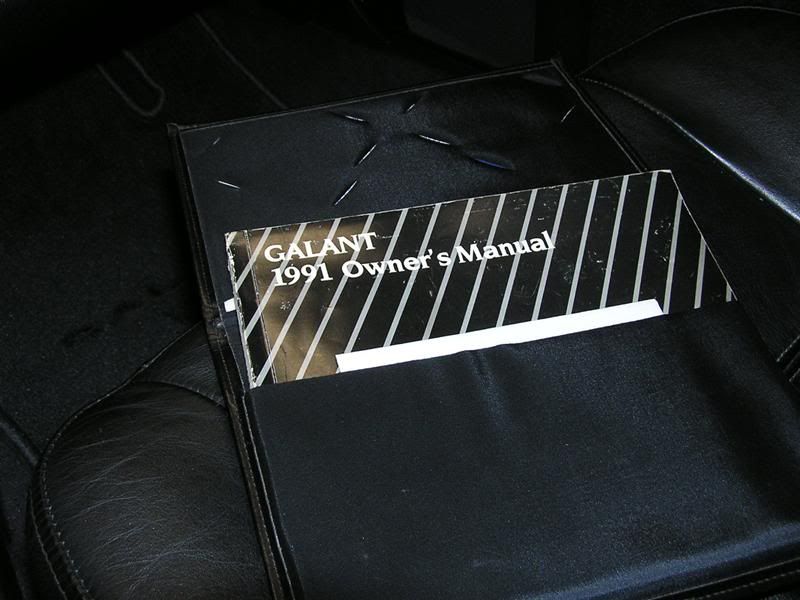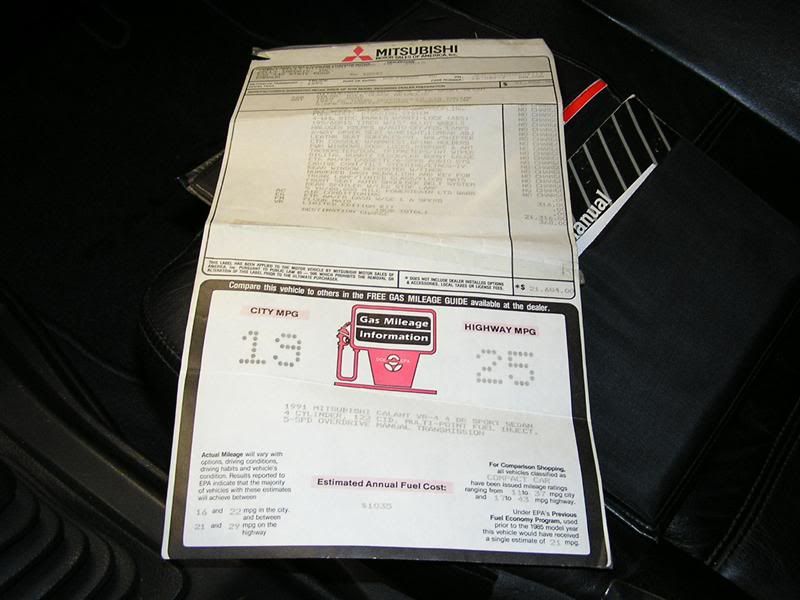 ** Although this car probably ranks up there as one of the nicest unrestored VR4s out there, especially the interior, it isn't perfect. The paint is 19 years old and as such does have a few rock chips and dings here and there. Zero body rust and very little surface rust under the car. No major cancer anywhere. The flex section on the downpipe is leaking, the trans does not like high-speed shifting into second (although it shifts fine for normal everyday driving), and the ABS light is on (I hate the ABS on these cars anyway).
*** I do not have to sell the car and am not hard up for money. I have had a great time with this car over the past 11 years but just have too many cars and have decided the GVR4 is going to go. I don't drive it enough and would like to see it go to someone that will enjoy it. It's been a few years since most have seen this car, but there are quite a few of the "old timers" on here that can vouch for the shape/condition that it is in.
**** That's about it. Let me know if you have any questions or want to see any additional pictures. If someone wanted to work out a "package" deal, I have a ton of parts – both high performance and stock replacement – that can be worked into the deal for additional cash. NONE of the parts are for sale individually until the car goes though – so don't ask!
$5200
- may entertain reasonable offers.
Email:
[email protected]
Last edited: