Joined

Oct 27, 2007
Messages

78
Location
Selling my 1991 Galant VR4. Located in Sussex County NJ. Car has less than 10k miles since complete rebuild.
Motor
6 bolt
No balance shafts
2G Pistons bored .020 over stock/1G Rods (rebuilt)
3rd generation lifters
ARP headstuds
90 DSM external oil cooler with Earls interconnects
Stock intake manifold
2G MAF Sensor w/K&N Filter
RC550 injectors
Battery relocated trunk
Window-Welded solid motor mounts
190 lph Walbro fuel pump
Stock valve cover painted with epoxy primer and a gloss black polyurethane top coat with polished raised letters
Turbo and Induction
Small 16G
Dejon MAF to turbo pipe
Stock BOV
Homebrew ball/spring boost controller, made with ceramic ball
EVO8 FMIC
Custom polished aluminum IC piping from turbo to throttle body
Reinforced silicone IC piping interconnects, T bolt clamps
Silicone vacuum hoses
Electronics
Manually editted EEPROM (Optimized for RC550's, injector deadtime, 2G maf, stutterbox, no lift to shift, clutch cut at 6000 rpm, octane reset, air mass fuelcut removed, redline moved to 8000, increased MAF logging range, removal of airflow per rev code)
Custom homebrew datalogger circuit
SAFC blue screen
Exhaust
2G Exhaust manifold
2.5 inch Bushur Racing stainless downpipe
2.5 inch Magnaflow high flow cat
2.5 inch stainless mandrel bent catback from
www.cmperformance.com
(place appears to no longer be around)
Gearbox/Drivetrain
Stock rebuilt trans and transfer case
ACT 2600 clutch w/street disc
Steel braded clutch line
1G OEM short shifter with 1G leather boot
Shifter mechanism bolted directly to floor
2G shift knob
Ball bearing shifter cable bushings
4 Bolt Rear with LSD
Siliconed rear axle carrier bearing
Suspension/Wheels/Brakes
Energy Suspension Polyurethane Bushings (all around)
Boostx's rear subframe bushings
Strut tower bar
Suspension Techniques front lower sway bar
Suspension Techniques rear sway bar
EVO springs/struts/shocks
5 Lug Hub Swap
AWS delete
DSM steering rack
DSM power steering reservoir
Plymouth Laser Waffle Wheels
Functional ABS
New tires
Asking 6500.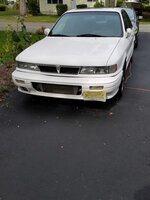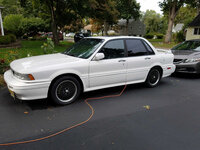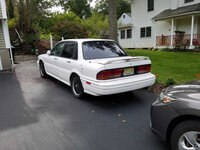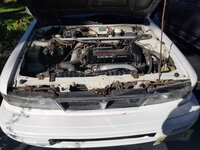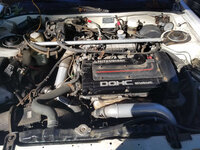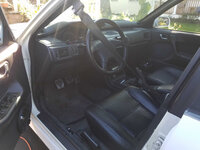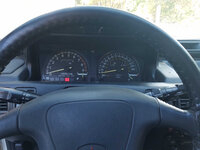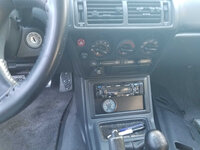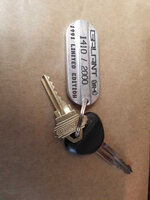 Last edited: