Joined

Nov 3, 2004
Messages

1,136
Location
History of the motor: It has been rebuilt. Approximately 10K miles on build.
New oem bearings.
New pistons, .20 over.
OEM rods.
Rebuilt head that was resurfaced.
The motor would vibrate badly from 3500 RPM on up. Balance shafts still in.
I pulled the engine, removed the timing cover. EVERYTHING was in the correct time. Pulley bearings were dry and you can hear them when you spin them. Supposedly new.
Removed the timing belt and spun the oil pump sprocket side to side, heard knocking from oil pump.
Oil pan was badly dented on the bottom. I believe this led to oil starvation. That is my personal thought as to what is wrong and caused the damage.
Removed the valve cover, found one of the rollers had fallen out and was laying in the bottom of the head. That cam lobe is damaged from banging on the roller. The roller is split and has a flat spot worn into it. It was the exhaust cam, second lobe from the cam gear. The intake cam has a gash that runs diagonally across one of it's lobes. Some of the rollers have wear lines that run completely around the entire roller. You can NOT feel them with your finger nail.
I have two bearings to look at. The first will be a cam journal cap. All the caps look the same. The head it's self looks fine. The bearing journals in the head have hash marks from what looks like a line boar/hone. They are perfect. Only the caps have marks. You can feel the grooves with your finger nail. The grooves are parallel on all caps.
Picture of cam cap here.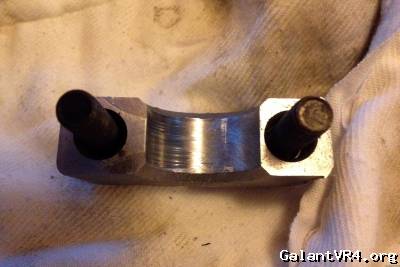 The second bearing is a connecting rod bearing. You can clearly see the first layer of the bearing. But there are perpendicular lines that look "polished". All bearings look the same, crank and rod alike. You can NOT feel the perpendicular lines with your finger nail. Journals on the crank are perfect. They have been polished and have no visible damage.
Pitures of rod bearings here.
My personal thought is oil starvation. The pan was dented up right beneath the oil take up tube. Very little clearance, but enough to get some oil flow.
What do you all think?
Can I still use the cam caps in the head? Or should I get a different head?
I am removing the balance shafts, planning on using a AMS removal kit.
Going to replace all bearings.
Going to replace oil pump and gears.
I have used stock cams coming.
Getting used oil pan in good shape.
Last edited: