Joined

Oct 30, 2008
Messages

193
Location
I figure I've been trolling around this place long enough, it's time to post a few pictures showing the reason I'm here.
This story begins almost two years back when I traded a friend a carbon fiber hood off my EVO IX and an Xbox360 for a '91 GVR4 that no one (but me) wanted. Funny thing is, the carbon fiber hood was on my Evo when I bought it and I had removed it and stored it in my friends garage as it wasn't my style - and the xbox I was going to sell anyway to purchase a newer one with an HDMI out since I had recently purchased a new TV. So what the hell, trade stuff I don't want for a GVR4 (something I've wanted for years). Win for me!
So as the new owner of the GVR4, I left it to continue rotting in my friends backyard as it was unable to move under it's own power.
Fast forward a year and a half, I find myself laid off from work, enjoying a forced vacation, and living off a fat severance package. Time to make up for my negligence! /ubbthreads/images/graemlins/smile.gif
note:
I really should have taken more pics and documented the process a little better, and maybe used something better than my iPhone camera. /ubbthreads/images/graemlins/tongue.gif
This car was in bad shape. Dents and dings all over, oil leaking from anywhere oil could leak, bad tranny, wiring harness hacked to hell - missing connectors, exposed splices, broken wires, etc., bad ecu, rust (surface) all around stock battery location, leaky heater core, A/C not working, did I mention dirty as hell, etc.? Those are a few things I recall off the top of my head.
Not knowing where to start, I decided what better place than the beginning. Strip it down!
Like I said, everything was dirty! Everything was to get a thorough cleansing, replacement, repainted, or coated. All rust and loose paint removed from bay.
The interior was stripped as well. Heater core was replaced with a new OEM core. Wiring issues repaired.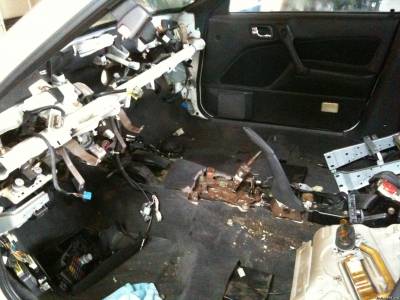 While repairing/rebuilding the main electrical harness I yanked all wiring for the ABS system since the rest of it was already sitting in a pile of "not to go back on the car" parts.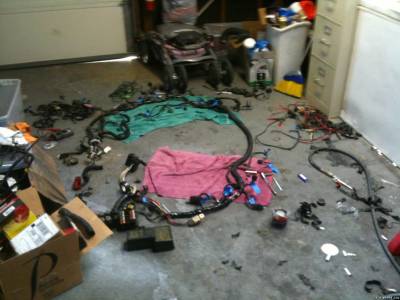 Front end primed. (sealant also reinstalled in wheel wells, not in pic)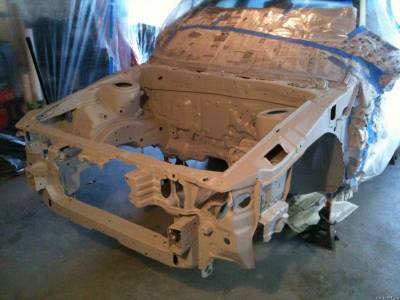 Painted, and cleared.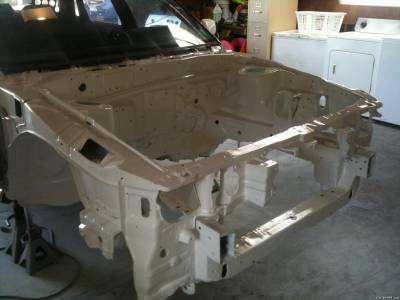 Undercoat re-applied.
Parts starting to find their way back on. Everything cleaned (or new). Entire front subframe and suspension media blasted and powder coated. New mitsu ball joints, all bushing replaced with black ES bushings. Non ABS lines and proportioning valve installed. 5 lug conversion done (not in pic). New (reman.) GSX steering rack installed with new tie rod ends (not in pic).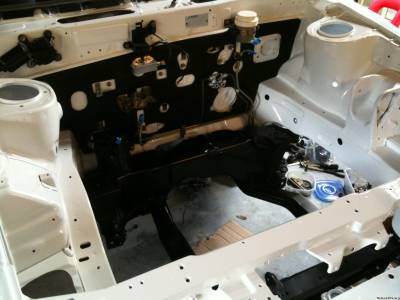 At some point a full Evo VIII insterior found it's way into the car. This was taken mid process, but as it sits now, the Steering wheel, front, and rear seats are installed.
And here's how it sits right now. The engine will come back out. It was only recently dropped in for easier transport while I moved. This is not the original engine, but a known good engine from another GVR4 - just needs a timing belt job, water pump, a few seals replaced, and a good cleaning before it goes back in permanently.
I also picked up a good GSX tranny and 4 bolt LSD rear along the way. The rear end will be getting the same treatment. Everything removed, cleaned, painted, coated, etc.
Oh, and I also managed to find a JDM front and rear bumper in my color! /ubbthreads/images/graemlins/smile.gif I do have the projector fogs, but haven't installed them yet.
Unfortunately progress will now slow down since I have found a new job. But, I'm currently planning to be driving the car before the end of October since it needs to be smogged by then so I can register it (without having to non-op).
Nothing too exciting as far as mods. My plan was to freshen up the car, repair any and all issues, get it back to a reliable stock condition, then begin to mod once I know everything is working as it should (and looking amazing). /ubbthreads/images/graemlins/cool.gif
-dave