Joined

Oct 3, 2010
Messages

676
Location
Hello, I've learned a few lessons this past week about the GVR4 A/C idler pulley and I thought I would share them. Maybe it will help someone out in the future (those of us crazy people that still have A/C)
When i bought my car last year I noticed that there was always a "ZING" noise when the engine revved. I had my motor out and I noticed that my A/C idler pulley was the culprit. There was no play in the pulley, just an annoying clicking by hand which turned into a "ZING" at higher RPMS. My wife told me she always thought it was the turbo making that sound lol.
Ok, first the Galant VR4 pulley is not the same as the 1G or 2G pulley. I learned this lesson the hard way by purchasing a new 1G pulley and being too lazy to verify the part number in CAPS. The part number for a new pulley from Mitsu is MB878243 according to CAPS.
After receiving the new 1G pulley I decided to attempt to replace the bearing in the GVR4 pulley instead of buying a new unit for $120. I tapped out the old bearing and was able to find a replacement at my local True Value hardware for $14.50. It's easy to do this and will save you over $100 over a new pulley from Mitsu.
1. Remove bracket and pulley from car. The bracket has three 12mm bolts holding it on.
2. Remove pulley from bracket. The pulley has one 14mm nut holding it on.
3. Press or tap out the sealed bearing from the pulley. I used a vice, socket, and 5 LB hammer combo.
4. Clean all of the parts
5. Press or tap the new bearing into the pulley. Use the old bearing and be careful it goes in straight. You can also use a socket that perfectly matches the OD of the bearing. Be very careful not to damage the sealed rubber portion of the bearing.
6. Install the pulley onto the bracket
7. Install the assembly into the car.
The OEM sealed bearing part number is:
NSK 6203 DULX
It might be hard to find this brand locally. Fortunately other brands use similar part numbers. You can also use:
SKF #6203-2RS
This can be found on EBAY
My bearing is actually from China with no brand name but has the same "6203-2RS" part number.
I also had a problem with my adjuster bolt. Mine was bent and rusted onto the adjuster "loop". I bought a new bolt. The bolt is M8 1.25 thread 90mm long (about 3.5 inches). The only thing I don't like about this bolt is that the head is 13mm. I also had to drill out the old broken bolt in the loop and tap it.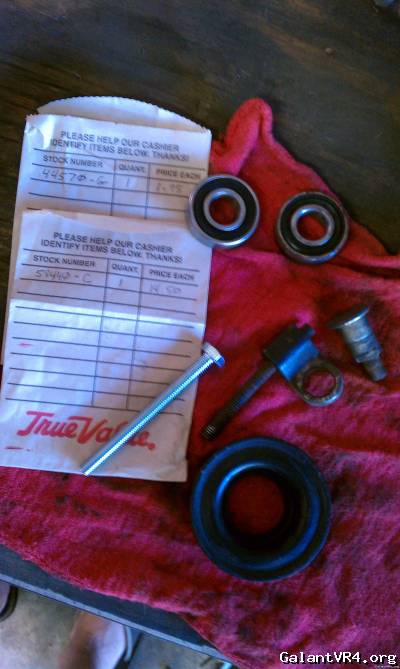 Last edited: