Joined

May 28, 2003
Messages

5,593
Location
This is merely to replace the junk, stock toaster box of an intercooler on an otherwise stock car.
Parts you will need:
EVO 8 FMIC (possibly 9, dont remember if there's any difference)
aluminum 2.25in 45* bend from ebay or wherever
2G soft upper intercooler pipe (really, it makes things simple) otherwise, a 45* silicone coupler (2.25in) and a 90* or straight coupler (2.25) (see below: "running the piping")
hose clamps that fit over at least 2.5 in
2- 2 1/4 in to 1 7/8 in exhaust reducers, o'reilly, autozone, advance, napa all sell them
2 1/2 in or so round/square, whatever, piece of aluminum.
ACCESS to someone that welds aluminum, no matter where you are, you can find a shop or a person that can do it.
scrap metal to make brackets, can be simple or complex, see below
tools required:
access to someone that welds aluminum
metal saw "hack saw"
drill
misc metric wrenches/sockets
screw drivers
dremel with cutting disc, or cut off wheel
hammer
Time it will take:
Are you drinking?
Yes: most of a saturday
No: A couple of hours
fmic preparation: i got a fmic from a guy that had the "passenger side" of the evo 8 fmic cut off, the hole welded shut and a portion of a 45* bend welded "back door style" to what is actually the front of the stock fmic, see pic for clarification...
first, remove the front bumper, if you dont know how, see this thread:
click
Then, remove the stock fmic, passenger side soft cold pipe (sit aside for later use) driverside soft pipe, plate next to the radiator, hard IC transfer pipe and hot soft pipe off the turbo (also sit this aside for later use), leave the metal oulet bolted to the turbo.
then, remove the power steering cooler line clamps, move power steering cooler up and back of the center support, you can figure this out, you're basically just bending it a little and pushing it out of the way...
Clearance for fmic: this is where some people may decide not to do this, the center brace that holds up the hood latch, it sticks out too far, use a dead blow (softer hammer, material inside) to massage that brace flat at the bottom, or close to flat and work upward from there, this doesnt require DRASTIC modification, just some massaging
bumper clearance: should have taken a pic of this but i didnt, with the bumper laying on its face, hopefully on some towels or something to prevent scratches, cut the welds across the top rectangular vents in the bumper core, then cut four lines in the bumper core. once this is all separated, you're going to use a hammer to 'fold in' the two sections you just cut, the most clearance needs to happen on the outer edges, every bumper fits different on every car, so you can save this for last if you want and test fit the bumper a few times to see where you need to clearance more. All of this is void if you're cutting the cross bars and reinforcement out of your bumper anyhow.

Mounting the FMIC:
if your galant is 100% stock, you still have the small plastic wind deflectors on the bottom of your front cross brace, they're held on with 10mm bolts, if you remove them, you have some places to mount things, there are also threaded holes littered across the front of the core support, i didnt check but the stock mounting brackets may line up to the JDM fmic bolt holes that our cars have, something to look into, if you had your fmic modified so the front is now the back like mine is, there's 3 tabs sticking off the bottom of the intercooler that you can use to bolt brackets to, i took some 1 inch square stock, menards, lowes, wherever, simply cut them in this shape /===/ and drilled a hole in opposing sides and bolted them to the bottom of the core support and then bolted the fmic to them. this is a simple task and if you scope it out before you do it, you can figure it out. be sure to center it up, you dont want it to look stupid /ubbthreads/images/graemlins/wink.gif
Running the piping:
the 2g upper pipe is great for this, if you plan to remain on stock IC piping or even if you do not. It's comprised of a 45* bend and a 90* bend, you need to cut the 90 from the 45, the 90 is for the hot side and the 45 is for the cold side, if you ever choose to upgrade piping, these will work perfect as they're the same size as the evo intercooler outlets and a good size for IC piping
the 45 as i said, goes on the cold side (passenger lower) and one of the exhaust reducers goes in it, take the cold side pipe you set aside earlier and cut it down to fit between the reducer and the stock piping, dont forget your clamps, i generally get them all situated and then paint them black with a rattle can so they dont stick out.
hot side: the 90 portion of the 2g pipe goes here, with the other exhaust reducer, then the stock soft hot pipe, you have to cut a portion of stock soft pipe off to make it fit, if you dont want to do this, all you need is a single 2.25 inch silicone coupler and the exhaust reducer, then you can bolt the stock hot pipe up without cutting.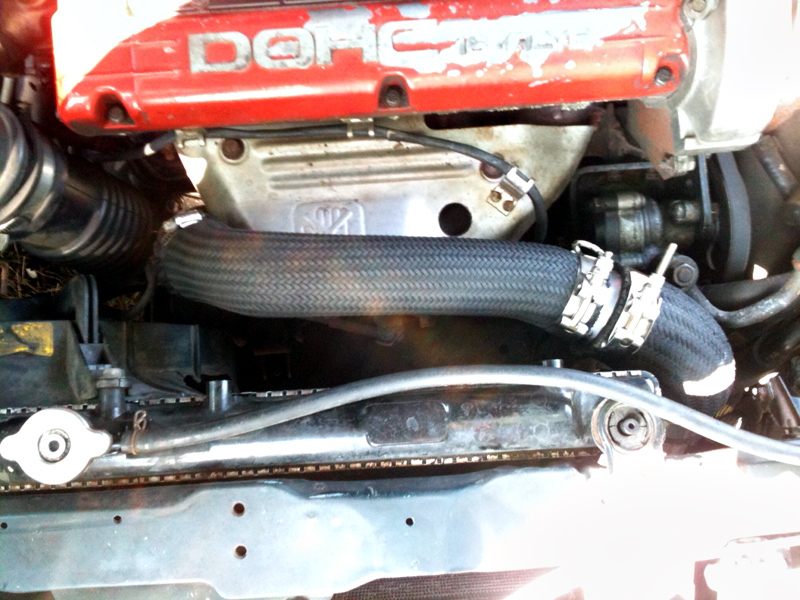 other pictures: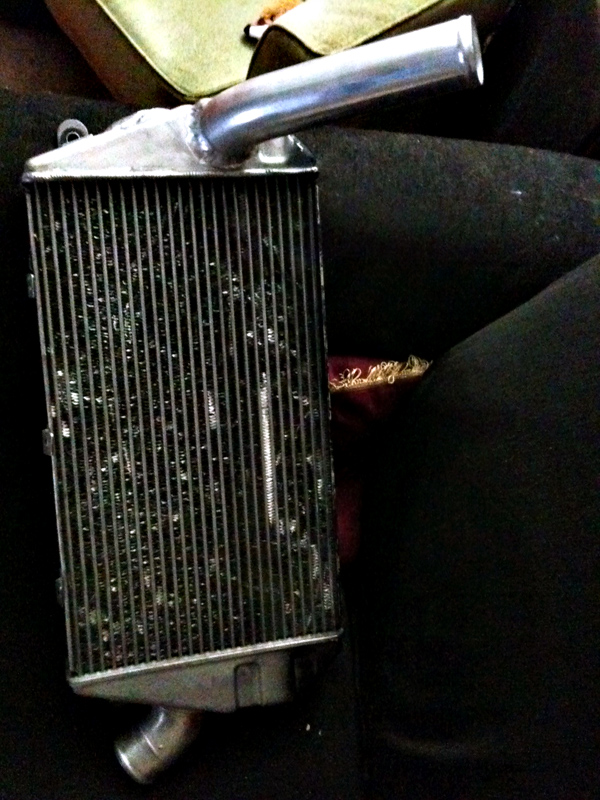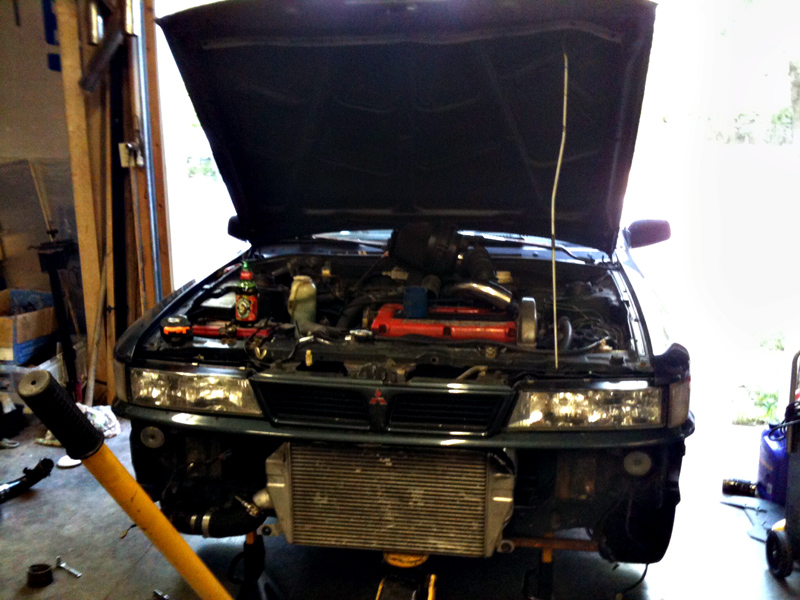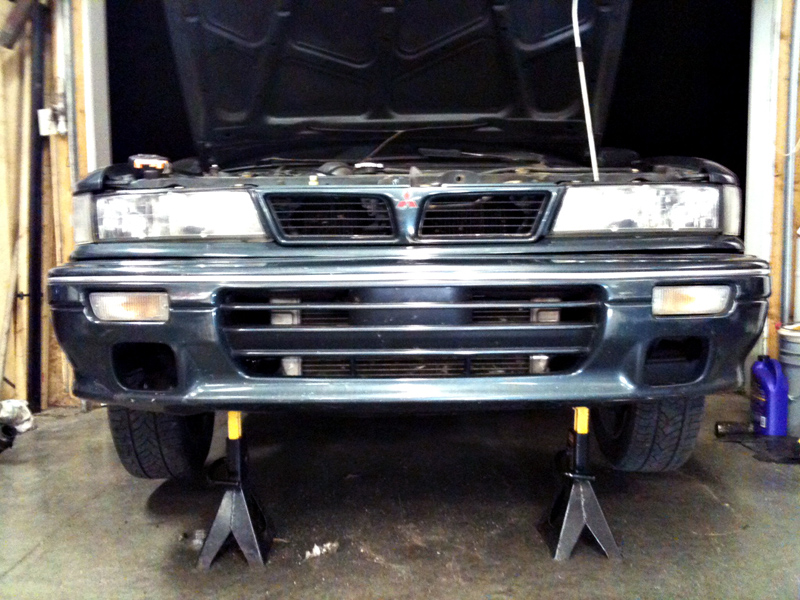 I think that's it.