Yes hard to believe the time has come...
Important stuff
Engine Stock Bottom 150,000 miles
Head: Ported - Oversized valves (Ferrea 1mm oversized) - Valve Job - Valve seals
Crower valves springs & titanium retainers
FP2 cams
4 layer head gasket
Honed extrude intake
Walbro 255 re-wired
DSM Link
2G MAS
Denso 720
NGK AFX Air-Fuel Ratio Monitor Kit
Buscher Front Mount
3" ss turbo back exhaust - high flow cat
3" Magnaflow muffler - dual tips
95 ported ceramic coated exhaust manifold
PTE 5031 RE dual bb turbo
Act 2600
TRE tranny with higher 5th gear
4 bolt LSD (AWS removed - still have 3 bolt)
Hotbits Suspension
other stuff
ss brake lines
battery kill switch (Battery in trunk)
Whiteline sway bars 22mm front 26mm back
Whiteline bushings
Caps replaced
Halman boost controller
Adjustable cam gears
Lightened Fidanza flywheel (still have stock)
Megan front & rear strut bars
Tires are generic stock type tires with very good tread left
back bumper frame replaced with a nice rustfree one
Sunroof works and does not leak
CD player works
New stuff within last 10,000 miles
ball joints
Water Pump
Carrier Bearings
Timing belt (still has balance shaft)
Alternator (I know - so what.)
Hawk HPS pads
Rotors
E brake cables
Knock sensor
Radiator stock
Shifter cables & Brass Bushings
Noltec rear subframe bushings
Completely went thru rear subframe - cleaned - painted
the bad
Throttle body has boost leak (I have all new o rings and gaskets)
Front drive shaft boots ripped (Have both new drive shafts - not installed)
Missing passenger rear dogleg
I am sure I forgot some stuff
Why am I finally getting rid of it..
At 54 I find my interests are changing. It's time.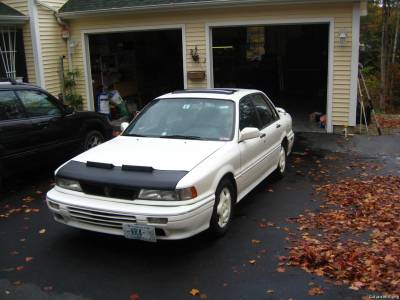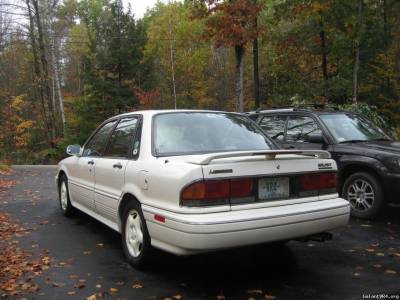 The car's history (possibly boring read)
We bought the car new off the lot in 92 for my wife as her daily driver.
It was her 'baby' for 11 yrs. Until 2003 when we got a leak in the rear wheel steering lines.
I told her she took so good car of her baby that if she wanted to trade it in she could have anyting she wanted.
Reluctlantly she agreed and she picked a 2004 Subaru turbo Forester.
On the way to the dealer to trade in the VR4 for the Forester she was in near tears - getting rid of her baby.
When we sat down with the dealer he only offered us $ 500.00 for the VR4. (My wifes expression was like someone just stabbed her in the heart.)
I told my wife - "For $ 500.00 I'll buy it and we will just keep it."
So now what - I called around to local mechanics and when I told them it needed rear steering lines they would respond with.
"Oh you mean rear brake lines..."
Finally after some searching I came across VR (Victor Research) in Connecticut, and when I told them what it needed his response was.
"No problem I just finished one last week."
When I brought the car in for the work he said "You know I can really fix up this car."
I said "wha wha what you mean?"
His response - "How many horses do you want 225 - 250 - 275 - 300?"
For the next 2 years they did all the work (Total spent over $ 20,000)
After that I had learned enough that I decided to put the car up during the winters and continue modding it myself.
The work was satisfying and the ride was fun.
New Pics
The underneath - not bad - little rust next to the jack stand.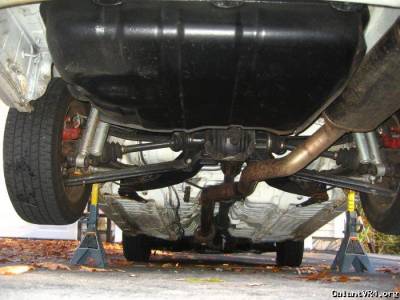 Tires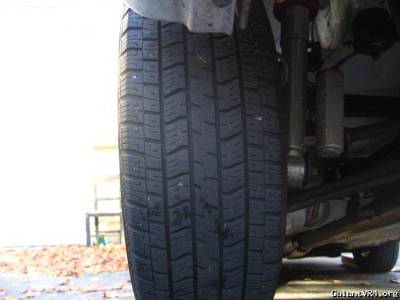 Last edited by a moderator: