Joined

Jul 1, 2006
Messages

131
Location
It's time to remove myself from the mitsu scene for awhile. Already sold the evo so this is next on the chopping block.
UPDATE! No longer looking for a car as a trade. Just got an 01 wolfie.
The good:
1992 car, 118k on the clock. #63 of 1000.
ZERO rust. Car came from VA.
I got it about 1.5years ago from atc250r. He got it from the 1st or 2nd owner. When I received it, there was only a block and trans in it. Original owner ran it out of oil. Spun a rod bearing. At this time the last inspection was from 2002 or 2003 in VA. So after some time and money this is where the cars progress is at. I had plans for the car, but I have other priorities now that come before cars do.
Has a freashly built head.
supertech dual springs
titanium retainers
pocket ported
Block has about 90k on it, lots of life left.
Freash cometic head gasket
Along with timing belt, tensioners, gaskets, and arp's.
Balance shafts are removed.
ACT 2600 pp with new street disk and t/o bearing.
Fidanza flywheel
eeprom ecu
Evo3 manifold
2g o2 housing
Freash 25% johnsons tint
Has a 2.5in press bent exhaust on it with a cat. Not great for performance but gets you no attention from the fuzz.
More new parts: Slave cyl, exhaust hangers, t-stat, rad cap, timing belt, tensioners, oil pump gears, front wheel bearings, and all the other crap I cant remember. All oem parts purchased from jnztuning.com.
The bad:
Paint! The clear is peeling on the roof pretty bad. As well as a few spots on the hood.
Dents: has some dents on the hood from being on and off the car.
Has a dent on the driver side rear pillar, as well as what looks like someone burned alittle clear off.
And then theres the normal dings and scratches from the past 16 years.
It's gonna need: master cylinder- just started leaking.
The original struts will need changing.
The motor mounts are feeling pretty weak.
I really don't have the time to play with cars like I used to. Thats why there are still some parts and labor still needed to get it to 100%.
Extra Parts:
2-Transfer cases, both from working cars.
1-Good awd trans from a ggsx.
1- non eeprom ecu.
1- driveshaft.
1- 3in pressbent turboback exhaust. This is for a 1g awd. So it will need an extension of about 16inches where the cat would be. Not that pretty of an exhaust, but its stainless.
1-ggsx steering wheel
1-minty valve cover/ usdm
1- full set of 92 gvr4 tails
1- ggsx center tail
4- used eagle h beam rods
4- pte 550 injectors
1- 2g maf with plug and play adapter
1- 2g throttle body elbow
1- 1g head, needs valves
1- the original block from this car. Has been sitting will need machining. Unsure of crank condition.
1- 1g intake mani & throttle body with sensors.
A box of misc. parts like filter housings, pulleys, t-stat housings, etc...
As I find more stuff I will update the list.
I'm asking 4000 for the car and everything you see. I'm firm on that price. The only negotiating I will do to lower it is to remove some of the spare parts.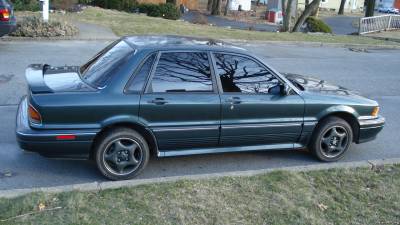 Last edited: