For Sale, 501/2000, 119k miles, approx 3k on new motor. Car is Rustless. and has a very straight body.
-What it has:
2.0
JE pistons
Eagle h-beams
ARP throughout
'90 OFH, and cooler
2g mass
all aluminum, bead rolled, hard piped IC and Intake
Spearco FMIC
RC 550cc injectors
4g61 head w/ 3g lifters
Mitsu MLS head gasket
TD05 20G turbo, ported 2g manifold
Centerforce DFX clutch
3 inch turbo back exhaust
K-Sport coilovers
Baer 13" brakes with new rotors
18x8 Volk CE28N wheels, 235-40-18 Falken RT-615 tires
uncut JDM front bumper with projector fogs
4 bolt rear diff
5 lug conversion
-What it comes with:
9 years worth of organized nuts/bolts/hardware and spare parts.
many Rubbermaid totes worth of parts and a 6ft by 3ft bolt bin
Suspension Techniques swaybars
whiteline rear swaybar end links
spare Baer brake calipers
vented Carbon fiber hood
Evo 8 front and rear seats
aluminum radiator
Spaal fans
spare headlights
spare trans (needs work but all there)
2 spare transfer cases
1 qt of Sherwin Williams Belize Green un-reduced
I know I am forgetting some stuff but thats the meat and potatoes of it. I parked the car when I bought my truck in Feburary, it is running and driving condition, but I started taking it apart so i would not suggest driving it much further than a test trive around the block, and onto a trailer. I began to start Fabrication on the new aluminum radiator so the fans are out and need a shround built and wired up. Also have the front bumper off because the "Grand Plan" was to start prepping for paint. Hopefully some of the guys who have seen my stash will chime in, and back me up. I am looking to get out completely so everything that says mitsubishi on it is yours. Even my BluePoint timing belt tensioner pulley tool. Your going to need at least a long bed truck and trailer or two short bed trucks and a trailer to haul everything out if you want it. More pics to come.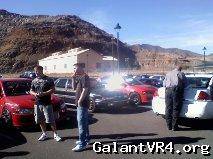 Last edited: