There's been a lot of talk about mounting Evo suspension to our cars, so I had to try it out. Here's what I've got:
Evos and GVR4s have pretty similar suspension geometry, similar corner weights, and similar strut lengths. Some spring rate calculations and experience of other people on the board shows that a Galant will be about stock ride height with Evo springs. Evos handle pretty well stock, but a lot of people buy coilovers, and a full Evo suspension can be had for $100-$200.
The problems are: Galant struts have 22mm spacing between the strut ears, Evo struts have 27mm spacing between the ears. So spacers are needed for the front. The Evo rears have a fork, rather than a loop, so some welding is needed.
Idea for the rears:
Old struts are a cheap source of spacers: You need to drill out the spot welds, so you have 4 plates total. Grind the dirt and rust off, or it will be too wide.
Chris (Pivvay) is making some actual spacers and brake line mounts, they should work a lot better. I'd recommend them over the hacksaw approach.
A good welding shop can weld the bottom of the stock strut into the fork of the Evo strut. I got mine welded at
Bugformance
in San Jose for under $150.
You need to put the Galant top mount on the Evo struts. Normal spring compressors won't work because there aren't enough coils. There is a hole in the top and bottom spring mount that you can put a 3/8" threaded rod through, and compress it that way.
The two 2.5mm spacers, in place. They are between the ears and the mount. You have some wiggle room, so make sure to give yourself as much negative camber as possible. You will need some washers because the bolt holes on the Evo struts are larger.
The rears should bolt right in. I believe you can use either Evo top mounts or Galant top mounts here. The rubber in the Galant top mount will need the center trimmed, or the spring won't seat correctly, since it is a slightly smaller diameter.
EDIT: Don't use the Galant rubber here, it will break. Use Evo top mounts, or buy Evo rubber pads to put in the Galant top mounts.
EDIT II: Don't use Galant top mounts. Evo rubber + Galant top mounts can still eventually break.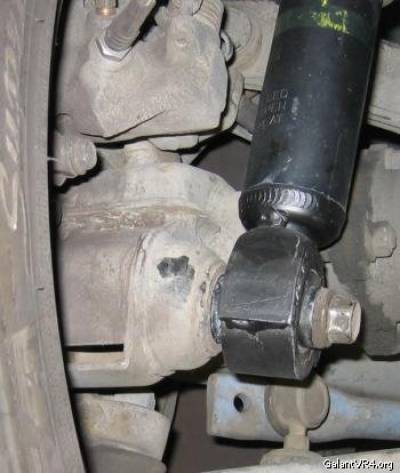 Ride height is pretty high. I'm not 100% sure what the stock height is, so this may be slightly above or below:
I haven't aligned it yet, but so far it drives pretty well. Damping over bumps is good, and turn in is quick due to very stiff front compression damping. The rear motion ratio is higher on the Evo, so the same spring on the Galant will have a higher wheel rate. This is definitely noticeable, as the car oversteers easily.
One problem is that the Evo front strut bolts are offset 10mm more from the center of the strut. This adds positive camber. With stock top mounts, the car has a very small amount of positive camber, which will need to be corrected with camber plates or slotting the top strut bolt hole more.
Some tech info..
Spring rates:
Evo: 180lbs f /225lbs r
Motion ratio:
GVR4: .92 f / .844 r
Evo: .92 f / .75 r
Wheel rate of Evo springs:
GVR4: 152lbs f / 160lbs r
Evo: 152lbs f / 126lbs r
Last edited by a moderator: