Joined

Feb 7, 2008
Messages

397
Location
So I did this a long time ago and people keep asking if I would do a write up on how I did it. If you have knowledge of setting up a ring and pinion it should be straight forward. If not you may want to have someone else do it. I was lucky and I was able to reuse all of the factory shims and my pattern was perfect. I recently took everything back apart as I learned the Evo diffs were assembled wrong from the factory for all USDM cars. If you plan to install this diff I would highly recommend re-stacking the plates before installation. To do the swap you need the diff from and Evo 3 or 7-9. I don't know if the rest are the same or not. I am using the diff from a 9. You also need the inner cv joints from said diff. I started with a 4 bolt rear so I don't know if the 3 bolt will work or not. I think the axles are assembled differently.
1st remove evo diff from carrier.
Take Diff apart and see its assembled wrong.
I then cleaned all of the parts and prepared for assembly.
All stacked in the proper order. I dipped all of the plates and disc in good gear oil during assembly so they wouldn't be dry for the first couple of turns.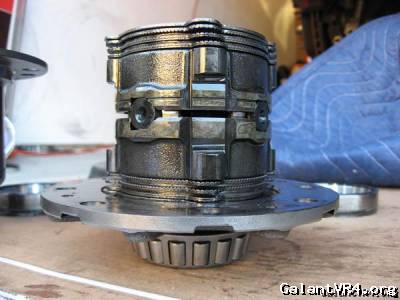 Install the ring gear from your 4 bolt dsm diff using red thread locker.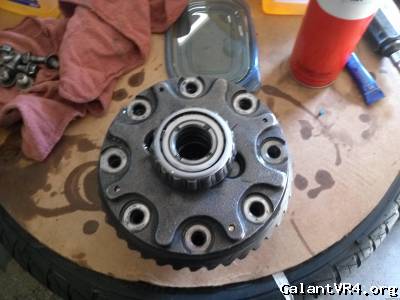 Install it in your 4 bolt rear carrier and torque all of your fasteners.
Check your backlash and pattern and if good install the rear cover, mustache bar and fill with your favorite gear oil(After you put the axles in).
Now you need to remove the inner cv joints from your 4 bolt axles by gently prying the tabs open on the clamps. You can then slide the joint off and remove the clip holding the tripod joint on. Do the same for the Evo axles. Install all of the Evo axle parts on to your 4 bolt shafts and fill with the proper grease. Fold the clamps back down tight on the boots and install axles into the diff.
You are now ready to enjoy some awesome on throttle over-steer. This is one of the best mods I have done on the car for handling. Hope you enjoy.
Last edited: