Joined

Nov 22, 2008
Messages

2,054
Location
GizmoVR4 and I went out to VTR (Vinny Ten Racing) in Long Island on saturday night to spin the rollers with #431. Our goal was not to set any specific power level, but to simply get the car back into quick 1/4mile shape after 2012's "waste of season" that ended abruptly with not a single decent pass. Nelson took the car about a month or so prior by himself, but wasn't able to make any pulls as there was a setup/tune issue with the car misfiring/bucking which we guess attributed to ethanol buildup on the injectors from fuel sitting stagnant all fall season after the track blowup. So Saturday was simply a night to get back on track, sort out our issues, and redeem ourselves. Ideally we wanted to leave with a car that will go mid 9's again at the 1/4 track.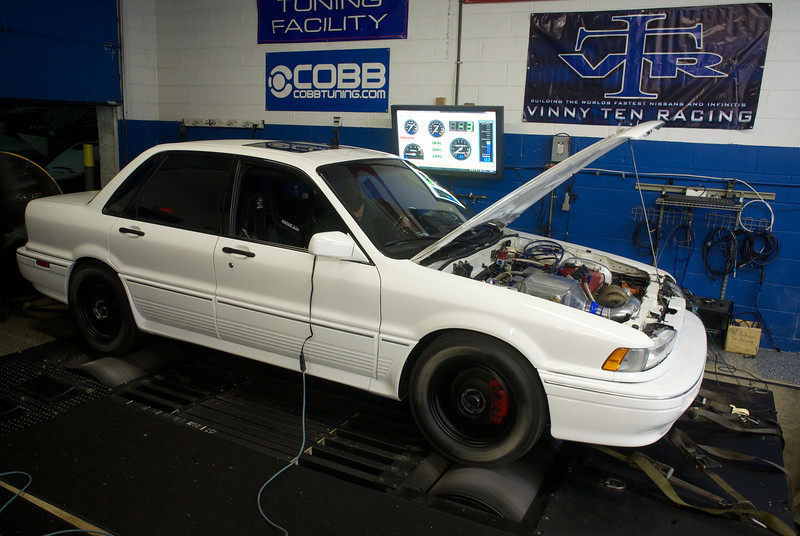 We are back on the T3 based FP3794 turbo (screw that GT4202). A Fresh 2.3L with the better Manley steel rods & Eagle 100mm crank. Standard 1g head w/ 1mm+ valves and GizmoVR4 intake manifold. Same HKS280* cams. PowerMist E98 fuel. FIC2150 injectors, DSMlink V3, yada yada. We are back to the "small" turbo that enabled 1.3 60' times with the restalled oem converter. The dry nitrous kit is still in the car, but we don't intend to use it anytime soon.
Starting off with a conglomeration of previous tunes..frankly, I wasn't even sure the damn thing would run right. First clean wot pull on boost was like 530hp but only up to 7600rpm as the trans shifted itself into 4th. WTF /ubbthreads/images/graemlins/confused.gif This was with 30-31psi of boost, AFR was reasonable in the 11-12s, and with just water in the ic tank. Good start and the tune file was at least in the ballpark. LOTS of knock sensor activity starting during innitial spool up and not going away. Boost control has a big spike at spool up but V3's closed loop setup kept it steady after.
Second pull was 592whp at 31psi @7800rpm and again the trans shifted itself. WTF again....then I figured it out....the trans shift controller was using the 1-2 shift RPM setting (7600) as the timer doesn't know we were manually going up to 3rd. DUH! This run was with basically the same tune, just ice water and pulling 5* of timing out across the board to see if the knock sensor activity went away. AFR was pretty fat past 6500rpm. knock pretty much gone now.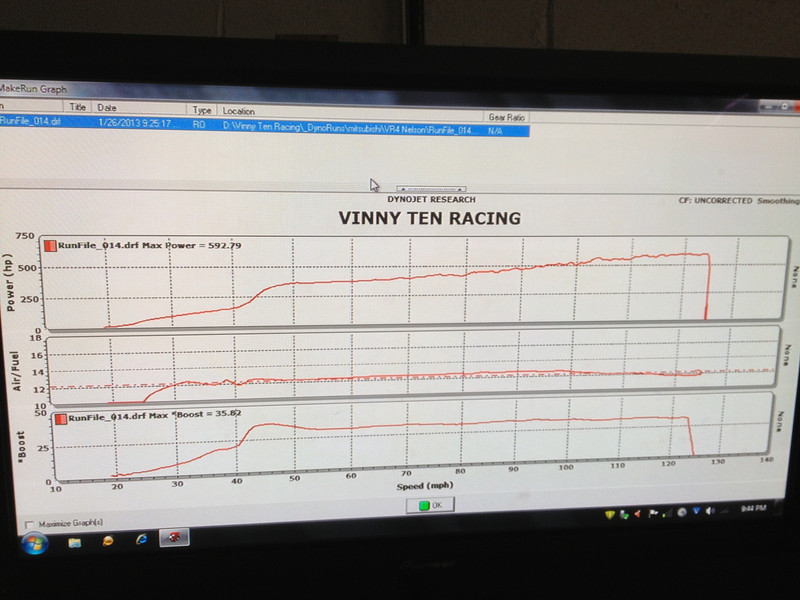 We let the car cool with Nelson refilling the fuel/ice and me making significant changes to the speed density, timing, and boost control maps. Targeted 35psi boost, 12.0 AFR, and put 2* of timing back in. Car won't restart...dead battery (my fault, left key/fan/ic pump on while we screwed around for too long).
Third pull...WTF...car is bucking and misfiring as it comes up on boost. ABORT! we brainstorm and decide to go back to the "run2 tune file" thinking maybe something in the jumpstart/dead battery might have corrupted the ecu tune upload?? wild guess
Fourth pull.... /ubbthreads/images/graemlins/mad.gif same sh*t...popping and farting on boost. Pull plugs...don't look bad....change anyway for new set gapped to .014
Fifth pull. /ubbthreads/images/graemlins/banghead.gif Change the COP ignition for a "tried and true" stock coil w/ magnecor wires.
Sixth pull..... /ubbthreads/images/graemlins/banghead.gif Pull injectors...looking for curmudgeon buildup. we clean and blow out injectors, pretty much chalking up the issue to fate and that our night was over. Im insisting it's not in the tune/ecu. We are getting very frustrated.
Seventh pull...Mother F'r. still popping and farting as it comes up on boost. Now I get pissed and start comparing logs and trying to figure this out. Dawns on me...."son of a bitch"...."it's compressor surge". We have to get the rpm past that 3800rpm/18psi spot where the map sensor/IDC/Airflow starts getting jittery in the logs.
8th pull...I tell nelson to try bringing the rpm up in 2nd gear to like 5000+, shift to 3rd and whack the throttle open. Seems to run clean but someone forgot to push the record button on the dyno control.
9th pull..... up to 8600rpm. boost steady 35.5psi, AFR averaged 12.0, max timing 17*, AIT 46->68*F it made 665whp. powerband is "FATTY" IMHO. It breaks 500hp down at like 5800rpm and holds 600+ from about 7400 up to 8600. very flat and broad. Im impressed and Nelson is more than pleased!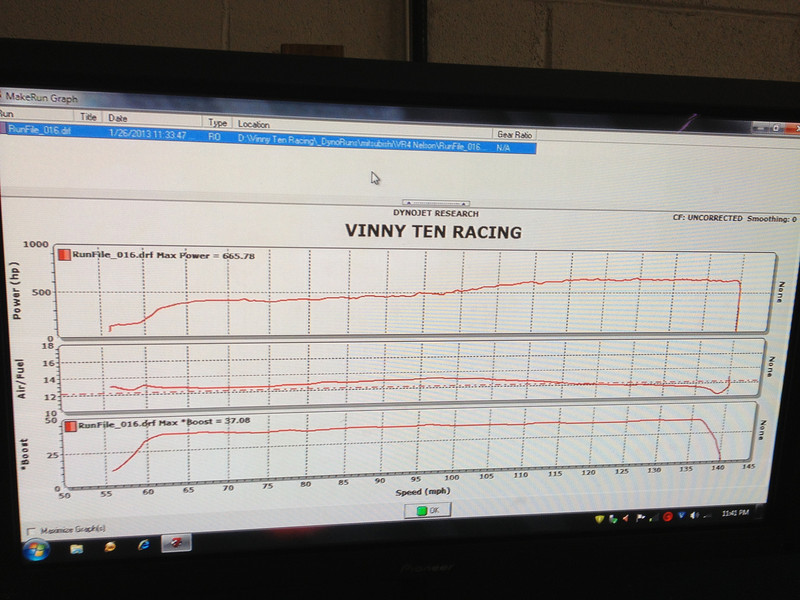 Last pull: 740awhp. up to 8600rpm again. Boost set to 40psi. Max timing 18*, AFR about the same..the SD map needs some fine tuning, but today wasn't the day for that. same "fatty" power band just more of it (breaks 500hp as early as 5200rpm on this run). Little bit of wheel spin on the dyno as we left little piles of black dust behind each roller.
So Saturday was a total success and we learned a ton in the process. Seems like making pulls from low rpm in 3rd gear is just too much engine load, the turbo spools too early, with the compressor surge screwing up the ECU's fuel deliver causing misfires. I was actually a little annoyed at myself for not thinking of it earlier, as my red 1g will do the same thing if you try to do a 3rd gear pull from low rpm (stock 2.0 w/ FP3052). The logs from the earlier clean pulls show the surge too, Im not sure why it was able to recover from it and pull through the surge. oh well, now we know.
We are guesstimating that this power is right about where we left off at in fall of 2011 when the car ran the
[email protected]
at Etown, maybe just a little shy. Expecting to hit the track in early spring and hopefully be right there in the mid 9's again so the NHRA lisc can be finished. Then we'll work on fine tuning, raising the boost up to about 45psi, and extracting all the power we can from this FP3794. We want to see an 8.99 this season too (but realistically are resolved to the Blue GVR4 from NZ possibly beating us to it and having the hardware to go quicker/faster than our setup can muster even under perfect circumstances).
This kind of powerband is essential to making the car ET fast with the Automagic tranny, as last year with the GT4202 was just a disaster trying to get the car to 60' and 330' well. Drag racing is all about the first half, so going back to the small turbo should significantly help.
Will post video, logs, pics, extra info ASAP! hopefully tonight.
Last edited: