Joined

Dec 19, 2012
Messages

1,497
Location
I'd like to get a new set of front seats. Anything is better than what I have, Brown cloth with wires coming through the cushion. They smell kind of bad too.
A recliner is a must lumbar is a plus. I would rather not buy used seats but don't want to spend much more that $550 for the pair. Plain black on black. No colored stitching.
I was looking at summit and Jegs and came up with a short list to consider. What else out there is worth looking at?
Scat 80-1200-51L - Procar Elite Lumbar Series 1200 Seats

most expensive looks a little big but probably most comfy. $384 each
Scat 80-1615-51 - Procar Sportsman Pro Recliner


seems about righ. $205 each
Summit Racing® Sport Seats SUM-G1159-2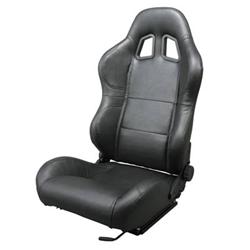 Cheapest but it looks cool. Got mixed reviews. $165 each
CPA1013 Cipher Auto


Don't know anything about this company. Limited lifetime warranty $340 pair
--------------------------------------------------------------
I'm partial to the Cipher Auto Racing Seats. They looks to be molded the best but id like to know more about them.
Last edited: