Joined

Jun 3, 2007
Messages

1,076
Location
The story starts a little something like this I bought this car with full intention of it being my daily driver....
I looked pretty hard locally and on the forums to find the cleanest shell I could it just happened to be 10hrs away in Ohio. So in early 2007 I picked up my first Mitsubishi and my first GVR4 #449/2000 it had the following mods preformed on it.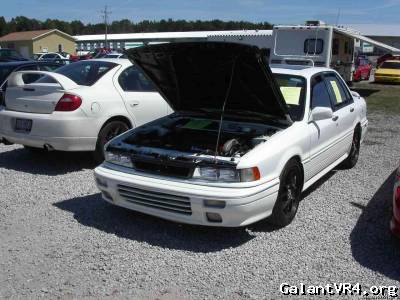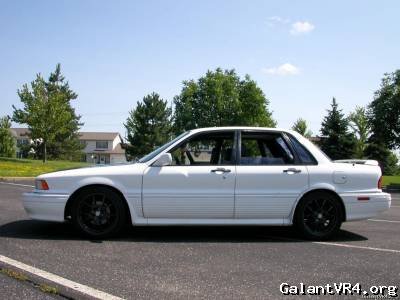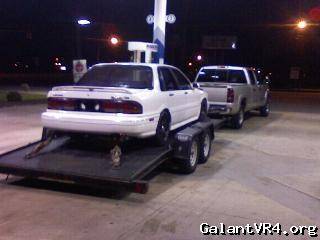 New cylinder head using all factory parts.
New timing belt, balance shaft belt, AC belts, cam seals, crank seal, all timing belt pulleys and tensioner.
Upgrades...less than 6k miles
16G turbo
2.5" down pipe
2.5" cat bypass
2.5" full exhaust
2G throttle body elbow
Greddy profect b electronic boost controller
HKS SSQ BOV
K&N filter
RC 550cc injectors
Walbro 255 fuel pump
Autometer boost gauge
Eprom ECU with removable chip
Variable studderbox for launch control
Knock indicator built into factory digital boost guage
Octane reset, AC cut off at WOT. fuel cut removed
93 Glass Headlights
89 Underdash Pocket
AMG style Carbon Fiber Front Grill
17x7 RSsport rims with Bridgestone Potenzas with LOTS of tread left
KYB AGX 4 Way Adjustable Front Shocks
KYB AGX 8 Way Adjustalbe Rear Shocks
Ground Control Adjustable Coilovers
Gab Front Strut Brace
Gabor Aftermarket Exhaust Manifold Cover
As soon as I got home took it for a little spin ran ok but not right pretty sluggish. Installed stock wheels and stock hood so it would draw less attention. I changed the plugs to the correct plugs and gap ran little better Installed my AEM wideband and checked the tune it was super rich like 10.2:1. I had already ordered a ETS front mount setup and GM MAF and Maf translator. I installed it started to tune it at like 18 pounds as soon as I corrected the a/f the car felt completely different within 5 3rd gear pulls and dialing in the car the clutch started slipping. I have heard a lot of horror stories about ACT's with these cars and I had no intentions of drag racing it I installed a centerforce dual friction with a act prolite flywheel. My car finally felt pretty good as far as power. Handled horrible I looked closer at the suspension and the previous owner had installed the rear springs on the right side and the front springs on the left side. Instead of messing with it I ordered a set of d2 coilovers. What a difference that made with a good alignment. From there toward the fall of 07 I broke my 3rd gear shift fork so I pulled trans and got a shep chromolly shift fork. At the same time I was going to install a head gasket and a set of arp head studs. When I went to do this I checked the my block to see if the deck was nice and flat it wasnt perfect so I wanted to get it decked so it was perfectly flat.... So this is where everything gets a little crazy......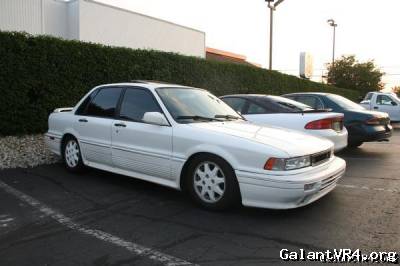 I figured if I had to get the block decked I might as well set it up correctly since it would be all apart....
The basic Idea behind the motor build was to build a motor capable of over 700+hp but would remain very streetable. Knowing myself a standard rebuild wouldn't have been enough to please me in the long run... I have a huge thirst for fast toys. I figured id use the b16g as the break in setup and look stealth while doing it /ubbthreads/images/graemlins/smile.gif
So I took it all a part ordered a set of JE pistons and Carrillo rods. I then had the block decked and bored .20 over and had the mains line bored fresh coat of paint after I got it hot tanked and new freeze plugs installed, had the crank polished and balanced. Installed new OEM crank balancer had the clutch and flywheel balanced. Removed the balancer shafts and then I balanced the JE pistons and installed everything. Installed new OEM rear main seal, front case cover / oil pump, water pump and all the timing bearings. At this time I then cleaned up the head ports had it decked as well and then installed a set Ferrea valves did valve job installed BC valve springs and Titanium retainers. I cc's the head and came up with 9.1:1 with everything said and done. I then Installed my ARP head studs and a set of BC 272's Fidanza cam gears and a new set of gen 3 lifters which I had one bad lifter crazy but very happy I checked it when I primed the motor replaced the one lifter. Then I Primed the motor with break in oil then I put the timing belt on and I degreed the cams in which were only off like 2 degrees each nothing crazy. At this time I am sure installed a few other parts I cant remember which tho lol, I know Installed dsm link and it just about started right up /ubbthreads/images/graemlins/smile.gif
Now in short I did a couple oil / filter changes one after first couple starts and heat cycles. One at 120 miles no boost local driving under 3800rpm, another one at 400 miles no boost so far 5000rpm max. The last one at 1000 miles after a few partial throttle low boost pulls max rpm 5500. Then I began to tune the car for 18 psi and drove it around for about 500 miles. Once it hit 1500 miles I dropped the oil and filter put full synthetic in and turned the boost up too 28psi. I played for most of the spring and part of the summer like this in 08. I had fun beating up on evo's and sti's from roll-ons but in the back of my head I needed more much more so the gears started turning in my head In till it broke the trans again this time I ripped all the teeth off of third gear doing roll on in third /ubbthreads/images/graemlins/frown.gif with the winter approaching I figured let me doing something thats different will be fun on street be able to usable power coming in and out of the twistys but would be plenty on the straights...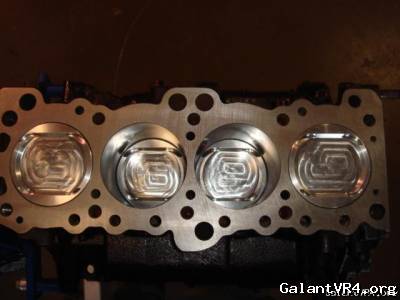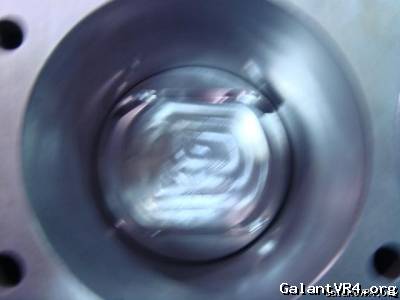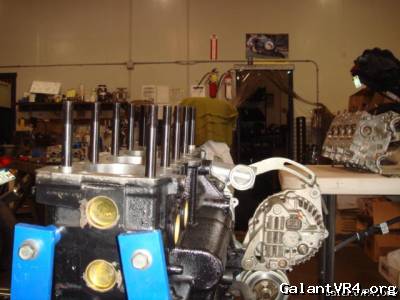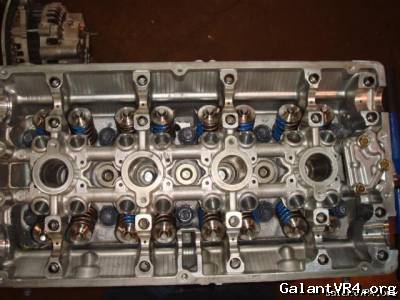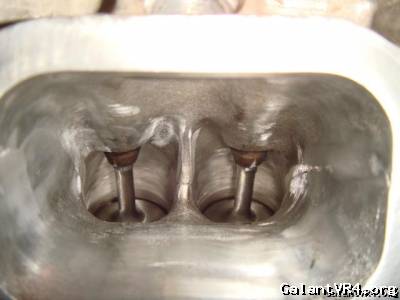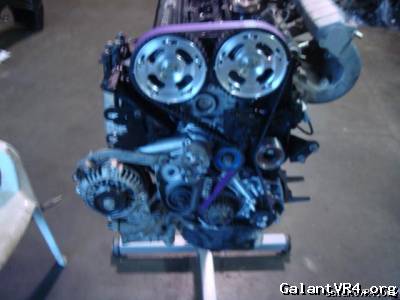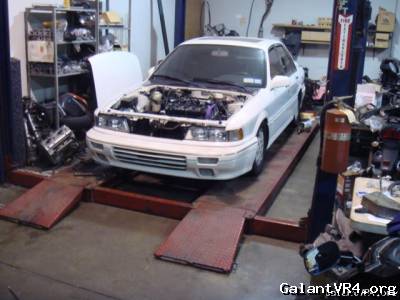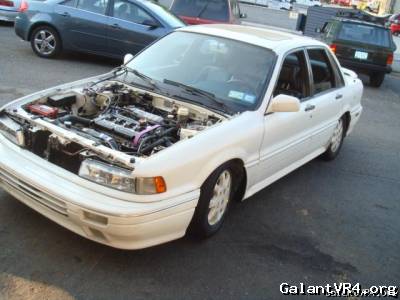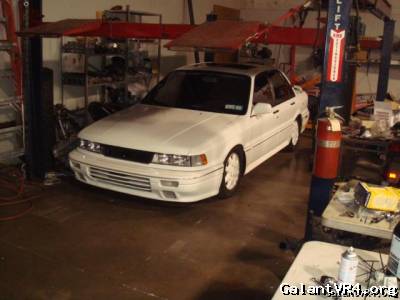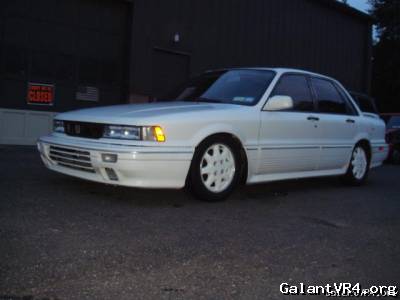 Keeping it short I had a vendor from the forum that did not live up to his part of the deal and wasted 1 year of time since I was waiting for my new setup which I payed for in advance.... After a year of disappointment and a huge loss of money . I gave up and looked else where, I used the money I had been saving for my transmission to continue my turbo setup at another shop called JMF. I cant say enough good things about these guys very easy to deal with and great quality work with great communication and did everything in a very timely matter. (I HIGHLY RECOMMEND JMF TO EVERYONE)
They did a lot to my car I decided to do a little more then the first guy was going to do... I had them build me a T4 top mount divided exhaust manifold specifically for the Galant VR4 engine bay with dual 44mm Tial waste gates. It retains AC and power steering /ubbthreads/images/graemlins/smile.gif I also had them do a 3" down pipe all vband that opens up to 3 1/2" under the car with two straight threw race mufflers and one straight threw big muffler at the end with two 2 1/2" tips so it looks stock from behind. I changed all the intercooler piping to stainless steel shortened the routing and cleaned it up. Small PC680 battery kit where stock battery use to be and a 4" intake pipe. Breather / catch can -10an bungs. I also bought the drag intake manifold and installed a 63mm rebuilt throttle body. Its a 35RHTA .84 T4 twin scroll turbo.
I got it home took it all apart sent few items to get powder coated. I sent almost all the exhaust parts to get jet hot 2000 black coated.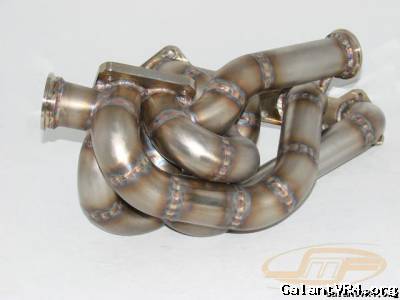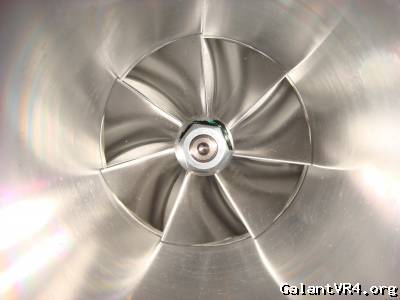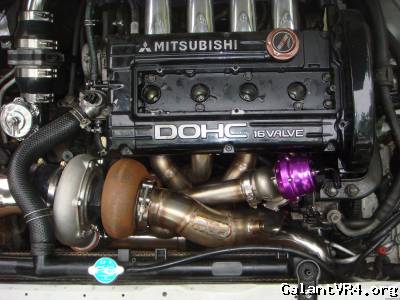 From here I got the exhaust parts back and started putting the setup together. After coming across a few turbo projects with boost leaks coming into my shop I decided to do everything in AN fittings. When I say everything I mean every vacuum hose every coolant line in black hoses and fittings. It took a huge amount of time to fit and finish everything and finding and or having some made in black anodized was even more trouble then I can even begin to explain lol. While doing this I wanted to make more room for my turbo setup so I did a scirrco radiator with -20an fittings in and out. I got a brand new thermostat housing and welded all the bungs into that with all new oem sensors after I got it powder coated.
Now from here I started working on my valve cover put some -10an bungs and fittings in it made a new smaller baffle for in the valve cover. I installed a Kigglys oil pressure mod in the head while it was apart. I retorqued the head down removed the BC 272's and replaced them with some Kelford 272's. Surprisingly they were almost dead on they were only 1 degree off. Installed a forward facing oil filter housing and -8an fittings to prep for oil cooler. Changed oil and filter Primed the motor put new HKS timing belt on installed clear timing cover.
My fuel system... I put and motivated a Full Blown double pumper setup in. I ran -10an feed lines all the way up to Fuel lab fuel filter from there -10an line to Mangus -10an rail then -an hose to Fuel Lab regulator then -6an hose all the way back. I got a set of FIC 2150cc injectors and bought a AEM computer.
I also at this point bought a AEM stand alone computer and have AEM True boost gauge, AEM oil pressure gauge, AEM Fuel pressure gauge, AEM water pressure gauge started wiring up everything to AEM to be logged. Installed a s90 billet throttle body and Mangus thermal intake mani gasket.
I finally got payed back from the vendor.... Really late since at this point I had just sold one of my motor cycles to buy my trans and clutch. Either way I ordered a brand new shep stage 4 trans with every bell and whistle he sells, I also got a Quarter master twin disk from him and a set of Avid billet mounts all 4. I also got a rebuild transfer case from Jackstransmissons. Purchased a Driveshaftshop 3.5" drive shaft and rebuilt the last section of drive shaft with all OEM parts . Installed set of torque solutions bushings.... Installed a 4 bold with all new OEM hard wear. Started the car up right after I got all of this in began doing all the prep work to get it on the road.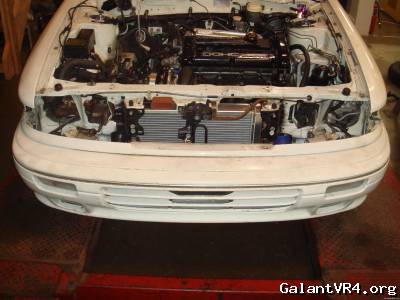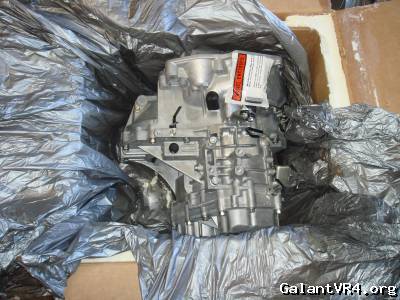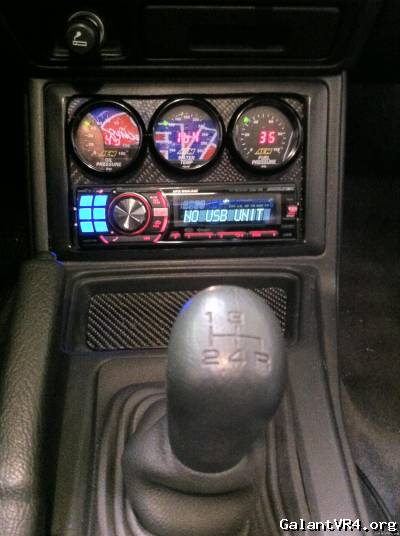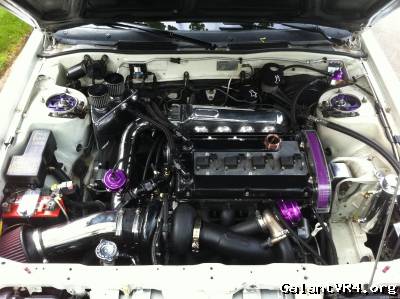 Suspension and brakes parts I installed while I was doing this project
D2 coil overs set at 15
Cusco strut bars front and rear
White lines sway bars 24mm front and 26mm rear set in middle position
Jay's racing active steering eliminator kit
Energy subframe bushings also in front and rear control arms
TunersNation rear upper adjustable control arms
TunersNation Subframe/Mustache Bushings
Eliminated the 4WS
Manual power steering rack freshly rebuilt
New Moog ball joints tie rod ends and sway bar links
I had it corner balanced and I did a fresh alinement with a person the same weight in the driver seat
I also installed a TunersNation stainless steel brake line kit
I installed a ABS delete kit
EBC Red stuff brake pads at all 4 corners
Brand new OEM rear brake calipers
Motul RPF600 fluid for clutch and brakes
New OEM E brake cables
4 bolt rear and Sheps LSD in front
In the process of doing all this work I located and bought a front and rear JDM bumper and a carbon hood with JDM vents, Keyless gas door and power folding mirrors and some orange corners. A set of 17" Konig Helium wheels and BFG KDW2 225/45/17's.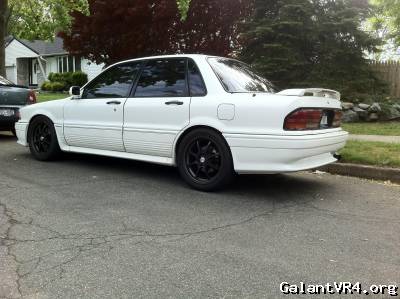 I put about 150 miles on it started tuning low throttle and partial throttle. Then I dropped the oil and filter put HKS oil filter on and Brad Penn oil in. From my base map too getting tune right only took about 4 3rd gear pulls /ubbthreads/images/graemlins/grin.gif for my street tune and my first gear boost map I am using 20psi Estimating around 450hp. I got to do a coupe pull with a Newer trans-am, A Evo with all the normal bolt-ons, STI with bolt-ons, typically did 3rd gear roll-on's shut it down once I toped 4th gear. Easily pulled 3-5 car lengths each gear. I was following a buddies newer BMW M3 he has a Dinan short shifter, computer flashed and a exhaust done to it. Well he got on it so I was like maybe 10 car lengths behind him I hit the gas It hit full boost for maybe 2 seconds I chopped throttle full brakes I almost fn rearend his car lol. From here on I just played with the tune and timing see what it likes and dislikes at partial throttle. One thing I had some trouble with was getting it to idle when I would just let go of throttle and push clutch all the way in slowing down. at this point I have about 250 miles on it.
I took the car out for a few local drives nothing crazy rained for about a week. When it stopped raining I waited few days everything dried up. I took it out for a spin to go up to a local car meet on the way to the car show about 2 mile from my house... I went threw a small turn the back of the car let loose swung out about 3-4 feet I turned the wheel completely into the turn and couldn't get it to come back around. At this point
I am either going into the fn woods where theres huge trees every where or letting it slide on the street hoping for the best I let it slide down the street. As it slowing down it hit a tree on the front passenger side which ripped the bumper off and cracked the hood and fd up the fender. From there it pushed me towards a ditch and goes over a little drop in the road and flips on to its roof /ubbthreads/images/graemlins/bawling.gif
I was fine other then few cuts on my legs. After getting the car towed home calling a bunch of my local friends to come see me and the car one of them gives me a ride to see what the hell happened. We get to the road walk up it find two very unusual things some ones car leaked oil all over the left side of the road unfortunately it didn't end there someone dropped paint all of the road right after where the oil was and we can only assume my right rear tire hit the oil then the paint and just let go because its all right before the turn and threw the exit of the turn /ubbthreads/images/graemlins/frown.gif
With that all said I sat on this thinking about it over and over for 3 weeks. I had two different local auto body shops look at my car to see if it could be fixed If I bought another shell for the roof. I mean I was talking about putting a 10 point cage i the car so I could run it at local track so I brought this into the discussion. It pretty much boiled down to 8-10G to fix my shell or buy another shell. I decided im done with cars for a while so I took the whole car apart. The only parts that got messed up with the stupid roll over was the front bumper, the hood has scrapes all over it cracked one corner of the hood, and the roof got pushed in far. I couldn't bring myself to look at the milage till the day I junked the shell 304 miles after this whole build was finished I crashed my car /ubbthreads/images/graemlins/bawling.gif
It was nice to not find one leak one or drop of any fluids from the car. Not one loose bolt or fitting it ment a lot to me to find nothing wrong anything I installed.