I decided to just go ahead and start a build thread for my first Galant VR4 #435. I am pretty new the board but I am trying to weasel my way in and get to meet some people. I was a big honda lover but crossed over to Mitsubishi about 2 years ago after buying a original 89 Colt GT. I picked the VR4 up almost 2 months ago from a the second owner of the car . The car suddenly quit running one day and the owner decided to store it for 6 years? /ubbthreads/images/graemlins/dunno.gif Owner said he though it was electrical related but I didn't really care being the car was only $900. Car has a clean title pretty good body besides some front end dents and clearcoat issues. It even came with the original matching key ring badge and key. I found the original Dealership window tag with the fuel ratings and price tag in the glove box with ful maintainance records. When I got the car home I pulled the timing belt cover off to find a snapped timing belt... So I pulled the motor within a few days to start a rebuild.
Second day I owned the car
Interior shot
Orignal Engine out
Some pressure washing of the engine bay cleaned up pretty nice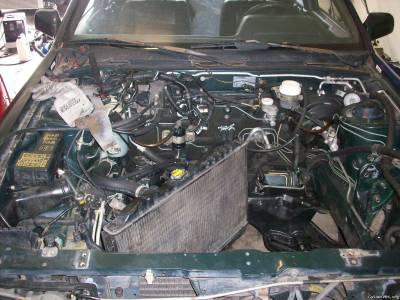 I started tearing the motor apart for a rebuild. I found a few bent valves after pulling the head off but bottom end looked good. I cam across a 1G FWD DSM on craiglist for $1500 with rebuilt motor with 50,000 on it and 3,000 on timing job so I decided to pick it up. I needed the tranny for my colt build so I decided I might as well get the car.
Donor Car
Started the engine pull 2 days ago..
Engine out of the car in that night after lots of Captain Morgan and pizza. Not so white anymore...
Here is the engine out of the car. Gott apull the tranny off it and put the GVR4 tranny back on and do some engine cleaning
Some picstures of my DSM family. I have a car buying problem craigslist is very addicting when you find good deals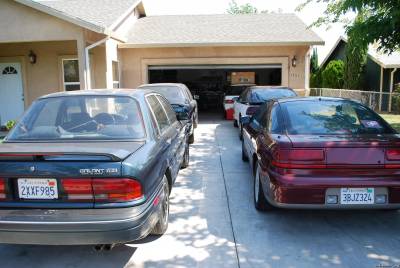 My twins...#435 & #1302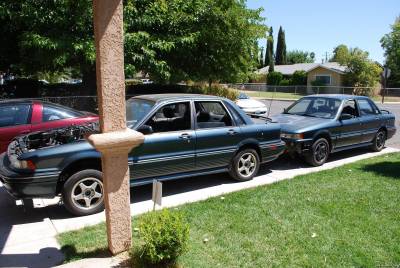 That is all I have as of now. I will have more pics to come as works gets done. The air force keeps me busy but I try to get in as much time as I can turning wrenches. I would like to have this thing running within the next few weeks though. I am kind of still confused on which route I want to go with the car. I know I just want to get the motor in and running. I am building the car as daily with AC as of now. I dont really need to make crazy power with it. I have my colt which I am building too shooting for 400-500hp to use as my weekend warrior. Right now I have a EVO 16g, FP manifold, External WG 02 housing w/ tial 38mm, EVO MAS, EVO injectors, ETS FMIC kit, Keydiver stage 3 chip as my setup with a couple of extra goodies. This is all I have time for as of now but lots more info and pics to come!
Last edited by a moderator: