Joined

Jan 1, 2012
Messages

3,460
Location
This article outlines to perform a front brake conversion using Mitsubishi 3000GT or Dodge Stealth front brake components and custom caliper brackets from
Volk Metal Craft
. This conversion can be done on the following Mitsubishi vehicles:
Any 1G DSM
Any 2G DSM
91-92 Galant VR-4
The following parts are required to perform the front brake conversion:
[*]
Volk Metal Craft
adapter brackets
[*]3KGT brake caliper compatible brakes hoses (I'm using
Technafit Stainless Steel Lines
Part Number: TF-MIT-1330-CL)
[*]1G (1991-1993) Mitsubishi 3KGT or Dodge Stealth 4 pot calipers (Part Numbers: front right MB857254 & front left MB857253)
[*]Mitsubishi 3KGT or Dodge Stealth brake rotors (I'm using StopTech Sport drilled & slotted brake rotors Part Numbers: 127.46052L & 127.46052R)
[*]Mitsubishi 3KGT or Dodge Stealth brake rotors (I'm using Hawk HP Plus brake pads (Part Number: HB120N.560)
[*]Hardware and spacers as required
[*]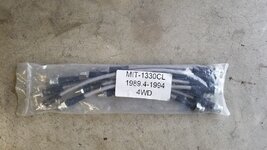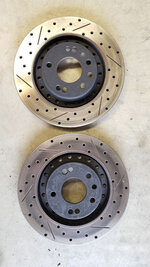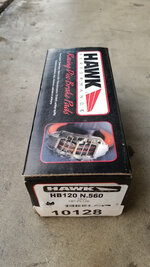 The following procedure can be followed to perform the install:
[*]Remove your old brake parts, to include the calipers, caliper brackets, rotors and lines (up to the hard line). The only thing that should remain is the bare front steering knuckle.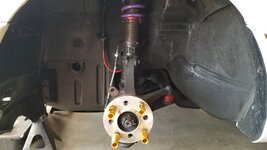 [*]Once you have all of the old stuff removed, install your new brake lines. You make need to make modifications to the brake line holder/positioning brackets if your lines aren't comparable.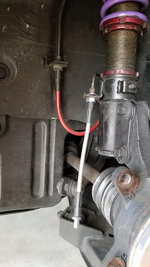 [*]Attach your Volk Metal Craft brackets to the steering knuckle as seen in the photo. Ensure to use grade 8 hardware or equivalent if it's not provided with your brackets. Additionally, apply red Loctite to all of the bracket hardware. The hardware can be tightened to the factory spec of 65 ft-lbs.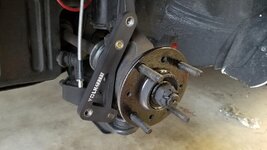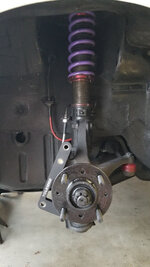 [*]Next, install your brake line and snug it up on both ends.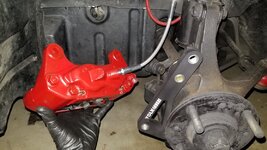 [*]At this point, you can slide the brake rotor on, and then bolt the brake caliper to your adapter bracket. The hardware can be tightened to 65 ft-lbs.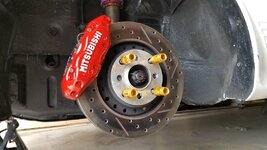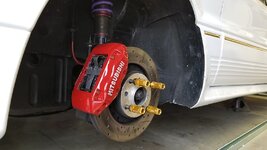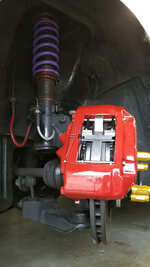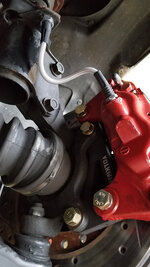 [*]If you're installing the calipers, and find for whatever reason you need some extra clearance between the caliper and rotors, you may need to install a washer as a spacer. Paul has manufactured these to fit without spacers, but due to slight variances in the steering knuckles for the various Mitsubishi models over the years, it's difficult to ensure a bolt on fit in every application (such as my 4 lug Galant VR-4). That being said, if you have a 1G or 2G DSM, this should bolt up with no spacers required. Again however, be prepared to check your rotor clearance, and add the appropriate spacers as required. A washer properly sized for the caliper bolt will work perfectly, so don't think a custom solution of required. Here's a shot of the washer I added, and the resulting clearance: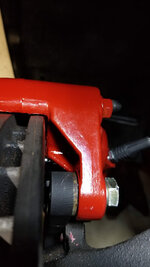 [*]Once everything is installed, bleed your brakes and you're done /ubbthreads/images/graemlins/applause.gif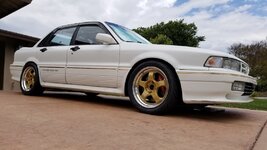 Last edited by a moderator: