Joined

Apr 5, 2020
Messages

6
Location
I bought this car from "frankdcannon" in Seaford, Delaware back in January 2022, and had it shipped to Carbondale, IL. I have been so overwhelmed with projects that I have only had time to get the power steering re-installed. Everything else is the same as when I bought it. Because that is the case, I just copied/pasted from the original ad. Here is the info:
The current mileage is 146954. Below is the build sheet, with maintenance records, a few photos, and a dyno chart. I have the receipts for everything and can supply them if need be. Tuned by RT tuning in PA on 6/24/19. Making 370 whp and 350 wtq. I have a video of the run as well. Let me know if you want/need more pictures. The car is in the best shape of its life. everything works, and I mean everything. The only issues I know of are that, below 60 degrees fahrenheit, the car's idle fluctuates up and down, and the engine could use a valve cover with large breathers, and a catch can. Some minor oil leaks around the valve cover gasket have started to appear with higher boost pressures. The car is, no BS, rust free.
I am a professional automotive technician and shop owner. I have OCD and this car has been my project for over 4 years. I have brought the car as close to perfection mechanically as I can, accomplished the goals I set for myself and the car, and I am just ready for a break.
Please feel free to ask any questions, and thank you for checking out my VR4!
Engine:
New OEM 4G63 engine block
New OEM crankshaft
Balance shaft elimination kit
Crower Connecting rods
Weisco 1400HD Pistons
New OEM MLS head gasket
ARP headstuds
GSC valve springs and retainers
Kelford 272 camshafts
Revised "big bore" lifters
New OEM 4G63 Kevlar Timing belt
New OEM timing belt tensioner
Ported and Polished intake manifold
Heat Barrier Intake Manifold Gasket
Evo III exhaust manifold
Forced Performance 68HTA turbocharger
Tubular O2 housing
2.75" exhaust downpipe
3" cat back exhauast
New OEM Evo VIII Fuel pressure regulator
Fuel Injector Clinic 850cc injectors
Walbro 255 fuel pump
2G Fuel Rail
Non Turbo Water pipe
Non turbo thermostat housing
Front mount intercooler and piping
"Tial" Blow off valve
Wrinkle black valve cover
Fluidampr Harmonic Damper/Crankshaft pulley
ARP crankshaft pulley bolts
New starter
New OEM Denso 90amp alternator
New drive belts
New OEM knock sensor
Full DSM Link/ECM Link
Rebuilt, Ported, Tapered, and Polished 1G NT Throttle Body
HBC Manual boost controller
Braided stainless steel turbo oil feed line
2G OEM turbo oil drain tube
SPAL cooling fans
Refurbished AC system
Converted AC system to R-134A
Upgraded PCV system with heavy duty one way check valve
Speed Density Conversion Harness
Omni 4 bar MAP sensor
GM IAT sensor
De-powered rack and pinion steering
4 wheel steering removed
New outer tie rod ends
Polyurethane drivers side engine mount
New OEM Oxygen sensor
New dual core all aluminum radiator
OEM 180F thermostat
New coolant temperature sensors, and switches
Custom Aluminum Hood latch support
Custom Aluminum radiator ducting
Custom AEM air intake
Transmission/Driveline:
South Bend Clutch Full Face ceramic B-series disc
South Bend Clutch SSX 2700 pressure plate
Competition Clutch Street Light flywheel
New OEM pressure plate bolts
New OEM throwout bearing
New OEM Clutch Master cylinder
New OEM clutch slave cylinder
New Forged Clutch Fork and pivot Ball
ARP flywheel bolts
Jacks Transmissions Rebuilt 23 spline Transfer case
LSD rear differential
5 lug conversion
Braided stainless steel clutch line
Jacks Transmission Ultimate Ratio Transmission Rebuild with Gear micro polish, and WPC treatment
Quaife Limited Slip front differential
New heavy duty driver side front CV axle
New OEM shifter cables
Interior:
Short shifter
Solid shifter base bushings
All 6 new Polk Audio Speakers
Re-sealed HVAC ducting and doors
Kenwood Excelon DPX793BH double din head unit
2G weighted shift knob
MOMO Prototipo steering wheel
Full sized Mitsubishi Eclipse GST alloy wheel with 205/55R16 Used Michelin Spare
A full (all 8 windows) customer set of window shades
A dash with only on 1/4" crack near the GVR4 badge, nearly perfect
Front seats with no rips or tears
Rear seats with only one 2 inch tear at a seam directly below the rear window (Where the sun shines hardest)
Working Cruise Control
Custom VR4 floor mats front and rear
Exterior:
Thule roof rack
x4 OEM Mitsubishi Eclipse GST alloy wheels Chrome, and x4 Silver painted With 205/55R16 Firestone Firehawk Indy 500s 6/32" of tread depth remaining
and 205/55R16 Bridgestone Blizzak WS80 Snow tires with only 1000 miles of use
Glass headlights
Suspension:
KYB AGX Struts and shocks (front and rear)
Eibach lowering springs
Front and rear strut tower braces
Brakes:
Braided Stainless steel brake lines
Front big brake kit
New brake master Cylinder
Remanufactured rear brake calipers
Spare parts:
3 sets of NGK spark plugs
2 fuel filters
1 used set of NGK spark plug wires
used fog light assemblies
drivers side sun visor NIB
stock steering wheel
Rebuilt/refurbished OEM radio
Chrome and white OEM grills
used OEM cylinder head (complete), rods, pistons, crankshaft
used 660cc FIC low Z injectors
used shift cables
used speedometer drive gear and cable
used control arm assys
used clutch master and slave cylinder
SO MANY MORE USED SPARE PARTS!!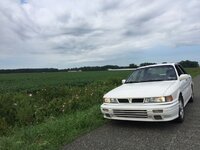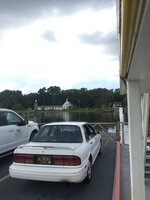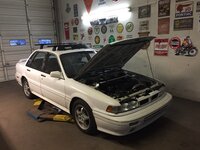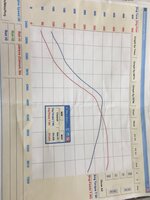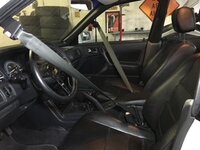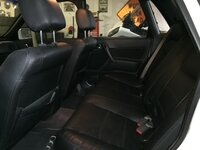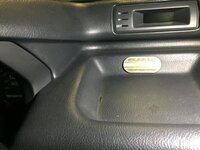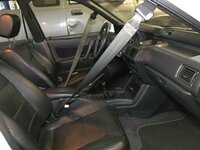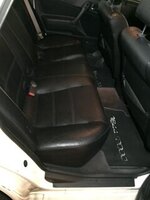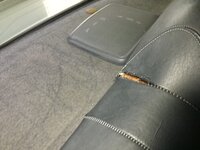 Last edited: