I originally wrote this up on the DS-Map forums to help any other fellow GVR4 owner out if they went this route for tuning, late last year. I figure this would benefit everyone more if it was readily available over here since most of us frequent here most of the time. This modification is for fitting the IDE cable from the Ostrich to the ECU without pinching/cutting up the harness in between the case cover and the board.
Your upper half of the ecu Casing will require modification for the Ostrich cable to fit properly, or you could simply try to clamp the case together...but I don't think that would be in the best interest unless you are trying to cut the cable in half for some reason. So What I did was cut a Slit into the upper half, so I could feed the cable through and to sit freely without worrying that I'm pinching/crushing the cable between the lower half(where the ecu board is mounted to). I used a Dremel with a cutting wheel on mine, took all of maybe 10 minutes to do.
Here's what I'm talking about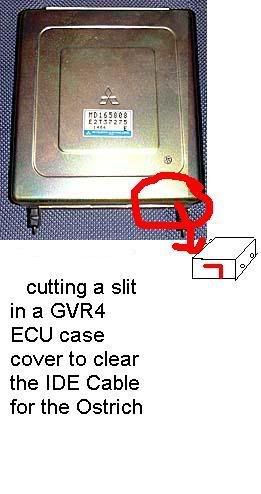 I'll snap a couple shots tomorrow of my ECU.