I decided to take the challenge, and remove the stud in my 5 lug knuckle with abs. The knucle has the abs hub,that makes it impossible to remove the stud, without removing the bearings or getting rid of the hub that's in the way.
1)pull out your dremmel, with plenty of cut off wheels.
2)goggles for safety, cut off wheels brake very frecuently and pieces fly all over the place.
3)a drill (cordless,or powered),and some different size drill bits. And a lot of patience.
I started by removing the abs cable and all the stuff that comes with it, including the bolts and bracket that holds it in place.
I put the studs resting in a piece of wood 4by6,to keep it stable, this was very helpful because the cut off wheels brake with just a little twist.
Cut a groove all the way thru in one of the teeth that's right above one of the studs, as it will have less material to cut.
It needs to be cut all the way thru, then I skipped 2 studs and made another cut.
I used the opening where the abs was, to drill a hole, but before making the hole I used a punch to put a dent in the center and guide the drill.
I used 3 drill sizes to make the hole bigger. You will notice that after using the last drill bit 3/8" or so, the groove and the hole are pretty close to be cut all the way.
I used a big flat screw driver to finish cutting the rest of the material that the cut off wheel and drill bit, didn't cut,beat on it with a hammer, the material will split.
After all the drilling and cutting, you can get easy access to the studs.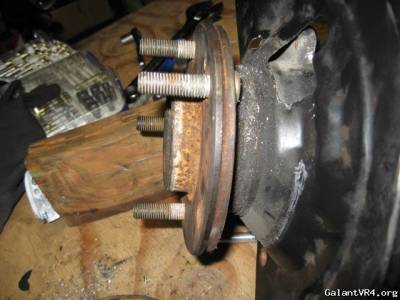 By the way, I weighed the knuckle before and after, (13.2 pounds before,12.0 pounds after)
This is not a way to go for the guys that are worried about keeping their lovely abs system. But i can care less, because I'm about to add more weight to my knucle installing 3kgt brakes, so loosing a little weight here will help.