There seems to be several new posts lately about sourcing cables, PDAs and such for datalogging, which suggests to me that we will soon have many new dataloggers amongst us, always a good thing. Two days ago I picked up a universal "gadget" mount that fits my Handspring Visor Prism perfectly. I'd actually gotten the same model a year or two ago, but lost it, and in the meantime they've revised the clips for a more secure mount. The brand is "Type S," but don't worry, the Palm will hide your shameful secret.

I got it at Autozone for $10, well worth it IMHO. I got the first one at Fred Meyers, and I think for less, but I'm not sure. I'm sorry I don't have pics of the packaging, but it's just your standard cardboard back in a plastic case that hangs from the hole in the top. Look for the aisle with the cheap crap, y'know, the add on cupholders, mirror compasses, windshield notepads, cellphone/iPod cases, etc. and it'll be there. Now here's some pics: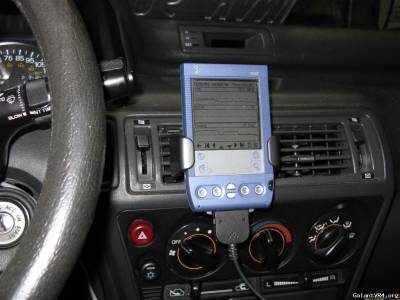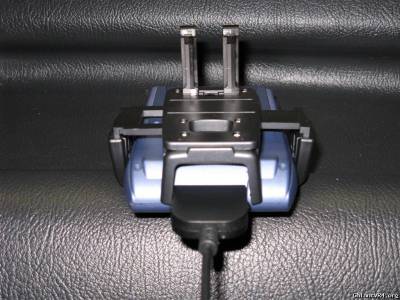 Although designed for a variety of gizmos, as you can see it almost seems to be created specifically for Palms. The arms are adjustable for both width and depth, and at the widest my Handspring fits in perfectly, with a little room to spare for depth (the Prism is thicker than most PDAs). The bottom bracket folds up or down, and is just slightly larger than the Palm cable plug. My Handspring sits right on the end, but again most PDAs are slimmer. Both the old and new came with 3M tape for a more permanent installation or the vent clips; I've chosen to use the latter. The old one was just two metal fingers that gripped the slats with tension; it seemed to hold okay, but spirited driving or a good launch might have seen the Palm flying. The new design uses a J-hook clip that prevents the mount from coming off unintentionally. It's a little tricky getting it off, so any more I just take the PDA out and leave the empty bracket on the vent.
I think that it works well enough that it should be added to datalogging kits as an extra accessory, and when I think of how much time and effort it took to make slightly cheaper car mounts work for me, this one is a no brainer.