hey all, im new to the site, this is my 1989 galant rs vr4 fitted with the rare original amg kit.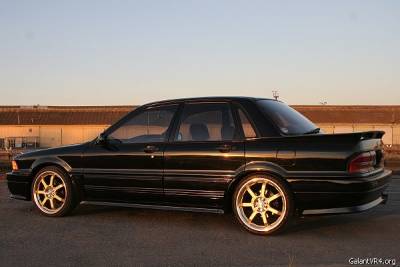 my soon to be 1989 vr4
As the photos show it is a recently painted (6k 2pac Jet black paint job) black 89 J-spec facelift Vr4 equiped with an origonal AMG (as in Mercedes) body kit, these are very rare and i only know of one other in Australia. Correct me if iam wrong.
Inc. front and rear bars,3 piece side skirts, rear 3 piece spoiler.
The engine mods are,
Complete freshen up of an RS vr4 engine
Removal of balance shafts and kit installed
Chipped and socketed ECU
510cc injectors
055 AFM
SARD fuel pressure regulator
Walbro GSS342 fuel pump
Full rebuilt Big 16g These run an evo exhaust mani
Turbosmart BOV
Turbosmart Dual stage Boost Controler
3" Stainless Steel turbo back Exhaust
Exedy sports tuff clutch
All new brakes
Brand new rotors
All calipers rebuilt (power brakes)
Dual spot front calipers
Peders lowered springs
KYB shocks New
All cv's reco'd
Front end bushes replaced with Nolathane
All drive train(box, transfer, diff) serviced and reoiled
Climate control (factory)
18" wheels and tyres Brand New
Rain shields , these are pretty rare but can be removed. i just like them
Interior
Interior is absolutely imaculate, its hard to tell that this interior has been used.
Pioneer Head unit
New Blaupunkt 6" 2way rears
Pioneer 2way fronts
Dual 12 inch kenwood Subwoofers
Jaycar Response 500rms amplifier
Autometer boost guage
Digital Turbo timmer
im in the process of sorting out some bugs and then need to get it on the dyno for a tune and power run. hoping to see 200 atw and low 13 pass down the 1/4....hopefully