Hey guys, name is Brandon. I have been lurking on here since I came across #520 on the Facebook market place of all places... the car was listed for $1,800 with no motor ($2,300 with) and it looked like a STEAL! I inspected all the photos and everything looked solid!.. I started to read the ad and there it was in BIG, BOLD lettering... car has a SALVAGE TITLE

more on that in a minute..
Let me give you some background. I am a 13yr Army vet and just recently had sold my 2015 Ram 1500, as I am planning on changing things up and purchasing a GT350 to DD

well, one night I was just surfing the marketplace looking at cars and I saw the Galant, I was instantly reminded of a simpler time right before I joined the Army when I owned a 1992 Subaru Legacy SS, for those familiar with rally you know that was Subaruís main rally weapon the Colin McRae was driving back in the day.
That car was rare as well and a really fun car to throw around in the dirt, but during my ownership I ran into a bunch of these Galant VR4s and I was envious.. I didnít know why it was special, just knew that I wanted one.. BADLY.
...fast forward 13yrs and here we are I am now the proud owner of #520/2000 with a current salvage title (patience we are getting to this part of the story!)
I bought the car after speaking with the owner (Miguel) who informed me the car was totalled out due to passenger rear quarter damage ($3,000 body shop quote) lucky for me, I know a master sheet metal craftsman and welder

..
So after many nights of deliberation and discussions (arguments) with the wife I told Miguel I wanted it, but I couldnít get to him. I offered him a bit extra to bring it to me and he agreed! Loaded it up on a trailer and in a few days it was at my house ready for the TLC it needs/deserves.
And here she is off loaded at my place where she sat for about a week before being pushed into the driveway and ultimately the garage.
Here is the first cleaning of the engine bay (disclaimer: this engine and the bay at some point will have the whole compartment stripped, cleaned and repainted)
So along with the car I got (most) of the parts needed to get it back running and also some upgrades along with it (272 cams, 20g turbo, full turbo back exhaust, short shifter, strut tower braces)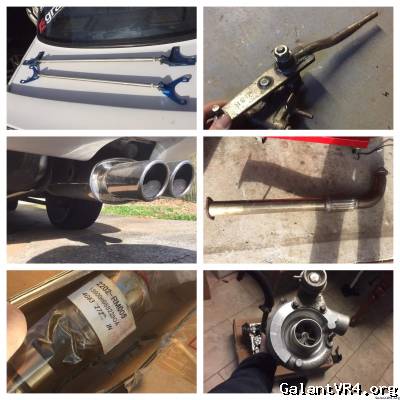 The motor had been prepped to be put in a 2g DSM so I had some
Swapping of parts to do before the heart could be put back in the GVR4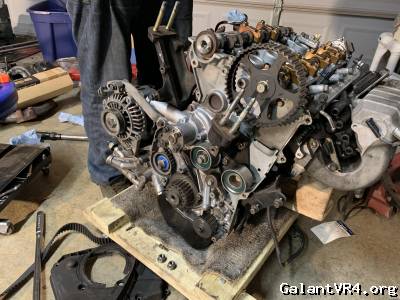 This forum, Miguel and especially POT so far has been such a big help with parts and how-to knowledge that has been invaluable. Miguel forgot some
Of the 1g parts I needed and sent them to me ASAP! I had to swap the driver side motor mount bracket, the alternator, water neck, and PS pulley and while I was doing all that I went ahead and installed the 272 cams and painted the valve cover. I was going for EVO 8 blood red, it turned out a bit darker, little dark for my liking but itíll do for the time being.
Alright letís drop this motor in!! Oh wait.. I donít have trans or transfer case bolts

couple orders to rockauto and STM later I had a bunch of new OEM fasteners, sensors and some other odds and ends. I ordered a new knock sensor because the stock one was leaking from the rubber ( Iíve read this is quite common) also replace the oil pressure sending unit because the stock one had a broke clip. I went ahead and ordered all my fluids for the engine, transmission and trans case, also new rear diff fluids just because.
Alright letís drop this motor in! Oh wait... I donít have motor mount bolts (teleported to Loweís) alright here we GO!
That pic is after I already had mounted the transmission and transfer case, but those two components got a real thorough cleaning when they were off the car, just donít have photos of them.
ALRIGHT I WAS STOKED! All I had to do was hook up the engine harness and we were off to the races! (Figuratively of course) but I wanted to hear this baby purr, nope disaster struck.. turns out I had to wait longer

I started connecting everything, TPS, injectors etc and then I grabbed the A/C Coolant temp switch connecter and (Iím not exaggerating) it crumbled in my hand pretty much...

I was so disappointed.. it was then I started examining the rest of the harness and it was in rough shape. So after seeing numerous DIYs on here with harness refresh/rebuilds I decided thatís the route Iím going to take, so that brings us to today!
Here I have the harness about 2/3rds stripped of all the OEM loom and tape, MAN that stuff is on there!
Decided Iím going to do a hybrid repair/rebuild of the harness, POT is hooking me up with a donor harness so Iíll use what I can to keep OEM color codes throughout to make repairs easier in the future if the need arises. I plan on stealing strokin4doors harness design idea and having each sensor have its own shielded and heat shrunk wire going to it, or course crimping and heat shrinking the wire splices as well.
Holy crap! I didnít mean to make this first post so long! I have so much more to talk about but I suppose Iíll save that for an update, oh here is a picture of the 1/4 panel damage... that will be address once the car is mechanically functional.
And a photo of how she sits at the moment, kinda sad looking lol.